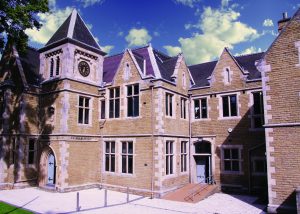 Based in the Old Boys' Grammar School on Sheffield Road, West Studios is a creative centre housing 16 small creative businesses. Recently refurbished, it offers a contemporary and relaxed working environment, with a full range of equipment and facilities including Wi-Fi, a smart screen projector, and interactive TV, along with friendly and dedicated team, West Studios offers an ideal setting for meetings, training days, networking events and presentations.
We offer a variety of rooms accommodating every occasion: Our light and airy Gallery boasts a large screen, interactive TV, free Wi-Fi and good natural light. This can be used for casual meetings, seminars, networking events, breakout sessions and more social activities.
The Meeting Room offers a more traditional facility for meetings and seminars. Offering a SMART interactive projector, free Wi-Fi and good natural light, it's the ideal place to deliver a professional presentation.
We also offer The Studio, an informal, flexible space that can be used for more relaxed meetings and seminars, team building activities and networking and creative events. This studio can accommodate a projector with laptop link up, projecting onto the whitewashed walls.
All three rooms can be booked as there is a natural flow from one to another for larger events and exhibitions. A range of tempting refreshments and lunches are also available to suit all dietary requirements, ranging from Danish pastries to Executive lunches.