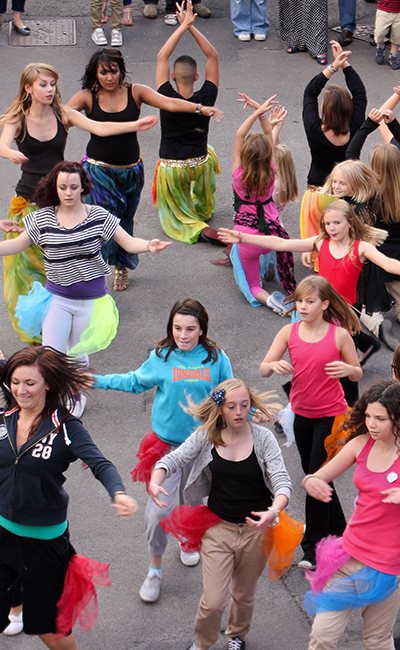 We have pulled together lots of organisations who work locally, regionally and nationally in dance arts development. We hope you find this a useful resource. If you find any broken links, or have suggestions about additions, please email us: editor@artsderbyshire.org.uk.
Local Dance Organisations
Déda
Déda is a creative centre for dance, contemporary circus and outdoor performance based in the heart of Cathedral Quarter in Derby – connecting locally, nationally and internationally.
University of Derby
The University of Derby offers courses in contemporary dance, dance and movement, dance and contemporary circus and creative expressive therapies.
Regional Dance Organisations
Cheshire Dance
Cheshire Dance leads the artistic provision and support of dance across Cheshire. They champion diversity as a source of creativity and the critical role of dance artists in public engagement.
danceXchange
DanceXchange is a Birmingham-based dance organisation dedicated to making and showing great dance. They're set on involving artists and the wider community in their projects.
Dance 4
National dance agency based in Nottingham. Dance4 curates the biennial Nottdance Festival, which takes place across the city of Nottingham. It's regional work for children and young people includes U.Dance in the East Midlands and the Centre for Advance Training.
Yorkshire Dance
A charity which champions the value of dance and its development in Yorkshire, creating opportunities for people of all ages, backgrounds and abilities to see, make and take part in high quality dance.
National Dance Organisations
Birmingham Royal Ballet
Touring classical ballet company which aims to be one of the world's best classical ballet companies. Birmingham Royal Ballet is respected for its excellence, artistic innovation and social responsibility, that connects with its audience and communities in its home city of Birmingham, throughout the UK and across the world.
Council for Dance Education and Training
Provides excellent quality in professional dance, drama and musical theatre education.
Dance Consortium
A UK wide website for international dance with a group of 20 large theatres.
Dancers' Career Development
Dancers Career Development is the only organisation of its kind in the UK that supports professional dancers into alternative careers after retiring from performance.
English National Ballet
One of the leading classical ballet companies in the UK.
English Folk Dance and Song Society
Organisation supporting English folk dance and song based at Cecil Sharpe House, London.
International Dance Teachers Association
Membership organisation for professional dance teachers. Lists local dance schools.
Jabadao
National centre for movement, learning and health. Jabadao works in partnership with education, health and social care sectors to create more opportunities for people to get involved in movement activities that promote health, learning and well-being.
Trinity Laban
One of Europe's leading dance conservatoires offering undergraduate and post-graduate programmes in contemporary dance artist training and professional development.
Lisa Ullman Travelling Scholarship fund
Scholarship fund supporting dancers, choreographers, administrators, teachers, therapists, journalists, photographers, and others working in dance/movement who want to enrich their practice through travel.
Northern Ballet Theatre
Northern Ballet Theatre NBT (NBT) is a national touring ballet theatre company based in Leeds. It performs high quality original narrative ballet works in venues across the country, with a special focus in Leeds and the north of England. The company also offers education and training programmes.
Northern School of Contemporary Dance
Northern School of Contemporary Dance (NSCD) is a dance training institution offering a select group of students the opportunity to develop and excel as dance artists in a conservatoire environment.
One Dance UK
One Dance UK is a sector support organisation leading the way to a stronger, more vibrant and more diverse dance sector.
People Dancing
The UK development organisation and membership body for community and participatory dance.
The Royal Academy of Dance
Promotes knowledge, understanding and practice of dance internationally.
The Royal Ballet
The Royal Ballet is committed to enriching people's lives through ballet.