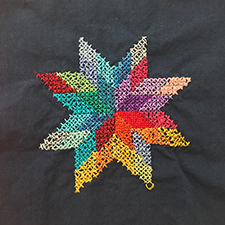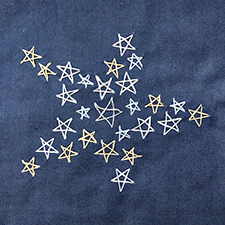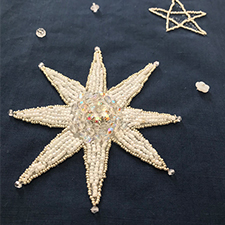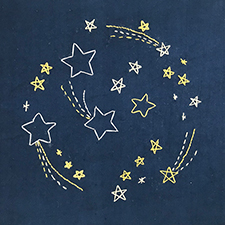 Necklace of Stars was set up pre-Covid 19 to tackle isolation and loneliness in housebound older adults in Derbyshire. The original plan had been for individuals to receive one-to-one sessions in their own home with either embroidery artist Lois Blackburn or creative writer Philip Davenport from arthur + martha.
Covid-19 happened and our approach had to change – Necklace of Stars quickly became a remote embroidery and creative writing project where participants receive weekly one to one phone calls from the artists, emails where required and parcels of all the materials they need for the project sent through the post. The artists guide participants through the process of creating beautiful embroidered stars or creative writing over a period of 3-6 weeks. We plan to work with people in this way until summer 2021 and then all of the embroidered stars will be brought together to create a quilt which will be exhibited alongside the creative writing and a lullaby soundtrack around Derbyshire's cultural venues in 2022.
This project hopes to increase confidence and wellbeing, reduce loneliness, forge connections and re-ignite creativity.
A Necklace of Stars is an Arts Council England supported collaboration between Arts Derbyshire, DCC Public Health, Derbyshire Library Services and arts organisation arthur+martha.
For more information, get in touch.
Contact: Sally Roberts – Project Coordinator
Email: sally@artsderbyshire.org.uk
Tel: 07395 904386