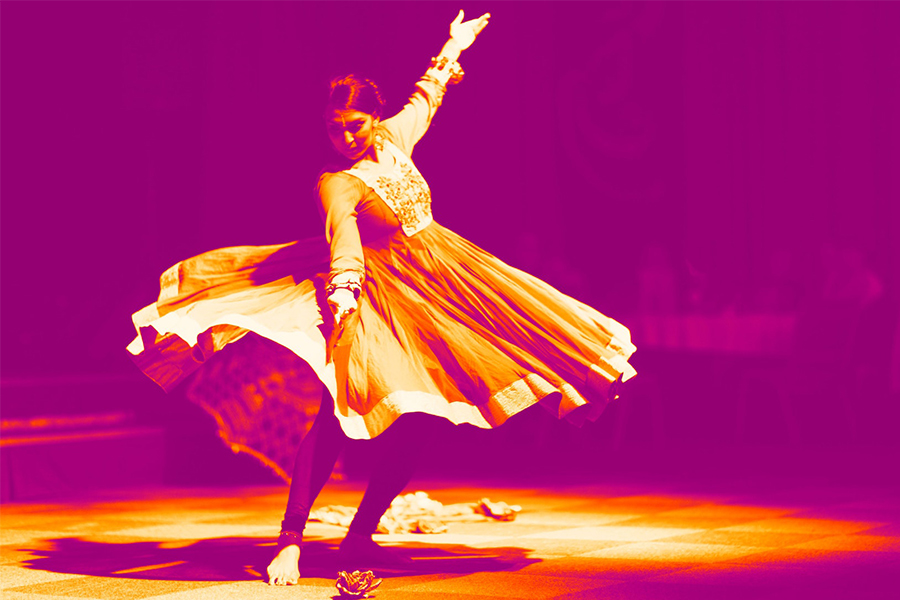 Surtal Arts, the long-established Derby organisation rooted in traditional South Asian arts, will premiere a new production next month (November) as part of the new Derby Season of Light festival.
Stories of Diwali: the Diwali experience will premiere at the city's Museum of Making on Friday 5th November at 6pm as part of the Museum of Making's new First Fridays late series.
This will be followed by performances at Holymoorside Village Hall in Chesterfield on Saturday 6th November at 6.30pm and then Number 28 Community Centre in Belper on Friday 19th November again at 6.30pm.
Using beautiful Indian Classical dance, Bollywood dance and digital projection, professional dancer Nisha Nath will bring Diwali to life on stage in this intimate performance.
She will take audiences on a journey through dance and movement – retelling the traditional mythological story of Rama and Sita using Kathak storytelling techniques, as well as exploring present day celebrations in Bollywood.
Everyone will then be invited to join a group Bollywood dance and try delicious Diwali snacks to make the whole experience truly immersive.
Nisha Nath, chair of Surtal Arts and a celebrated South Asian dance artist, said: "Coming together to celebrate Stories of Diwali which is, essentially, a tale of light over dark, feels like the perfect way to celebrate this wonderful time of year and hopefully mark a point in time when we can start to put the worst of the pandemic behind us.
"I wanted to tell the traditional story with modern values, so I've decided to tell it from Sita's perspective – the female character is the heroine of our story.
"Choreographing in pure Kathak style with semi-classical and Bollywood all in one production is a new feat, but so exciting. I can't wait for everyone to experience this."
The production will also feature new original choreography by Sandip Mallik, special music arrangement with Indian percussion and vocals, and guest appearances from upcoming dancers who have been working with Nisha for this exciting production.
Stories of Diwali is a keynote performance in Derby Season of Light which includes workshops, community events and arts performances between October and December – coinciding with major cultural and religious festivals including Eid, Diwali, Bonfire night and Christmas – which all share the common theme of 'light'.
Through this theme of light, the festival will also celebrate city's dazzling diversity and cohesion amongst local communities as well as honouring and paying tribute to the ongoing courage and dedication of NHS staff and all key workers during the pandemic that have connected people through these most challenging of times.
Surtal Arts has developed an extensive festival programme involving a wide range of local people and professional artists.
Other key events include:
Derby Lantern Parade from the Spot to Corporation Street ahead of the Derby Christmas Lights Switch on – Friday 13th November – featuring local schoolchildren and community organisation members who have joined lantern making workshops in Derby and Belper.
Our City of Making cross-cultural dance piece on the steps of Derby Council House in Corporation Street- Friday 13th November at 6pm.
Roshni: The Art of Diwali Installation at Royal Derby Hospital from 1st November onwards in partnership with Air Arts.
Smaran (Remembrance) Indian Classical Music Concert at Derby Museum and Art Gallery on Friday Friday 10th December, 6.30pm-9pm.
Surtal Arts has developed Derby Season of Light in partnership with Derby Live, Derby Museums, Air Arts, Junction Arts and No 28 community centre in Belper. The festival is supported by Arts Council England, Derby City Council, Foundation Derbyshire, Community Action Derby, Belper Town Council and the National Lottery Community Fund.
Nisha Nath continued: "Derby is a vibrant home to 182 different cultures and we have reached out to other communities to make Derby Season of Light a wonderful celebration of our city's diversity through various arts activities, events and performances with the universal theme of 'light'.
"It will give everyone a chance to re-engage with other people, play an active part in the arts which is so important for mental well-being and enjoy some new and uplifting performances.
"The festival will bring people together to show how we have all overcome adversity, acknowledge our heroes and encourage diversity and inclusion to move forward together in a positive way.
"As well as bringing together local communities, a key part of Derby Season of Light will be to 'shine a light' on local artists whose livelihoods have been severely impacted by Covid restrictions to give them an opportunity to perform and engage with live audiences again.
"Our aim moving forwards is that this first Derby Season of Light will create a legacy for Derby's diverse community groups and arts organisations to join in future years and engage with even more local communities."
For more information about all the Season of Light activities, events and performances, please visit: https://www.surtalarts.co.uk/
To book tickets for any of the three performances, please visit: https://www.surtalarts.co.uk/stories-of-diwali