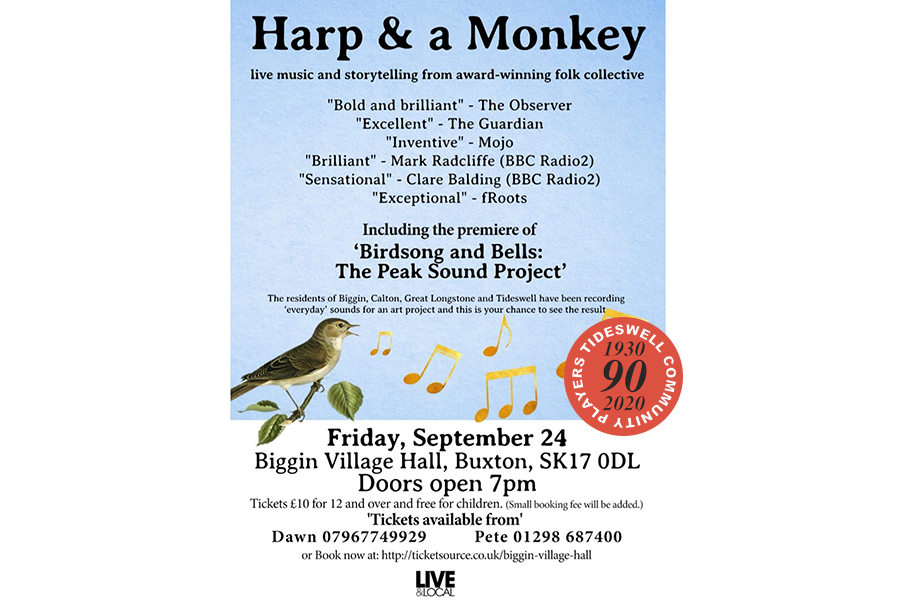 There's a show coming this November from the team at Tideswell Theatre!
With assistance from Tideswell Theatre, a local resident has invited the rather wonderful Harp & a Monkey folk band to come to the village of Tideswell and play some fine tunes.
The evening, at 7:30pm on Saturday 27th November, and subject to Covid, will also have added pie available (meat and veggie options, gluten free by advance request only, but no vegan this time, sorry). There will be a cash only bar, but with option to add a drink to your ticket and food price when you buy online.
Showcased during the evening will be the Peak Sounds soundscape. This was curated by Harp & a Monkey during the year for Live and Local, put together from over 300 sounds submitted from residents from Tideswell as one of four Peak District villages participating.
After this interlude there will be a little more music. If you have had enough to drink, (and subject again to Covid) there might be a little (socially distanced) jigging in the aisles.
Tideswell Theatre look forward to seeing you at St John the Baptist church – the wonderful Cathedral of the Peak – Saturday 27th November. Doors and bar open at 7:00pm.
Tickets available now: www.ticketsource.co.uk/tideswelltheatre