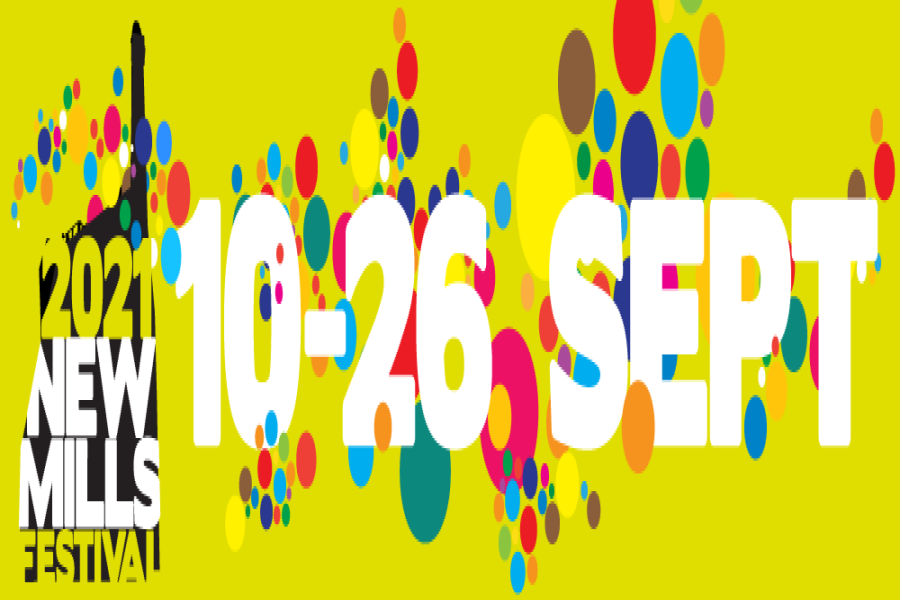 Art!
Here it is, the promised update on the artwork and installations taking place in the New Mills Festival 2021.
It's impossible to tell you about all the 150 or thereabouts artists who will feature around town between 10th and 26th September, and equally impossible to pick out highlights. There is a lot more information here, and I mean a lot! https://www.newmillsfestival.com/events/2021/9/10/new-mills-festival-art-trail  
So here we go, some of the show stoppers, some of the items which just took my fancy, and a signpost to a few Worth the Walk venues where you'll need to dust off your local knowledge (and walking shoes) to seek out something not everyone will find.
Highlights of the Trail include four pieces of specially commissioned work responding to the themes of the Festival's Home Farm Project which has been running in the town since 2020. The works entitled, 'Home Farm Faces', "Connected Threads", "We Move Together' and "Small World" have been made possible with funding from The National Lottery Community Fund, distributed by Transition Network and Transition New Mills. More information about the artists and the works can be found on the festival website.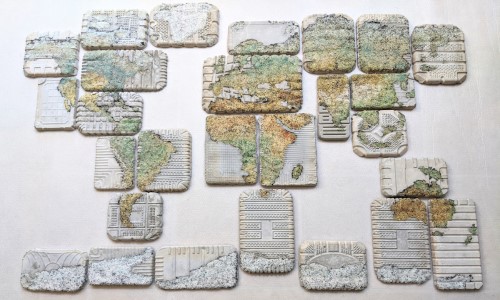 Small World
Hosted by Polly at Pretty Little Things on Market Street is the creation of Nerissa Cargill Thompson https://www.newmillsfestival.com/nerissa-cargill-thompson 'Small World' highlights the issue of plastic pollution and the permanence of disposables through sculptures that combine embellished textiles and cement cast in plastic waste, inviting us to consider the packaging that we use and discard on a daily basis.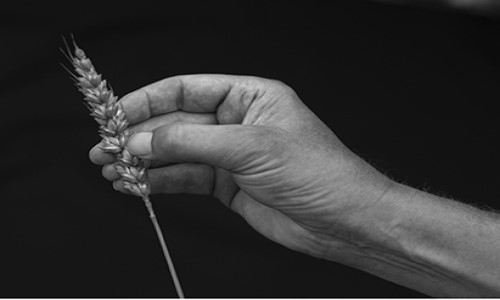 Home Farm Faces
Justin Garner is a freelance photographer with an interest in natural history. He is also a youth and community worker and enjoy delivering workshops and training sessions with people of all ages. Justin is working on a commission for the Art Trail 'Home Farm Faces' which captures the why, when, where, who and how of the people who have been taking part in the Home Farm project 2020/21 by growing heritage wheat in their allotments, backyards and front gardens. Look out for the portraits popping up around town!
Further information here: https://www.newmillsfestival.com/justin-garner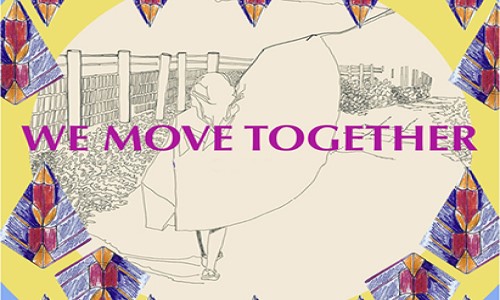 We Move Together
The project created by "Twisted Trees" will harvest women stories to make wearable paintings; bringing texture, colour and pattern to life through the movement of the women's bodies. Drawing inspiration from their research of British harvest festivals, Twisted Trees will reimagine the Corn Dolly, and the spirit of the goddess she was made to preserve from one harvest to the next.
Intrigued, confused, inspired? More information here: https://www.newmillsfestival.com/we-move-together  
Performance(s) will be over the Big Weekend September 24th to 25th. Look out for details!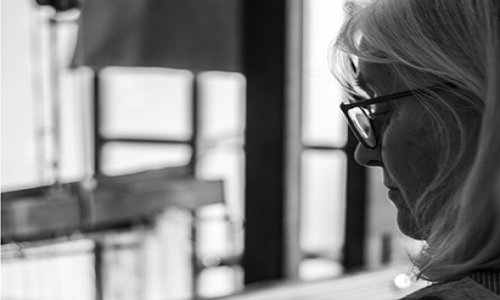 Connected Threads
Stroll across the water and find yourself visiting the Shrub Club and Torr Vale Mill. At the mill you'll find local weaver, Kate Greatorex weaving our home town's story accompanied by sound and video, and you could get to be a part of it. Free event, and happening on Sat 11, Sun 12 2-5pm, Sat 18 2-5pm, Fri 24 5-7pm, Sat 25, Sun 26 10am-6pm.
https://www.newmillsfestival.com/events/2021/9/11/connected-threads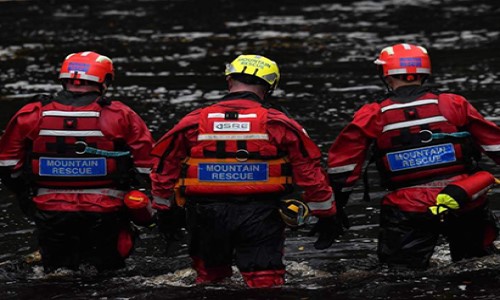 An exhibition of the work of Dan Sells – A KMRT fundraiser
This one brought a sudden pricking behind my eyes. Something really special, for a very important local cause, and on the Worth the Walk list.
Dan, the photographer, was an active member of Kinder Mountain Rescue Team, a trainee search dog handler and a keen walker and climber. This year marks 70 years of the Peak District national park and 50 years of KMRT. Dan's photos capture the spirit of mountain rescue and the hill as an extension of home.
It's happening at The Den, Brookbottom – please walk or cycle. There is no parking. If so minded, you're reminded there is also a refreshment option at the Fox! The exhibition is for two days only – 25th and 26th September between 11am and 4pm – but if you can't make those days then there will be a selection of his work in the windows.
Work exhibited with kind permission of Dan's family.
Fundraising for KMRT replacement vehicle: http://www.justgiving.com/…/Exhibition-of-Dan-Sells…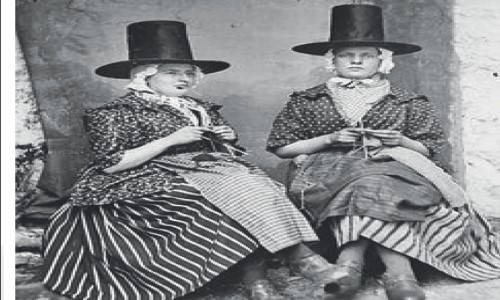 Keep it under your hat
Another Worth the Walk selection – not that far really – St George's Parish Church. We have "Keep it under your hat" weekend afternoons. Sat 11 1.15pm-4pm, Sun 12 12-4pm, Sat 18 & Sun 19 12–4pm, Sat 25 & Sun 26 12–4pm.
Artist Mary Gwen has chosen the Welsh hat as a central component for this exhibition. Breaking away from the dour black hats of the past, Mary Gwen is re-appropriating the Welsh hat to represent a vision of modern Wales. Several giant hats in vibrant colours will be made from Welsh tapestry and suspended from the ceiling. They represent diverse and inclusive contemporary Welsh identity and culture, inspired by "Hiraeth" (a longing for home), triggered by economic displacement. Travellers are often depicted wearing hats. Hats will be accompanied by poetry, song, sound and images from the Welsh landscape, triggered by sensors for an immersive audience experience.
Info: www.marygwen.com
https://www.newmillsfestival.com/events/2021/9/11/keep-it-under-your-hat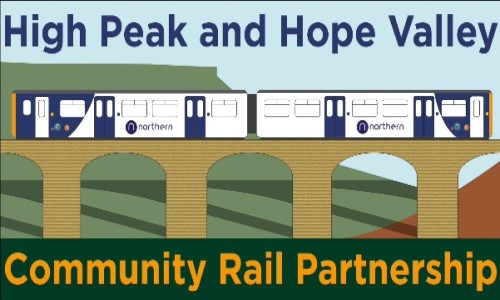 So many things have grabbed my attention. As a long term user (nearly said sufferer) of both the local train stations, it's great to see them on track and hosting artwork as part of our town trail.
More information here: https://www.newmillsfestival.com/events/2021/9/10/p1-p5-new-mills-to-bolton  
We're also making good use, as you'd expect, of the fantastic local Spring Bank Arts Centre during the New Mills Festival. During evenings and daytime you'll find it worth that short saunter out of the town centre. 25th and 26th September 10am to 4pm it hosts the High Peak Artists exhibition "Eight Miles from Home" – this brings you something for everyone – a mix of paintings, illustration & mixed media, ceramics, textiles, photography, jewellery and contemporary sculpture. Come along. Get inspired. https://www.newmillsfestival.com/events/2021/9/25/eight-miles-from-home-lwn4a  
Worth the Walk
Also Worth the Walk – get yourself up to High Lea Park, and something rather special awaits.  I will be enigmatic and leave that statement as it stands. It'll be the talk of the town, so you'll soon find out more! While you're there, you could do worse than pop into the Community Orchard where something rather silly and a little stunning resulting form a collaboration of local residents and their woolly wanderings also awaits.
Providence URC Church is well worth a meander for the Society of Marple Artists display of local artworks.