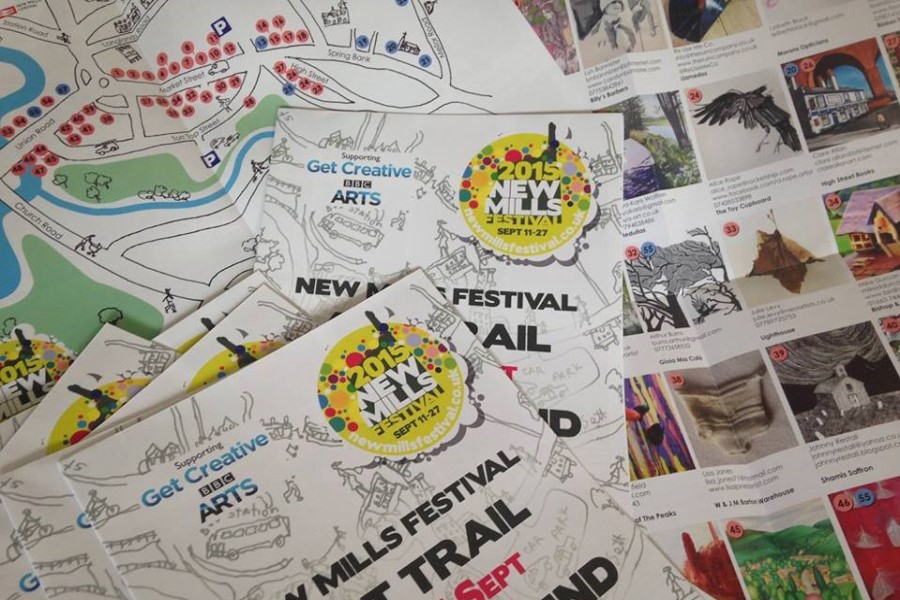 Arts Trail & Light Up New Mills
As the town becomes a free gallery again this year, you have a daytime and an evening option. It's a simple thing, a walk around town, looking at what's in the windows.  
Firstly, the Arts Trail where local businesses are hosting the work of various artists all around town, take your time between 10th and 26th September to pick out your favourites.
The Arts Trail really is entertainment for the entire family https://www.newmillsfestival.com/events-all-festival/2021/9/10/new-mills-festival-art-trail or you can find an actual paper guide in Priscilla's Card Shop. If I had to pick out a few to bring a smile to the face of your little uns, I would find my way to:
Priscillas Card shop to see the playful work of Lorraine Rudyard, or to
Morans Opticians to find the work of Hannah Lobley and Kirstie Adamson (be prepared for questions about the planet, the climate, the environment)
Headmasters to find local artist, Jacqueline Daniels's beautiful illustrations
The Big Weekend
The Art Trail concludes with a "Big Weekend" where artists and venues across New Mills open their doors to host pop-up exhibitions, open studios, workshops and demonstrations, and arts and crafts markets. New to this year will be a first showing of work by 'High Peak Artists'. The exhibition, 'Eight Miles From Home' takes place in Spring Bank Arts Centre Sat 25 -Sun 26 September.
Secondly, once the evening has drawn in, Light Up New Mills is back in town from Friday 24th to Sunday 26th September! Meander around our residential streets, admiring the creativity, thought and care your neighbours have put into bringing some autumn cheer into our lives. If you're giving it a go this year, go ahead and register your house to become part of the town's own after hours gallery. The map is also available on this link.
Be a part of it
Some more performances, workshops and events where you get to be a part of things, the vital human element which makes it a success. Ticket costs shown where applicable:
The Scarecrow Walk
This appeals to my sense of the absurd, and I know New Mills will not let me down.
It's harvest time for the Home Farm New Mills project, look out for the scarecrows throughout town that are keeping the crows off the little plots of wheat.
Home Farm has involved people putting aside a small patch of earth in their gardens or other spaces and growing their own wheat. Learning about harvesting and terms like threshing and winnowing has been a part of the project, and there will be corn dolly making, baking and the arrival of a straw bear in town too!
Funding from Transition Bounce Forward, Foundation Derbyshire, High Peak Borough Council and Derbyshire County Council.
Bootworks Theatre
Get yourself down to Sainsburys, as outside, a treat awaits – a one time only event! No charge.
Saturday, 11 September 2021, 11:00 am  2:00 pm.
Two beautiful 1950's Jukeboxes sit side-by-side. Watch them spring to life as two performers (hidden inside) re-create classic pop music videos in a lip-syncing musical medley.
https://www.newmillsfestival.com/events/2021/9/11/bootworks-theatre-jukeboxes  
The Straw Bear
Saturday, 18 September 2021, 3:00 pm to 4:00 pm around the Union Road and Market Street areas.
I'm not even sure what this is but I know I don't want to miss it – To celebrate our wheat harvest the straw bear is coming to town!
https://www.newmillsfestival.com/events/2021/9/18/straw-bear  
Back Yard Bubbles
A late comer just in time for this newsletter. This is an event that's really going to need you to make it work!
Let's all BLITZ New Mills with BUBBLES at 1pm on Sunday 12th September!
https://www.facebook.com/events/531124377999408  
Estate
Opening hours: Friday evenings, Saturday daytime and Sunday daytime through the three weekends of the New Mills Festival.
Tickets free but bookable – https://www.ticketsource.co.uk/newmillsfestival/estate-municipal-disaster-zone-tour/e-vpozbj 
Remember the year the "City in a Shipping Container" came to town? Well, Jimmy Cauty, the man behind that has a new show in town. Coming to New Mills as part of a Tour of the UK is his latest work, "ESTATE". It's amazing! Again in a shipping container, this is a creation of many scenes and rooms, all of which have inexplicably been damaged and destroyed. It's for you to figure out just what you think happened here. Again the incredible detail, but with sounds and lights and smoke and a chinook, and this time you can step inside. This is ticketed to keep numbers at a level where you'll be able to take your time and see without crowds, but tickets are free. You won't want to miss out. Oh, it's parked up at the New Mills football club so keep an eye out for Millers Bar opening and the street food options.
Self Guided Walk – New Mills pubs past and present
Over the Festival Fortnight we're inviting you to go on one of two self-guided walks, which will take you past all the pubs, past and present. For the keen walker, 'The Full Pint' walk, which is a total of 13.5 miles (21.8km), will take you past all 41 pubs. If you prefer a shorter walk, 'The Half Pint' walk, which is 6.5m (10.45km) in length, will take you past all the pubs (and former pubs) in the town, as well as Hague Bar and Brookbottom.
More information and suggested routes here  
An on-line map has been created which includes further details of the pubs (including their full address), as well as photos. This can be accessed at: https://tinyurl.com/NewMillsPubs  
The uses a mixture of roads and footpaths, with varying surfaces and gradients. Walkers are advised to walk within their ability, wear walking boots / shoes and take suitable clothing and a waterproof with them, as well as food and drink. We also recommend the use of an Ordnance Survey map (Explorer OL1).