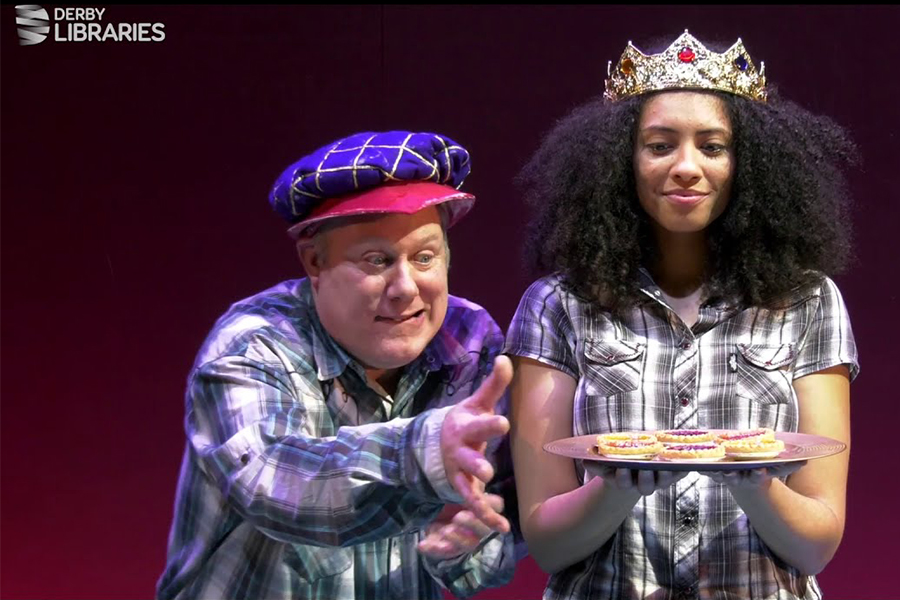 Derby Libraries' Rhymetimes are back in a new format. The popular nursery rhyme sessions for pre-school children and their parents and carers are back as a series of online videos, created by Derby Theatre, to watch and follow at home.
Until the pandemic, Rhymetimes were popular events in Derby's libraries, but have been unable to continue while restrictions remain in place. Because reading to children and sharing rhymes is so important to children's language development, Derby Libraries approached the theatre to create professional and engaging online Rhymetimes.
Seven videos, each featuring three rhymes and songs, have been filmed against the stunning backdrop of The Little Mermaid, the theatre's recent Christmas show which was shown online. Directed by Derby Theatre's Artistic Director and Chief Executive, Sarah Brigham, and produced by Stuart Allen, the Rhymetimes will be available to watch for free from Tuesday 9 March 2021.
They can be viewed on the Rhymetimes page on the Derby Libraries website, and on the InDerby YouTube channel.
From Wind the Bobbin Up to A Sailor Went to Sea Sea Sea, and Twinkle Twinkle to Old Macdonald, babies and toddlers will love joining in with infectious rhymes, fun sounds and lively actions, performed by Ivan Stott and April Nerissa Hudson.
Each of the seven videos feature three engaging and well-known rhymes, complete with open captions. They also include an inspirational quote from a renowned author, to encourage parents and carers to help their children enjoy stories and reading from an early age, and a snippet of information about library services and what's on offer for families.
As well as being a fun activity for young children to share with their parents or carers, reading to children and singing rhymes with them immediately improves their life chances. The Book Trust, provider of the national Bookstart Scheme, says: "Repetition of rhymes and singing supports language and literacy development. Children will take comfort from rhymes when they are repeated and become familiar. … Through rhymes, children naturally learn essential skills for communicating, such as turn-taking and joining in."
Derby Libraries now plans to seek funding, in partnership with Derby Theatre, to create more online content for children.
Councillor Robin Wood, Cabinet Member for Culture, Leisure and Tourism, said: "While we can't meet face-to-face, we have to be imaginative about how we work with families to inspire a love of reading and language in young children. I'm sure parents and children will delight in these colourful and well-presented videos, which provide some precious moments to share."
Sarah Brigham, Derby Theatre's Chief Executive and Artistic Director, said: "Derby Theatre loves nothing more than delivering engaging stories to children so this opportunity to work with our local library service and create some fun and engaging rhymetime films was an ideal opportunity for us. The local actors we engaged to tell the stories are well known faces to our under fives audience and we hope parents, carers and children will enjoy singing along with them."
Details of each video:
Film 1
Quote: "Children are made readers on the laps of their parents." – Emilie Buchwald
Hickory Dickory Dock
Little Miss Muffet
Wind the Bobbin Up
Film 2
Quote: "There is more treasure in books than in all the pirates loot on Treasure Island." – Walt Disney
My Bonnie Lies over the Ocean
Row Row Row your Boat
A Sailor Went to Sea Sea Sea
Film 3
Quote: "The more that you read, the more things you will know. The more you learn, the more places you'll go." – Dr Seuss: I Can Read with my Eyes Shut!
Old Macdonald
Doctor Foster
These are Grandma's Glasses
Film 4
Quote: "When I say to a parent, 'read to a child,' I don't want it to sound like medicine. I want it to sound like chocolate." – Mem Fox
Five Currant Buns
Pat a Cake
The Queen of Hearts
Jelly on the Plate
Film 5
Quote: "If you don't like to read, you haven't found the right book.''– J K Rowling
Five Little Monkeys
Ring a Ring o' Roses
Teddy Teddy Bear
Film 6
Quote: "A book is a dream that you hold in your hand." – Neil Gaiman​
See the Little Rabbit Sleeping
Car Car
Twinkle Twinkle
Film 7
Quote: "Books and doors are the same thing. You open them, and you go through into another world." – Jeanette Winterson
Dingle Dangle Scarecrow
Grand Old Duke of York
If You're Happy and You Know It