Bruce Asbestos: Eye of Newt 2.0 in QUAD Gallery, Derby, from 23 July – 30 October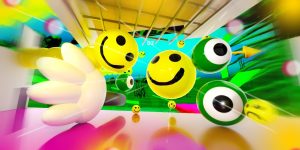 A new exhibition in QUAD Gallery in July will feature giant inflatable sculptures including a giant yellow worm, a group of green frogspawn and a giant cartoon arm. Eye of Newt 2.0 is a new exhibition by Nottingham-based artist Bruce Asbestos and features new co-commissions for QUAD in partnership with the Bluecoat, Liverpool.
The giant inflatable artworks represent aspects of positive mental health: Rest, Community, and Connection, and will be displayed in the Gallery alongside the exhibition's main feature, Eye of Newt 2.0 video game; a two-screen playable sound-making environment. The game can be played by two people at the same time; they can choose to collaborate, alternate, disrupt, play and experiment. Unusually there is also the option to opt out of the game, and the environment will play and regenerate itself over time. The game takes the symbols of positive mental health (Community, Rest and Connection), that also feature in the exhibition as giant inflatables. Inspiration for Community came from the artist's lockdown walks to the local park where he came across frogspawn in a pond as symbolic of togetherness. Rest, a worm sculpture, is inspired by Japanese Kokeshi Dolls – stylised wooden dolls with no arms or legs used as children's toys and for tourists. Connection, a giant arm, is a cartoon character who symbolises reaching out to connect.
Bruce's work looks at the aspects of 'Play' as a way of producing unexpected images, artworks and feelings. In this exhibition the idea of play extends the good mental health theme; that fun, collaboration and immersive playful experiences are also an important part in balancing good mental health.
Bruce Asbestos commented: "The work here is a cross pollination of digital characters and giant inflatables; I'm trying to create more and more fun with each exhibition I make; I'm pushing to make this the most vivid show to date; the characters feature both in the playable game in the space, and in the inflatable works. I'm always trying to make my work more Pop; I love this collision of inflatable artworks and video games; this exhibition is the next step in achieving that dream."
Bruce Asbestos's work draws from a rich history of painting, sculpture, popular culture, folklore and fairy tales. His work frequently mixes everyday objects with high art, fashion, and responds to global pop culture. His interdisciplinary practice combines performance, painting, clothing, social media, video games, curation and many collaborations.
Art Review commented "Through his shrewd use of social media, personal re-hashing of global pop culture and use of new digital technologies, he (Asbestos) has established an unmistakable visual identity and unique brand (complete with logos) to almost become a living artwork."
Bruce Asbestos: Eye of Newt 2.0 is on display in QUAD Gallery from 23 July to 30 October. QUAD Gallery is free to visit and open daily Tuesday to Sunday from 11:00am to 6:00pm. For more information, please call QUAD Box office on 01332 290606.
Exhibition events will include a Catwalk show, as QUAD Gallery hosts a display of Bruce Asbestos' latest collection of hand-made sculptural outfits, drawing inspiration from his most recognisable inflatables and current works. Bruce Asbestos' Spring / Summer 2023 Catwalk will take place on Saturday 29 October, tickets will be released later in the year.
Funded with generous support from Arts Council England. Eye of Newt 2.0 at QUAD is co-curated by Niamh Treacy, FORMAT Coordinator, and Jodi Kwok, QUAD Assistant Curator. Bruce Asbestos is QUAD's International Digital Fellow 2021 – 2022. https://www.bruceasbestos.info