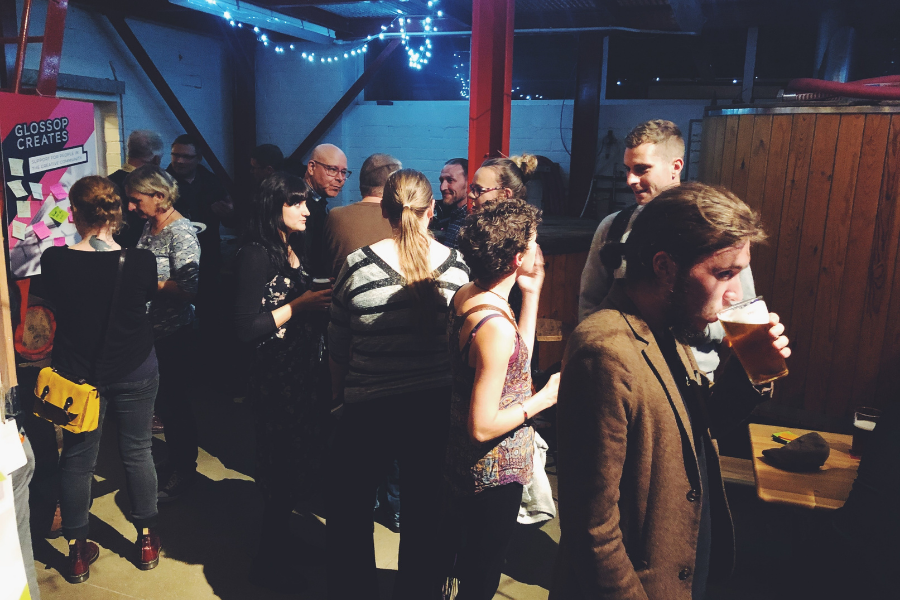 We will be holding our next Creative Network Meeting at The Partington Theatre from 7pm on Thursday 30th September and would really love to see you there. Your first drink is on us, and there will be some food provided too.
Here's a loose agenda:
A welcome to the network for some new faces, they will introduce themselves and please do say hello to them throughout the evening.
We want to tell you about our new venue, KIN.DER. It's in a place very dear to the Glossop creative community's heart- in the old Wain's site at The Gasworks. We hope that it will serve as a creative hub for the town and we have a really exciting future planned there, with the multi purpose site being a meeting room, archive, print studio, artisan shop, market venue and events space. Email us for more details on hello@glossopcreates.com
We are launching a KIN.DER zine to coincide with this, and we will hopefully be able to show you some, if not all, of issue zero! The zine hopes to capture eclectic and interesting aspects of our town in a style, format and context that other publications from the area don't.
You will hear updates from the artists undertaking our Pairings commissions. Richard Knox's project is about the Town Hall, whilst Lauren Riley's project is about Glossop's Textile Heritage. They will tell you what they've been up to and how you too can get involved. You can see them at the Heritage Open Days event at Victoria Hall this Saturday.
We will update everyone on the progress and findings from our mentoring scheme. If you haven't been involved this time, but would like to be mentored on any aspect of what you do, we can pair you with somebody who can help you on the next round of mentoring.
We will tell you about our Chronicle page and how to submit to that, as well as our blog spot and events and listings tool on our website. We welcome all kinds of content.
We will update you on the progress of the video that we filmed promoting and championing the practice of some people in this network, when that might be ready and any future filming we may undertake.
We want to talk to you about this network, your thoughts on how it can be more helpful to you and how you can get more involved in the meetings, setting agenda points and having a role in the general governance of the network.
We will go through some future plans and projects for Glossop Creates, your news and other business. Please feel free to invite anybody along who might be interested in what we do.
Big congrats to The Artful Pigeon for opening recently, it is wonderful and we can't wait to find out more. Hopefully some members of that collective can tell us more at the event. Same for the High Peak Makers Market at Victoria Hall. It looked fantastic, well done to all those involved. Acclaimed local illustrator Chellie Carroll's show at Wall in the Barn in Hadfield was also brilliant, you can see her work here. Do let us know of anything that you've seen that we haven't mentioned.
See you soon!