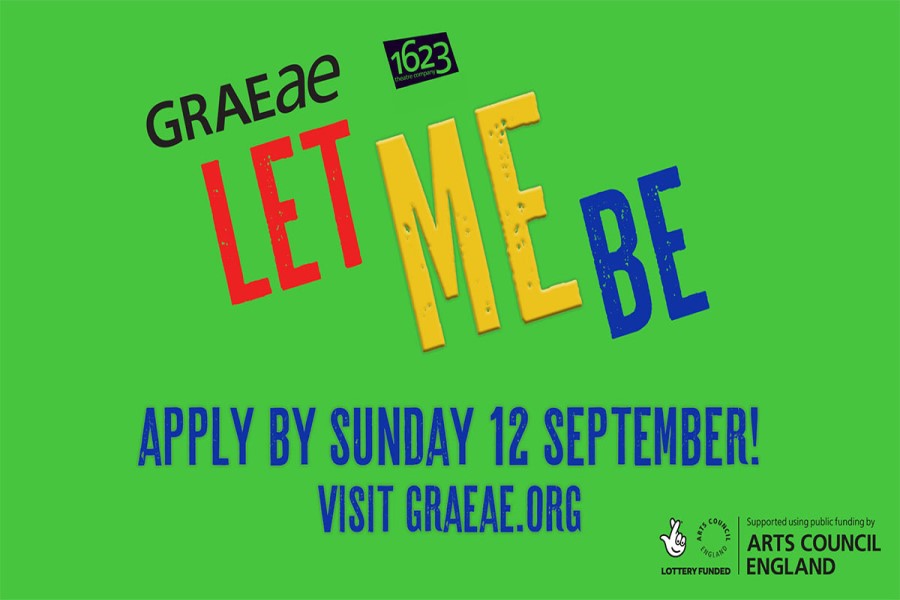 LET ME BE with Graeae Theatre Company
Who's your Shakespeare alter-ego? That's a question we'll be exploring in a brand-new theatre making course called Let Me Be, which we're running this autumn in partnership with the fantastic Graeae Theatre Company who place Deaf, disabled and neurodivergent artists centre stage.
This exciting new course for artists has been influenced by the process we've developed for recent and upcoming shows including Queer Lady M, Othello's Sister and Angelica, which bring together artists' lived experiences of marginalisation and their relationship with characters from Shakespeare's plays.
Let Me Be is delivered digitally and it's open to all Deaf, disabled and neurodivergent artists aged 16 and over, including actors, writers and directors, at any stage of their career.
You don't need lots of experience of Shakespeare or autobiographical theatre to do the course.  You'll get the chance to develop new skills as part of a new ensemble of artists in a supportive and accessible environment.
Let Me Be comes from a quotation from Much Ado About Nothing: "Let me be that I am and seek not to alter me" – it's about being our authentic selves and resisting pressure to be what others want us to be. Applications close at the end of Sunday 12 September 2021.
It's £5 for the whole course, which takes place online every Tuesday from 11am to 1pm starting on Tuesday 5 October 2021. You have the option to take part for five or 10 weeks.
BEHOLD! LGBT+ creative workshops
In April and May this year, we ran a series of LGBT+ creative workshops called BEHOLD! which provided safe spaces for LGBT+ people to hang out, connect and support each other while sharing stories, taking part in creative activities and exploring a bit of sassy Shakespeare.
There were six workshops in total, two under each of the three titles Perform, Write and Animate. The workshops became international events with participants joining from Denmark, Sweden, Australia and the US, as well as the UK.
An LGBT+ artist ran each session with an emerging artist from the community supporting them. The feedback from participants was powerful and moving. Many had felt an increasing sense of isolation during the pandemic due to few online safe spaces for the LGBT+ community, and the workshops made them feel more connected, expressive and creative.
Funding for the sessions came from the Comic Relief: Red Nose Day's LGBTQ+ COVID-19 Recovery Fund, in partnership with METRO Charity, Yorkshire Mesmac and Birmingham LGBT.
The artists who ran the sessions have created three videos showcasing highlights from the workshops. These are on our YouTube channel with captions and audio description – www.YouTube.com/1623theatre.
Perform was run by Sam Beckett Jr supported by Polly Lister who followed a theme of identity. The participants explored a poetic speech full of advice in Hamlet before writing and speaking their own advice to themselves and other people in the LGBT+ community.
Write was led by David Payne supported by Caitlin Kearns who chatted about their favourite LGBT+ characters in soaps and continuing dramas. They also looked at how soap opera storylines are often based on plots from Shakespeare, before writing their own short stories and poems.
Animate was facilitated by Edalia Day supported by William Wyn Davies. These workshops gave participants time and space to write their own poetry inspired by "All The World's A Stage" from As You Like It before animating them using apps.
Responses have been so positive that we are looking to run more BEHOLD! LGBT+ workshops in 2022. Our new creative producer Jamie Brown is currently looking into ways of making this happen.
SHAKE UP! new short videos
The pandemic has shaken up so many things – and people – that we've commissioned six new videos with shaking up at their heart. We asked artists from marginalised communities to create and share videos that mix together their experiences of social in/justice with a shot of Shakespeare.
Four of the SHAKE UP! videos are on our YouTube channel right now, and there are two more to come – we'll talk about these in our next newsletter.
Trans animator, illustrator, poet and theatre maker Edalia Day has created a cheeky, thoughtful and moving performance poem called Shakesqueer, which shares the impact of Section 28 on Edalia's formative years, Shakespeare's queerness, and the freedom of performance.
The Question is written and performed by Damien James, a mixed heritage actor-musician who graduated from Rose Bruford College in 2020. In this powerful piece, Damien blends his own lyrical rap with Hamlet's famous 'To be or not to be..' speech to explore how isolation and injustice impacts on mental health as a person of colour.
Karen Spicer wrote and performed Shelford Road, based on her chats about Shakespeare with her mum and friends on Shelford Road in Gedling, a former mining town near Nottingham where Karen grew up. In her poetic video, Karen challenges assumptions and prejudices that Shakespeare isn't for working-class people.
Here/There is a poem written by JD Stewart, an LGBT+ Scottish poet and playwright, and spoken by Ralph Adriel Johnson, an African American actor. It imagines what Mercutio thinks and feels as he dies in Romeo's arms after Juliet's cousin has stabbed him in Shakespeare's play. JD brings to light the social injustice experienced by Mercutio who cannot express his love openly for Romeo in a homophobic society.
The SHAKE UP! project was supported by donations from Friends of 1623.
Bardy Books reading group
We've come up with an exciting new reading group looking at contemporary novels by socially-conscious writers who have been inspired by plots, themes and characters from Shakespeare's plays
You can read one or more of the following books at your own pace and join other readers on Zoom every three months for friendly chats about the novels and the plays that inspired them. 1623 creatives will facilitate the Zoom sessions, with BSL-English interpretation.
We launch with We That Are Young by Preti Taneja, which is a reworking of King Lear set in modern India. It centres on a billionaire family dynasty led by an ageing patriarch whose two older daughters are left to deal with the fall-out when their youngest sister runs away.  bit.ly/WeThatAreYoungGoodReads. The book will be discussed online on Wednesday, November 24 from 7pm to 8pm and we are delighted that the author will join us at the session.
There is no charge to take part, but you are welcome to make a donation if you can, to support our work with marginalised communities: paypal.me/1623theatre.
Contact ben@1623theatre.co.uk to book your place for one or more of the chats and receive a Bardy Books zoom link.
The next three sessions will look at: