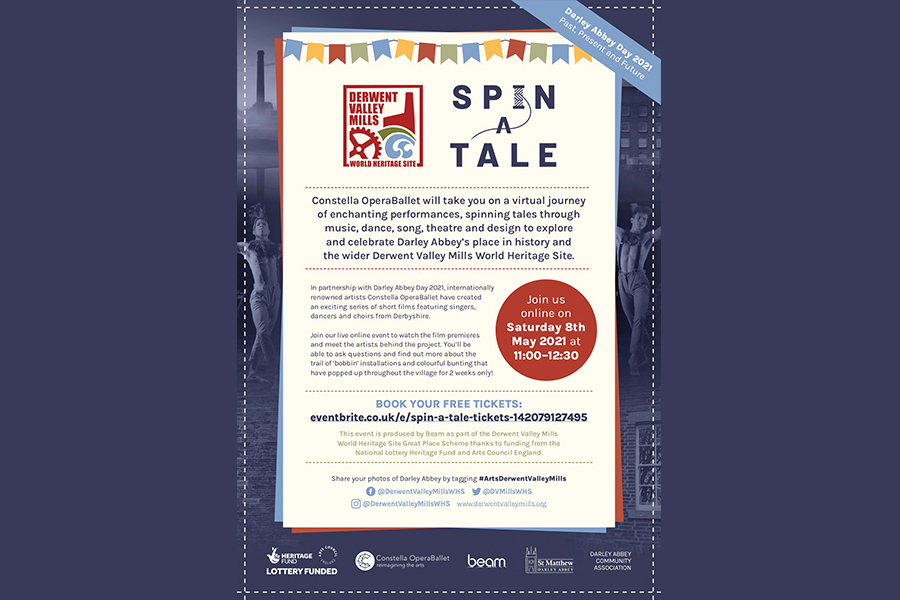 You are cordially invited to join us for the online premier of "Spin A Tale" on Saturday 8th May at 11am – the final of our Great Place Scheme major arts commissions for the World Heritage Site.
Constella OperaBallet will take you on a virtual journey of enchanting performances, spinning tales through music, dance, song, theatre and design to explore and celebrate Darley Abbey's place in history and the wider Derwent Valley Mills World Heritage Site.
In partnership with Darley Abbey Day 2021, internationally renowned artists Constella OperaBallet have created an exciting series of short films featuring singers, dancers and choirs from Derbyshire, including Deda's Youth company and Derby University's dance students. This is the final in the series of major arts commissions for the Derwent Valley Mills World Heritage Site Great Place Scheme which have included "Mr Arkwright" by Jo Fairfax and "Thread" by Seiko Kinoshita.
Join our live online event to watch the film premieres and have a unique opportunity to meet the artists behind the project. You'll be able to ask questions and find out more about the trail of 'bobbin' installations and colourful bunting made by the local community, that have popped up throughout the Darley Abbey for 2 weeks only!
Darley Abbey Day will also include a trail of beautifully decorated Front Gardens, a Souvenir Programme with Village Trail, and other Covid-Safe activities to be announced.