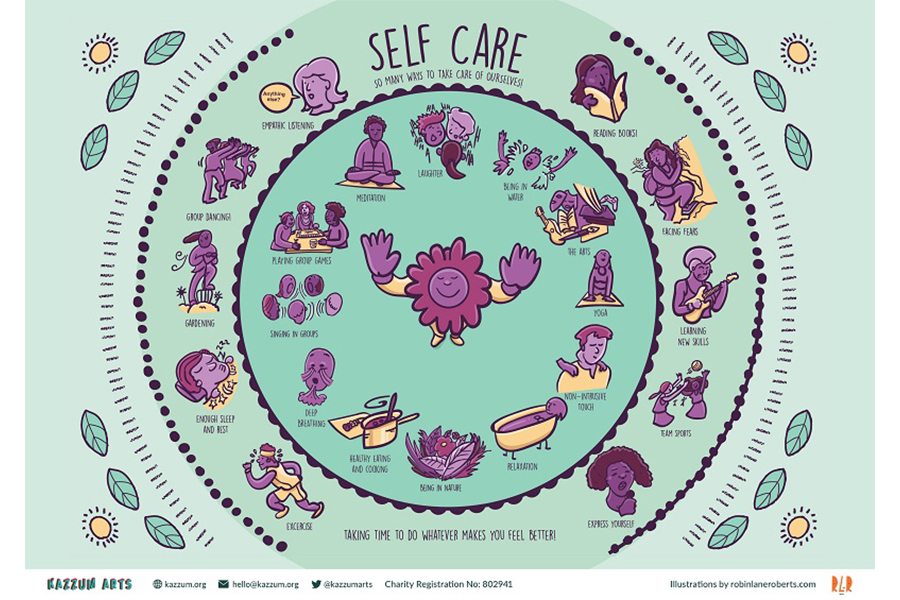 Image credit: Illustrations by Robin Lane-Roberts for Kazzum Arts
We know from our members that the people delivering culture and creativity for health and wellbeing need more help to do their work in a healthy and sustainable way.
Nicola Naismith's research 2019 report Artists Practising Well reflected a wider need across museums, heritage and freelance practice for logistical and emotional support. This has been backed up by our own sector surveys in 2020 and 2021.
This new resource brings together work on practitioner support from across the culture, health and wellbeing sector. We will be discussing it in more detail at a number of workshops over the coming months, beginning with a #CreativeNetwork – Wellbeing session in collaboration with Creative Lives, 1-2pm on 25 October.
If we are to work effectively to support health and wellbeing practitioner support must be embedded in funding structures. All commissioning organisations must put plans in place to support freelancers. See our short report on the Practising Well Award, below, for ideas on how to do this.
The resource includes a selection of GIFS from Kazzum Arts' animation, 'Supporting professionals impacted by Trauma'.
Background
In the last decade, social support has fallen increasingly to civil society. The 'frontline' now includes many people working with the arts and culture – from freelance artists to librarians. As inequalities rise, we know that the people we work with are in increasingly complex and vulnerable positions. The need for support has been exacerbated by a pandemic that has exposed and heightened existing inequalities and therefore the challenges faced by workers in this field.
This resource recognises that the wellbeing of the culture, health and wellbeing workforce and the communities it serves requires a combined and shared effort.
This effort needs to honour individual lived experience and collective trauma, promote equity and recognise individual choice alongside building community and sector resilience.
We aim to broaden the definition of practitioner wellbeing to acknowledge the needs of all practitioners in this field, from freelance artists/ consultants to senior leaders, from link workers to volunteers. We are all important parts of the ecology and at the alliance are keen to promote and support initiatives that are working to support all practice. Our broader aim is to move towards a culture of care that acknowledges that support must be a mutual effort. Commissioners, partners, participants, funders and practitioners all need to be invested in this culture of care for each other.
We believe that practitioner wellbeing also needs to be embedded in to the bigger questions and actions relating to determining quality, nurturing sustainability and driving innovation.
To find out more, please visit the CHWA website or get in touch at: info@culturehealthandwellbeing.org.uk if you would like to promote any practice and thinking in this area on this page.