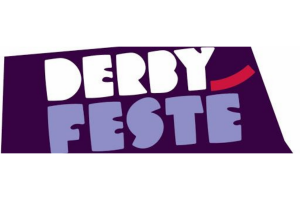 Derby Festé will make a welcome return to the Cathedral Quarter and St Peters Quarter on the evening of Friday September 24 and then throughout the day and early evening on Saturday September 25 and Sunday September 26.
This year's carefully curated programme features a host of world-acclaimed and exciting up and coming artists who will bring the city centre streets to life with contemporary and unique music, dance and street theatre performances.
The family-friendly event has been a key feature in the Derby festivals calendar for many years – previously attracting more than 30,000 visitors and featuring dance, contemporary circus, music and comedy street entertainment from across Europe.
Derby Festé is produced and presented by Déda, Derby LIVE, QUAD and Derby Theatre and it is funded by Arts Council England and Derby City Council.
Steve Slater is the is the Artistic Lead of Derby Festé and Director of Déda in Derby which is the city's nationally-renowned centre for dance, contemporary circus and outdoor performance.
He said: "Since 2007, Derby Festé has existed to bring surprise, enlightenment, entertainment and amusement to local communities and visitors alike and is an important element in the city's bid to be the UK City of Culture 2025.
"Last year we organised Derby Well in the city which was inspired by the traditional Derbyshire Well Dressing festivals and was well received by people keen to re-engage after the first major lockdown.
"We are delighted to return with a more recognisable Derby Festé programme this year and I think there will be a real appetite amongst people of all ages and communities to enjoy this cultural celebration.
"The last full Derby Festé programme in 2019 which was a particular triumph with thousands of visitors enjoying a diverse programme ranging from the 'Museum of the Moon' in Derby Cathedral to the dramatic 'Malaya' on Bass' Recreation Ground.
"This year's Derby Festé celebrates being present in the moment, opening your mind to the incredible imagination of talented artists and just marvelling in the spectacle that is before you.
"The joy of Festé has always been to bring people of all ages and communities both local and further afield together to enjoy performances that you would usually only see in large UK and European cities. 
"As part of the City of Culture Bid it is also important to us to think about the legacy of the event, and Tim Etchells Neons will be shining out for months after the Festé weekend and look forward to seeing people's reactions."
Visitors can look forward to a diverse programme:
Friday 24 September
On Friday evening, the live action is focused on Cathedral Green and The Spot with the chance to venture across the city centre and be amongst the first to see the neon and LED works created by artist Tim Etchells in three public spaces across the city centre.  All outdoor performances are free of charge.
Neons: Tim Etchells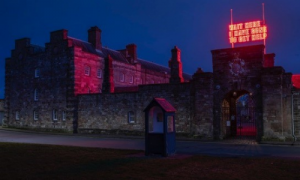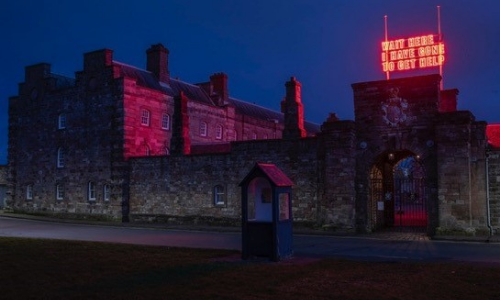 Time: From 7pm
Location: The Spot, Cathedral Green and Déda in Chapel Street
Etchells' works have been presented all around the world, from Gwangju to Berlin, with New York, Derry, Rome, Lisbon and Blackpool in between and are well known for their comical and poignant dialogue with everyday spaces and landscapes. For Derby he will create a series of playful interventions in the city – poetic and provocative fragments in light and language which will ask us to look again at the environment we know so well.
Through simple thought-provoking phrases spelt out in neon, LED and other media, Etchells strives to create miniature narratives, moments of confusion, awkwardness, reflection and intimacy in public and gallery settings.
The installations will stay lit and be a regular feature in the city centre locations until January 2022.
Born to Protest: Joseph Toonga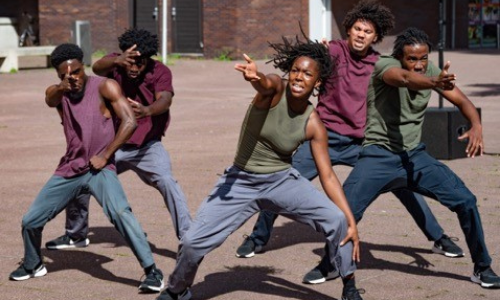 Time: 5:30pm at The Spot and 7:30pm at Cathedral Green (35 minute performances)
Born to Protest is international Hip Hop artist Joseph Toonga's first outdoor work for his company Just Us Dance Theatre. It is part of a Hip Hop dance theatre trilogy he is creating to highlight black excellence and challenge racial stigma.
Born to Protest aims to dismantle presumptions about the black male and female figure based on intimidation, danger and isolation, revealing instead character traits around fragility, vulnerability and a constant battle to prove oneself. This hypersensitivity of the black body in space is magnified by Born to Protest's cast of seven* performing en masse to a soundscape which sets up an intense energy with Hip Hop beats and voice over.
Check out a video here.
Exhibitions Launch Evening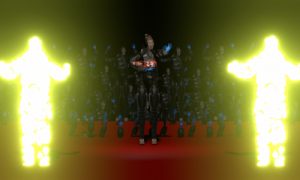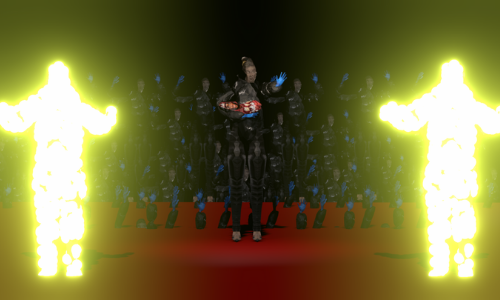 Time: 6.30pm
Location: QUAD
Please join QUAD for their first live, in-person exhibitions launch of 2021! The new exhibitions include, in QUAD Gallery, Haunting Alongside Our Shadows – the first UK solo show and premiere of a series of exciting new commissions by Danielle Brathwaite-Shirley. Danielle is an artist and game developer who builds digital archives celebrating the lives and histories of her Black Trans ancestors. In the QUAD Extra Gallery Spaces, enjoy the feature Shoot Emerging Photography Awards, showcasing three exceptional photographic practices from around the world.
Tickets are FREE, but spaces will be very limited. We ask that all visitors to the launch wear a mask and social distancing measures will still be in place for your safety and the safety of QUAD's staff.
Refreshments will be provided in QUAD Participation Space, with speeches launching the exhibitions in the Gallery, with artist Danielle Brathwaite-Shirley being present during the launch evening, ahead of their exhibition tour on Saturday 25 September at 2pm in QUAD Gallery.
Book your free tickets here.
A String Section: Reckless Sleepers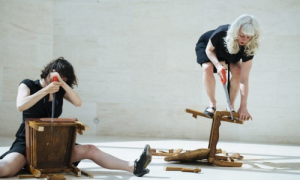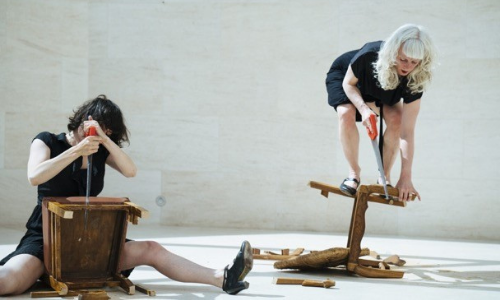 Time: 6:30pm and 8.30pm
Location: Cathedral Green
Street theatre performance group Reckless Sleepers have created a lavish, mesmerising and humorous ritual. A quirky, beautiful and self-destructive choreography with character and symbolism all depending on where it is presented.
Five women, all in little black dresses, sitting on five chairs are as elegant as the string section in a symphony orchestra but are equipped with saws instead of violin and bow.
Their mission is simple: to saw off the legs underneath them without falling over. Sitting on the chair, lying stretched out, wrapped around the backrest, head down, legs split. The bodies are twisted in order to find the optimal working position.
Check out a video here.
Choreography for the Running Male: Egle Budvytyte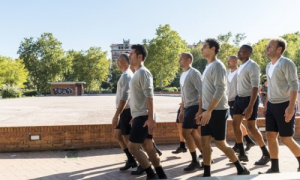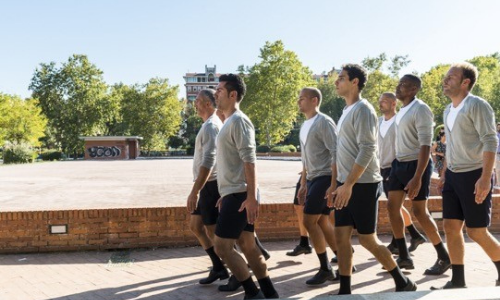 Time: 6.05pm and 8.05pm
Location: From the Spot to Cathedral Green
Nine male performers clad in uniforms that are at once military and effeminate.
They run throughout a meandering route through Derby City Centre while carrying out a series of unlikely actions that trouble traditional perceptions of western masculinity, and in doing so, transform expectations of male, group behaviour into something quite harmless and unexpected.
Check out a video here.
Museum of the Making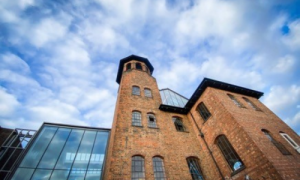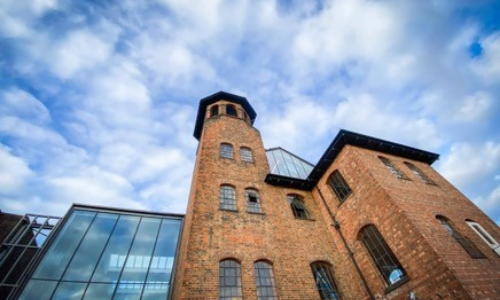 Time: 7.30pm to 10pm
Location: Cathedral Green
The nationally-acclaimed Museum of the Making will host a civic reception to officially open the venue and mark the start of Derby Festé and then open its doors to visitors between 7.30pm and 10pm free of charge*.
Celebrating the area's rich history of innovation, the Museum of Making in the Derwent Valley Mills UNESCO World Heritage Site is a contemporary space telling Derby's 300-year history of making to inspire new creativity on what is widely regarded as the site of the world's first factory.
Visitors do not need to pre-book to visit the Museum of Making but are advised to pre-book to see the special exhibition 'Scale' *(ticket prices from £2.50).
Find out more here.
Chorus: Ray Lee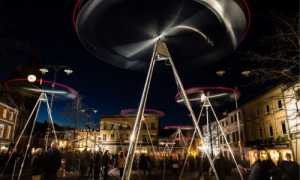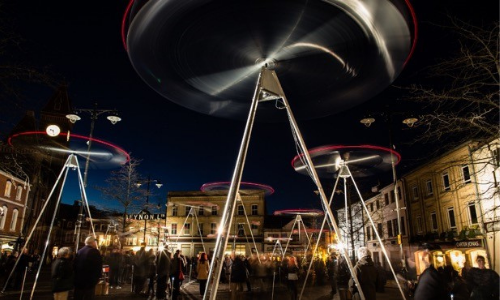 Time: 8pm and 9pm
Location: Cathedral Green
Ray Lee is an award-winning artist and British Composer of the Year. Ray's latest piece, Chorus is a monumental installation of giant kinetic sculptures, a celestial choir of spinning sound machines.
Towering above the audience, a series of giant metal tripods support rotating arms. At the end of each arm, loudspeakers emit precisely tuned musical pitches, singing out a siren call to all those present. Tiny lights create the effect of planets in motion, creating mesmerising orbits of colour. These intersecting lights trace rings above the heads of the audience, while the combined chorus of the spinning speakers creates a hypnotic, harmonious whole that is both uplifting and transfixing.
Check out a video here.
Paracinema Film Festival Pass 2021
Time: 10pm
Location: QUAD
Paracinema presents an eclectic range of titles that include a mix of horror, sci-fi and fantasy alongside documentaries on Cannibal Holocaust and Emmanuelle, rare 80s Giallo, a mini wave of excellent Argentinian cinema and Darrell Buxton's legendary Paracinema Film Quiz. Tickets cost £45 and are available here.
Saturday 25 September
Derby Festé continues on Saturday September 25 with a host of free performances, workshop activities and exhibitions – culminating in a unique performance on Cathedral Square in Iron Gate that evening which is the only ticketed performance at Cathedral Square.
WTF Just Happened: Applied Live Art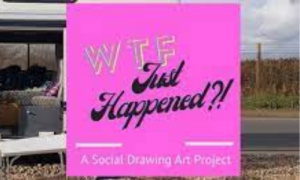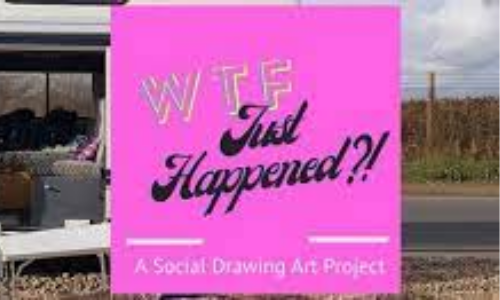 Time: 10am – 4pm (For ages 16+ although children are welcome with an accompanying adult)
Location: QUAD
Throughout the pandemic, Applied Live Art has been touring the UK in a camper van – collecting hundreds of drawings from people all over the country, creating a visual archive that tells the story and experiences of the last year and a half.
This outdoor drawing workshop is about telling visual stories through symbols and marks that are expressive and narrative. The artist, Marcelo Sánchez-Camus, who is the co-founder and organiser of Social Art Network, will guide visitors through a combination of talking, sharing and drawing.
The Postcard Project: Casson and Friends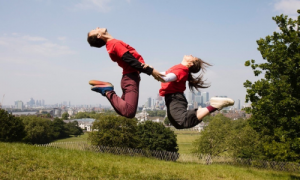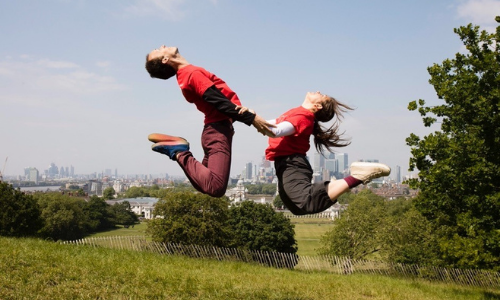 Time: 12:30pm and 3pm
Location: Chapel Street
The Postcard Project (formerly Carte Postale), is a unique project that sees Derby Theatre Company 'Casson & Friends' are working with Derby CAN, Derby Theatre, Derby Feste and Déda to create new works with professional dancers and local communities.
These works are often choreographed entirely by members of the public, and rehearsed in public spaces.
Taking inspiration from the place, its inhabitants, and their memories – the work is created and rehearsed in various spaces across the city, producing a unique 'dancing postcard' – a tribute to the town or city through movement, and a celebration of the creativity within us all.
To find out more and get involved visit the Casson & Friends website.
Photography Exhibition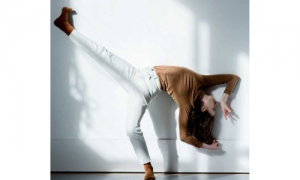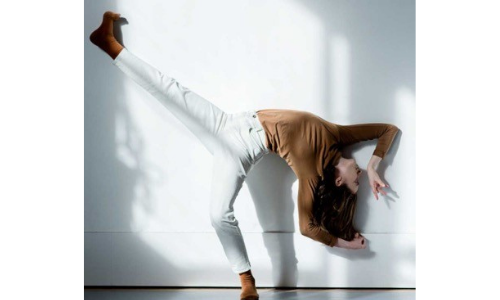 Time: All day
Location: Déda, Chapel Street
Camilla Greenwell is a photographer with a Fine Art and performance background, who is based in London and works internationally.
The exhibition brings together different strands of Camilla's practice, from black and white photographs of dancers in rehearsals to images captured away from the theatre; outside or in people's homes.
Although the settings vary, all the images explore those brief moments our eyes often miss and attempt to hone in on the experience of the dancer, as well as their physicality. Ultimately, all the images are a celebration of movement and the collaboration between performer and photographer, as well as exploring how we might respond to different spaces both physically and psychologically.
Dance, Circus and Movement Workshops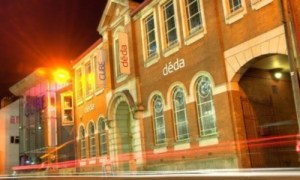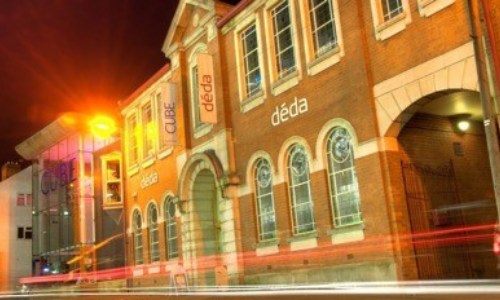 Time: 1pm until 5.15pm
Location: Déda, Chapel Street
Join free taster sessions by professional performance artists which are suitable for any age and ability throughout the afternoon:
1pm – Get Moving with Isobel Davis
2pm – Hooping with Rochene Johnstone
3pm – Solo Latin with Annamaria Petsakou
Something To Talk About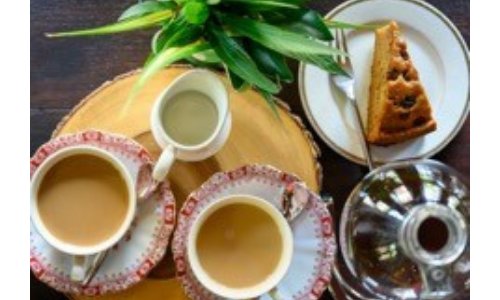 Time: 1pm – 5pm
Location: Chapel Street – Part of the Altered Streets Project
Members of Déda's 15 Minute City community project will have conversations with people they might not speak with otherwise over tea and cake to build bridges, foster dialogue and reimagine what is possible in the city streets.
In pairs, guided by a 'conversation host', guests choose a topic of discussion from a conversation menu. Once they have completed their conversation, they have their portraits taken together – which will then be uploaded on Déda's Feste website.
A String Section: Reckless Sleepers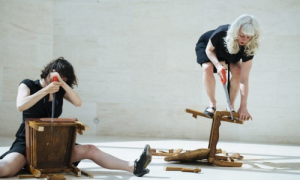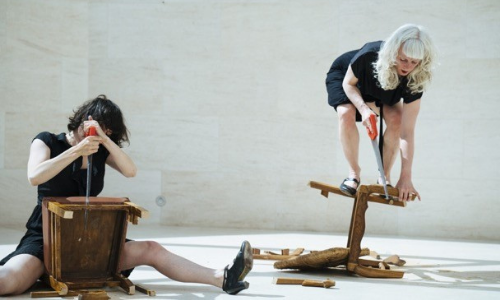 Time: 1pm and 5.30pm
Location: Cathedral Green
See Friday's programme.
SIB Y OSIS: Toussaint To Move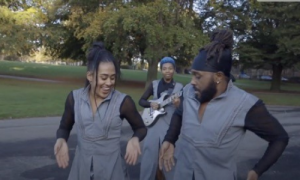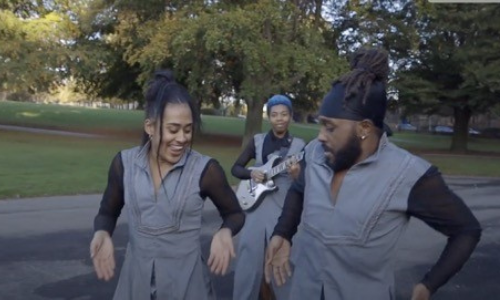 Time: 1:30pm and 5pm
Location: The Spot
Born in Jamaica and raised in England. Toussaint To Move's intention is to create moving, thought provoking, accessible and free-spirited dance.
Sib Y Osis is a dance theatre performance encapsulating a journey of contentment, play, fear, rage and joy. A trio performed by two dancers and a musician. This is a story exploring an emotive journey shared by siblings living in a state of spirit and dance, opposed by a shifting environment of pain and celebration. Drawing on the feelings of oppressed people in the current reawakening of the political right wing. Taking inspiration from historical and present systems of discrimination, activism and spirituality. This work draws power from the elating spirit to bring relief from the struggle. Performed by Waddah Sinada, Kassi Jameson and Pariss Elecktra.
Find out more here.
Graffiti Workshop: Baby People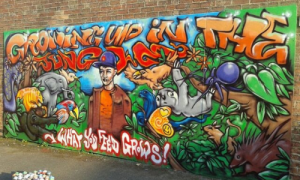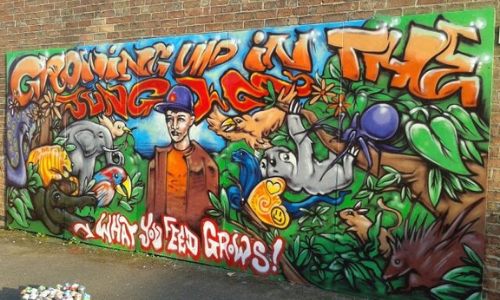 Time: 2pm until 5pm
Location: The Spot
Baby People will be holding a series of drop-in workshops so people of any age and any ability can try their hand at the art of graffiti.
Chorus: Ray Lee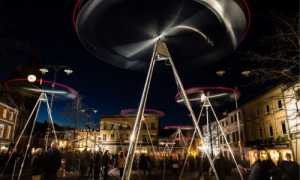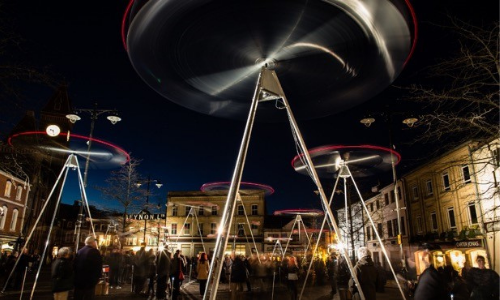 Time: Every hour 2pm to 9pm
Location: Cathedral Green
See Friday's programme.
Lifted: Mimbre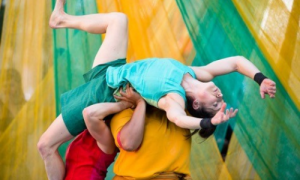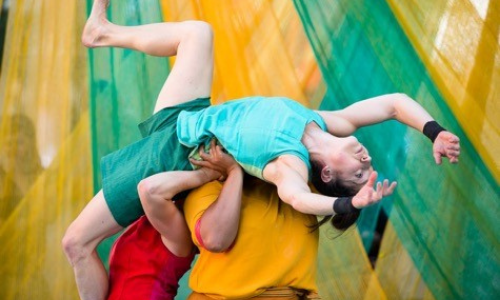 Time: 2:30pm and 4:30pm
Location: Cathedral Green
Lifted, by all-female acrobatic theatre company Mimbre, mixes dance, theatre and circus to celebrate the expressions and impressions that appear when three strong women move, lift and balance each other.
It is a collection of funny, poetic and surprising moments, which explore in different ways what it means when one body is carried by another. Or when one person carries two people. Or when a person doesn't want to be carried. Or when three people find the perfect balance.
Check out a video here.
Choreography for the Running Male: Egle Budvytyte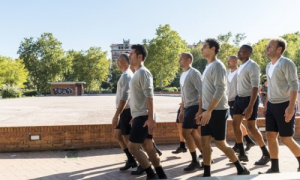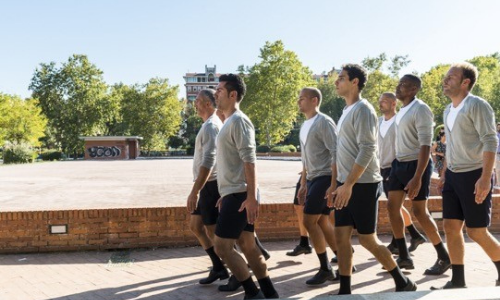 Time: 2.45pm and 5.30pm
Location: The Spot to Cathedral Green
See Friday's programme.
Smashed 2: Gandini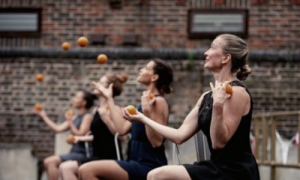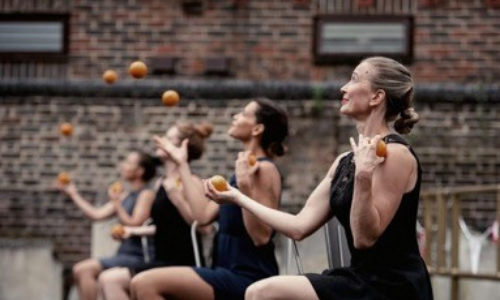 Time: 3:30pm and 5:30pm
Location: Cathedral Green
80 oranges, 7 watermelons, 9 performers. The 'dark art' of juggling is reinvented with the return of Gandini to Derby Festé.
In their original performance, Smashed, the manipulation of the forbidden fruit takes a sagacious look at the strained relations between seven men and two women, kindly flaying traditional juggling and contemporary circus.
Now, In Smashed2, Gandini turn the tables and switch the male and female roles in the very first role reversal of one of the most celebrated pieces of street theatre of the last decade.
Check out a video here.
Future Cargo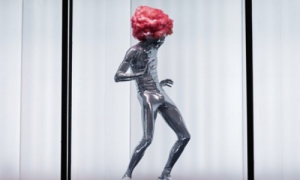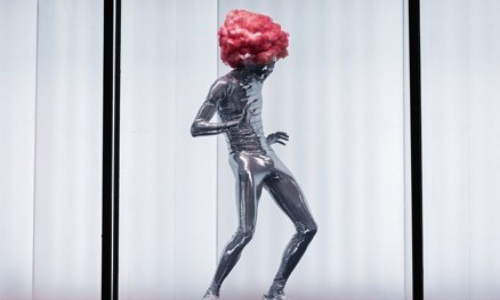 Time: 6:30pm and 8:30pm
Location: Cathedral Square (outside Derby Cathedral, Iron Gate)
Future Cargo is a sci-fi dance show performed in a 40 foot haulage truck. Imagine that a truck arrives from an unknown location loaded with a mystery shipment. As the sides roll up a strange and unstoppable process is set into motion.
Audiences experience the strange and unstoppable process of Future Cargo through binaural headphones, which are the tickets for the show.
These need to be pre-booked from the Déda box office and cost £5 for adults and £3 for under 12s. Numbers are limited to make the performance Covid-safe.
Future Cargo is the latest outdoor work by Frauke Requardt & David Rosenberg. Created with longstanding collaborators, Hannah Clark (set and costume), Ben & Max Ringham (music and sound) and lighting designer Malcolm Rippeth.
Check out a video here.
Neons: Tim Etchells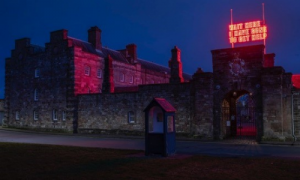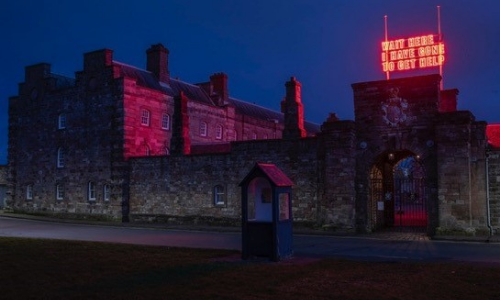 Time: From 7pm
Location: The Spot, Cathedral Green and Déda in Chapel Street
See Friday's programme.
Live Gig by HENGE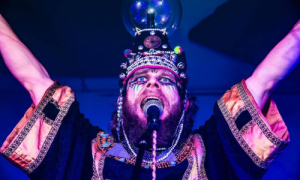 Time: 7pm – 8pm
Location: Cathedral Green
Exciting cosmically-charged live music show featuring Henge who are a fusion of rave and new music that will blow your mind.
Phil Robson Organ Trio, Derby Jazz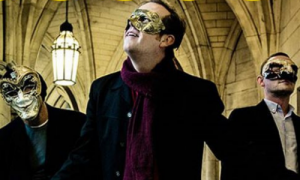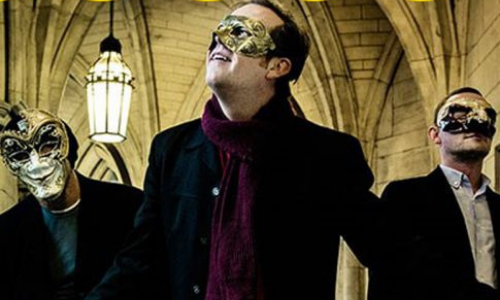 Time: 8pm
Location: Derby Market Place
Phil Robson grew up in Derby and, since moving to New York, is becoming recognised as one of the world's leading jazz guitarists. Tickets cost £16 per person and are available here.
Festé Closing Party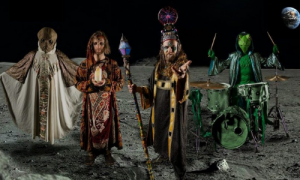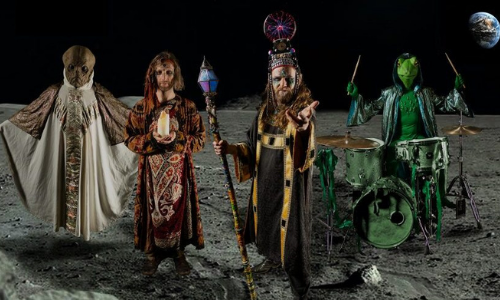 Time: 9pm
Location: Déda, Chapel Street
Finish the evening at Déda in Chapel Street where there will be a host of surprise acts and another chance to experience the HENGE live music show.
Sunday 26 September
There is another chance to experience the magic of Chorus by Ray Lee on the hour between 2pm and 9pm.
This is also a great opportunity to visit the Museum of the Making which is open between 10am to 4pm. 
Neons by Tim Etchells will light up from 7pm and will continue to do so every evening until January 2022 as part of Derby Festé's continued legacy.
For more information about all the acts, please visit the Derby Festé website and follow on social media channels #Festé21.