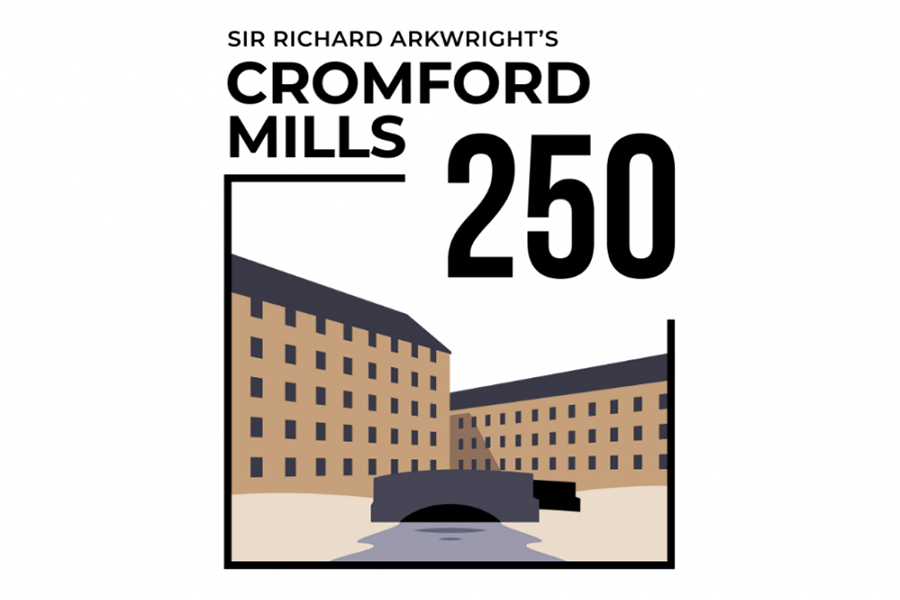 Make sure you grab your tickets to a celebration of Derbyshire's heritage and history as large-scale video projections illuminate the 250-year-old mill walls.
Visit Cromford Mills from the 28th-29th October 2021 to experience this spectacular projection that brings history to life through light and sound.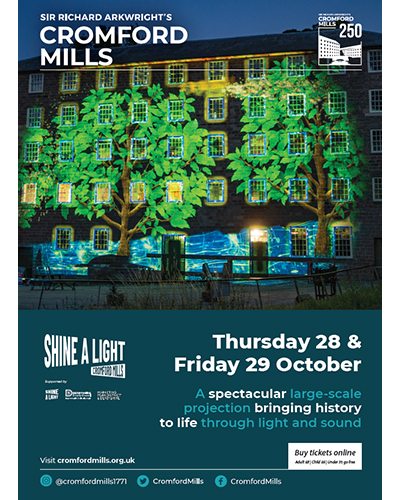 Car parking will be available on-site at Cromford Mills, at the Cromford Canal Wharf car park and Cromford Meadows. There will also be refreshments and activities to enjoy in the main mill yard and at Wheatcroft's Wharf!
Adult admission: £8
Child admission: £6 (aged 4-16 inclusive, free for 3 and under)
Book your tickets here: https://www.cromfordmills.org.uk/shine-a-light/
Cromford Mills' 7th Annual Conference on the Industrial Revolution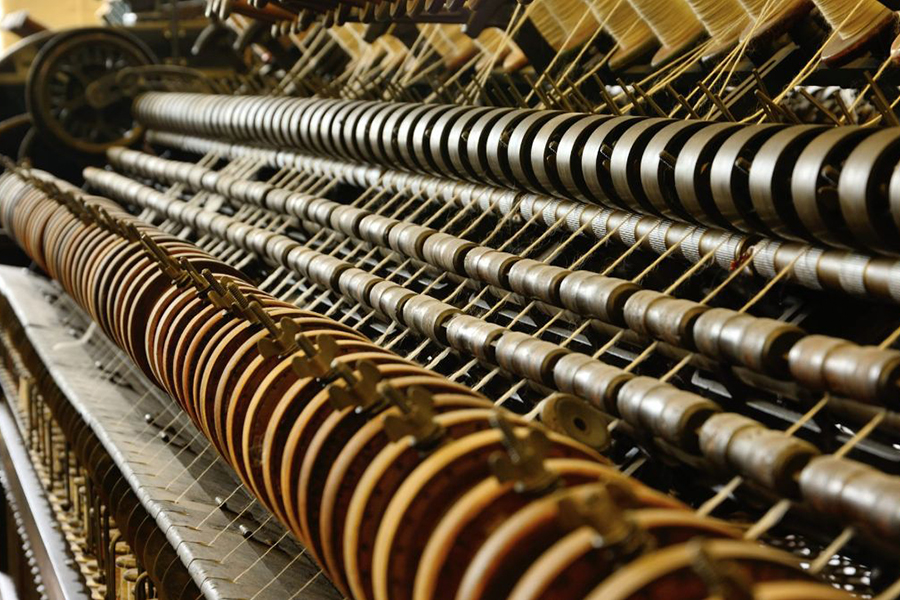 This annual conference will take place via Zoom on Saturday the 13th of November 2021, on the theme of Innovation.
Leading academics will discuss what triggered and sustained innovation in the first Industrial Revolution, with one talk focusing on modern entrepreneurship, as a point of comparison.
Click here for more details and to book tickets
Update from the Learning Team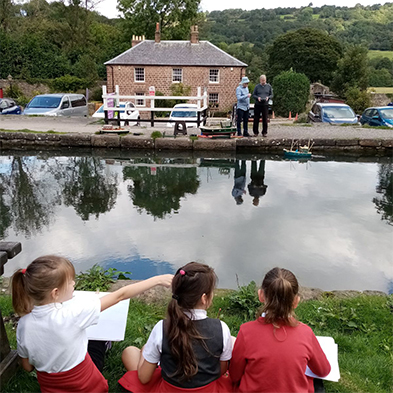 We've had a busy September with school visits returning to site and the final trials of our new primary day workshops taking place. With the help of years 3 &4 from St Giles Primary School, we cracked out our new compasses and explored the mill site; completed an orienteering photo challenge, compared modern-day Cromford to old photos of the village, learnt how to do field sketches of the canal, and filled out visitor questionnaires! It was a great day and everyone had lots of fun. A big thank you all!
Staff wise, Eleanor Gunn is now heading up the team and we have been joined by Lyndsay Hill (see above) as the new Learning and Engagement Assistant. Lindsay has been a primary school teacher for almost 20 years, but decided it was time for a career change. She is very excited to be working with school groups and families at this fantastic historical site, and we are excited to have her knowledge of current teaching practices to develop our educational offer further. We are planning a range of brand new activities and workshops planned over the next few months.
If you would like to enquire about bringing an educational group to Cromford Mills, please email: learning@arkwrightsociety.org.uk
Counting Down to Christmas!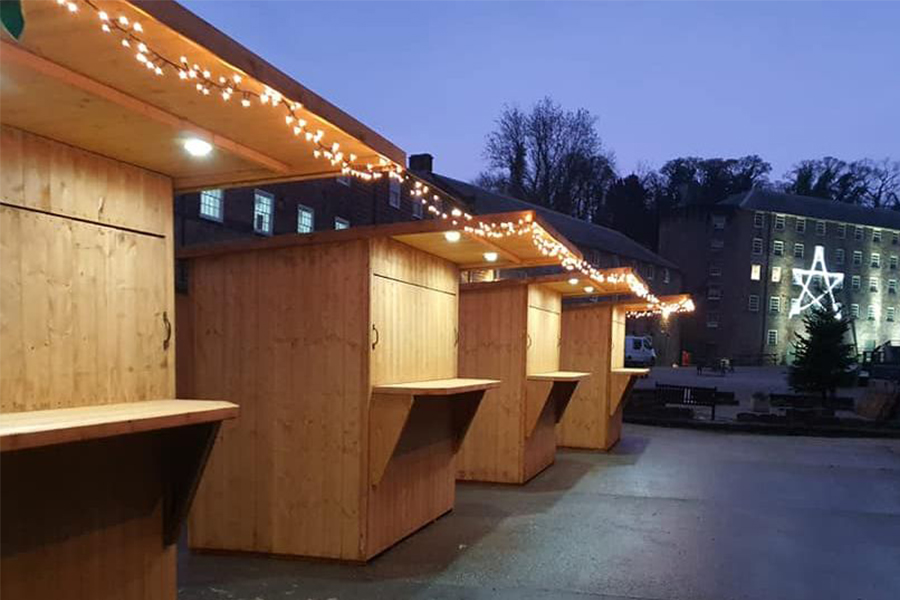 Look no further than Cromford Mills for unique and affordable gifts.
Sunday 3rd October: Bazaar
Sunday 17th October: Artisan Market
Sunday 17th October: Cromford's Georgian Mill Tour
Monday 18th – Sunday 31st October: Model Railway Exhibition
Thursday 21st October: Online talk – Mrs Robert Arkwright, a musician in the family
Thursday 28th – Friday 29th October: Shine A Light
Sunday 7th November: Bazaar
Saturday 13th November: Industrial Revolution Conference
Sunday 14th November: Antiques Fair
Sunday 21st November: Artisan Market
Saturday 4th – Sunday 5th December: Christmas Weekend
Saturday 11th – Sunday 12th December: Christmas Weekend
Saturday 18th – Sunday 19th December: Christmas Weekend
More details on the Events Page on the Cromford Mills website
Derwent Valley Tours: There is so much to learn about the history of this area!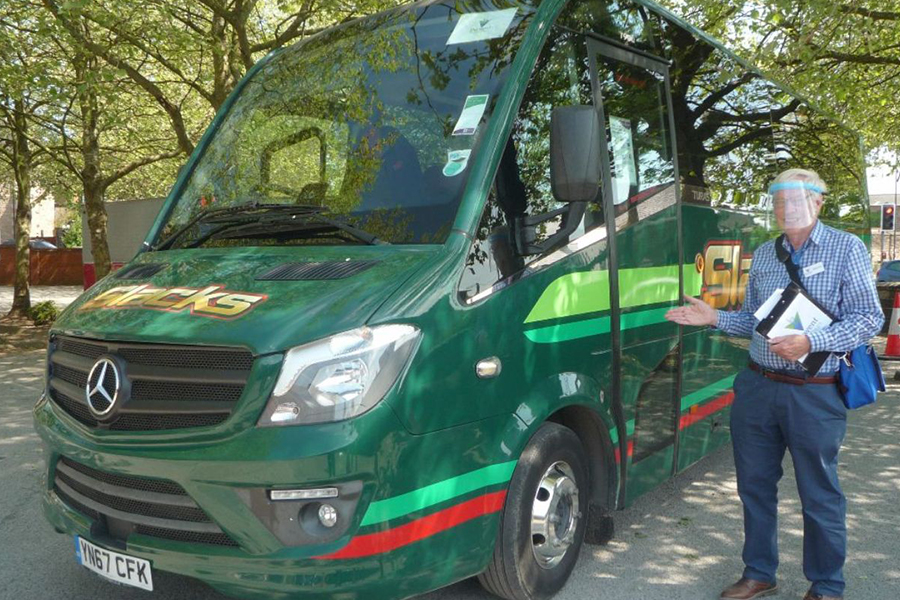 We are now running half day tours as well as the Derwent Valley Highlights.
Run by the Arkwright Society, together with Belper North Mill, the tours visit the key historical locations of the Derwent Valley Mills World Heritage Site, and understand how Cromford Mills fits into the Derwent Valley World Heritage Site.
Full details and booking are on their webpage: www.derwentvalleytours.co.uk