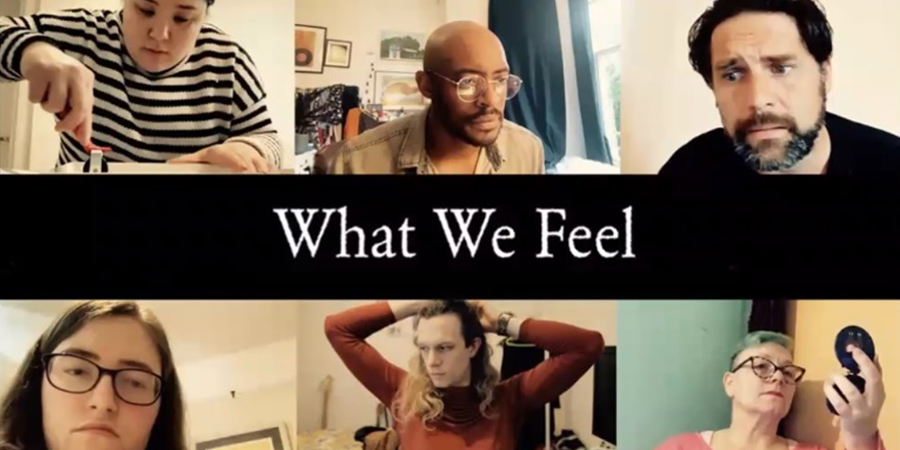 Photos of: Bea Webster (Dac), Oliver Alvin-Wilson (Melvin), Niall Costigan (Vince), Rachel (Kellan Frankland), Laura (Edalia Day), Caroline Parker (Beryl) ©️ 1623
Before the first lockdown, 1623 associate director Oliver Alvin-Wilson conceived an idea for a drama exploring how collective creativity supports the wellbeing of people who face prejudice in their everyday lives. Oliver worked with our artistic director Ben Spiller to develop ideas and cast the project, which involves six characters meeting up to support each other's mental health through creative activities.
All the characters have protected characteristics, which are shared by the actors who play them. Oliver and Ben were determined to make sure that casting came from a place of integrity so that actors could draw from their own lived experiences while developing their characters.
When lockdown came, filming went ahead thanks to support from Arts Council England. The drama was devised by the cast during online workshops, co-created with people living with mental health issues, and directed and edited by Oliver. The team were supported by a drama therapy practitioner and a mental health consultant to ensure everyone was safe and supported.
What emerged was What We Feel, a four-part miniseries that centres on five people, all marginalised by society, who meet online for a creative gathering designed to support their mental health. A sixth person joins them as a sign language interpreter. Creativity flows, but tensions also rise.
This month, What We Feel is showing on YouTube with each part premiering on Fridays at 7pm. All episodes are captioned and include some BSL.
Episode one went out on February 5 and the final episode will premiere on February 26. You can catch up with all episodes any time on the 1623 YouTube channel.
What We Feel is co-produced with D&O Productions, a Black-led film company run by Oliver Alvin-Wilson and Daniel Francis-Swaby. Music by Hannah Ledwidge and Mark Monero. Supported by Arts Council England's Covid-19 Emergency Fund.
When 1623 was founded in 2005 our focus was on performing Shakespeare's plays and scenes from the plays in non-traditional theatre spaces. These included cafes, caves, market squares, pubs, repurposed factories and shopping centres. New shows and activities inspired by Shakespeare's works soon followed including Emergency Shakespeare with St John Ambulance at Derby QUAD and Watch This Space at the National Theatre, The Great Shakespearean Workout, a fun aerobics class awarded the London 2012 Inspire Mark, an online adaptation of Troilus and Cressida as part of the World Shakespeare Festival, Hamlet Off The Wall through the galleries of Sheffield Museums, and many more.
Over the years, our vision, mission and aims have continued to develop. Not long before lockdown, we worked with leadership consultant Keith Jeffrey, founding director and CEO of Derby QUAD and recent director of Coventry University Social Enterprise, to reflect on our work and values. It became clear that we have a strong purpose as agents of change. We are marginalised people working for social justice with our communities and Shakespeare. Our work is always new, it explores aspects of Shakespeare and their relevance and resonance to people who are marginalised including people who are Asian, Black, Deaf, disabled, female, LGBTQ+, neurodiverse, working-class.
Look out for a new 1623 website launching later this year. We will continue to evolve and campaign creatively for change and so will our website, which will be fully accessible, designed by Firecatcher. Thanks to Arts Council England's Covid-19 Emergency Fund for making this possible.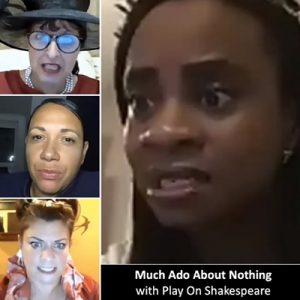 Photos of: Leonata (Norma Dixit), Don Pedro (Sam Beckett JR), Beatrice (Polly Lister), Hero (Esme Sears) ©️ 1623
Hopes for a 2022 Much Ado tour
Last year we were thrilled to workshop and read a new translation of Shakespeare's sassy comedy Much Ado About Nothing by British Asian playwright Ranjit Bolt.
Each of our amazing actors worked at their own home as we workshopped and rehearsed over online video platform Zoom, before coming together to share a live reading on YouTube.
Alongside the readings, we workshopped Ranjit's translation online with schools including St Clare's SEN School in Derby. Ranjit's play is part of the Play On! Shakespeare project which commissioned 36 playwrights to translate 39 plays attributed to Shakespeare into modern English. More than half of the playwrights are female or non-binary, at least half are people of colour. We've been granted some funding from Play On! and, along with support from The Century Theatre at Coalville, we are planning to tour this new version of Much Ado around parks and open spaces in early summer 2022, with a programme of workshops for communities including schools. Watch this space!
Our education programme 1623 Learning continues to support teachers and students with a range of online resources. Our three-actor version of Romeo and Juliet was due to play for inner-city schools and colleges at the Martin Harris Centre, Manchester, last March. When the lockdown began, we adapted the show and moved it online.
Juliet's Nurse had her own Twitter account – @IsolatedNurse – where she posted videos, photos, words and emojis to tell the story of Juliet and Romeo. The videos and photos were also posted on our Instagram and the videos on our YouTube.
All of these resources are still available, free of charge. Jamie Brown, 1623's learning director, created an education pack with activities inspired by the Nurse's tweets. Contact jamie@1623theatre.co.uk for your copy.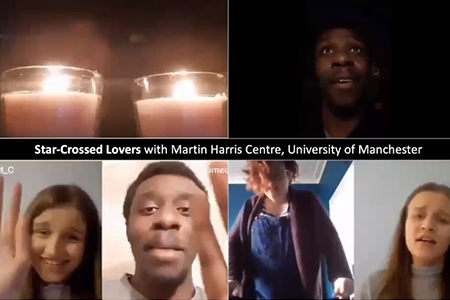 Photos of: Sophie Whitebrook (Juliet), Michael Muyunda (Romeo), Nurse (Corinne Kilvington) ©️ 1623
We have a long-standing relationship with Whitley Bay High School and we've been resident artists at their arts festival for around 10 years now. In 2020, we were due to take a three-actor version of Macbeth to them, after having developed it with feedback from students and teachers.
Re-thinking this for lockdown gave us the chance to explore creative captioning. We developed two scenes from the play and looked at how we could use text and fonts on screen to convey emotion and atmosphere as well as making the drama accessible. Erin Siobhan Hutching played Lady Macbeth in London, while Jamie played Macbeth in Gateshead, and Ben Spiller directed in Derby – all on zoom. Then Jamie edited and shared the videos with the teachers and students who joined him, Erin and Ben on Twitter for a live post-screening Q&A.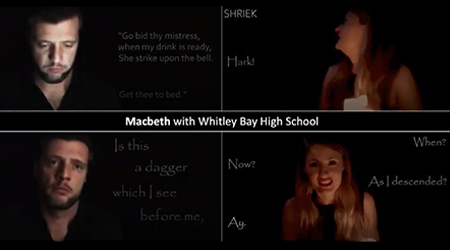 Photos of: Jamie Brown (Macbeth) and Erin Siobhan Hutching (Lady Macbeth) ©️ 1623
Thanks to everyone who supported our January 2021 Crowdfunder campaign to raise £2,500 to buy 10 laptops and distribute them to children and young people who needed them for home-schooling during the UK national lockdown. We hit our target at the start of February raising £2,625 plus gift aid.
Arts Award – and Becky's back
Becky Legg, who was on a year-long placement with us while she was studying at the University of Surrey, has now graduated and she's back, this time as participation coordinator. Becky has devised and launched our first ever Arts Award Explore course, called Shakes n Makes, which she has run online. The work young people have completed is about to be moderated before their achievements are confirmed. More courses will follow!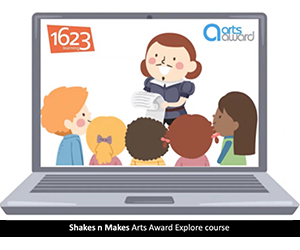 Artwork ©️ Rebecca Legg
Angelica and Othello's Sister
Support from the Arts Council England Covid-19 Emergency Fund has also given a helping hand to two more productions in development. The funding enabled us to complete research and development on Angelica, a project that puts the Nurse from Romeo and Juliet centre stage.
This version imagines that Juliet and Angelica (the Nurse) are Deaf and this strengthens their bond as Juliet grows up.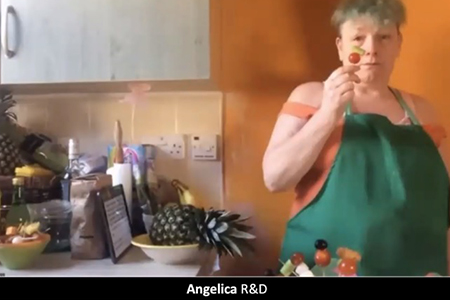 Photo of Caroline Parker (Angelica) ©️ 1623
Actor Caroline Parker has driven this project from its inception a few years ago. and the show will reflect the real-life experiences of its team and co-creators. It explores life, love and grief when you're Deaf, female, middle-aged, working-class and queer. A scratch performance – with captions and audio description – is on our YouTube.
The team includes: Lisa Ducie (designer), Clare Edwards (BSL interpreter), Caroline Parker (actor), Elvire Roberts (BSL interpreter), Karen Spicer (director), Ben Spiller (dramaturg and producer), Fiona Whitelaw (writer), Nikki Disney (drama therapy practitioner).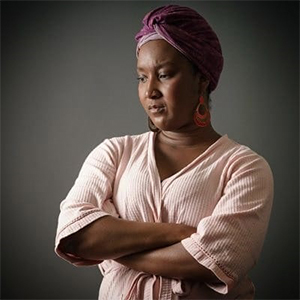 Othello's Sister – conceived by Lauren Nicole Whitter – is also in development. You can watch excerpts from a scratch performance at The Maypole Theatre and Cafe Bar in Derby (made before the pandemic) in this video by Film City.
Othello's Sister is inspired by the life experiences of Black British artist Lauren Nicole Whitter and her response to Shakespeare's Othello.
In this one-person show, Lauren plays both herself and a new character called Sherronlynetta, who has always lived in the shadow of her successful brother. The show is co-created with Black women in Derby and students from Sheffield Hallam University's Performance Lab.
Lauren has performed scratch shows of Othello's Sister at Black Artists Showcase at Nottingham Playhouse, Pulse Festival at New Wolsey Theatre in Ipswich, Off The Shelf Festival at Sheffield Hallam Performance Lab and The Maypole in Derby.
We're in the process of fundraising to make and preview the full shows of both Angelica and Othello's Sister, either in person or online (Covid-dependent) later this year.
---
Do get in touch using any of our social media channels below if you have any questions or want more information on any of our work mentioned in this newsletter. Our next newsletter will be out in April.