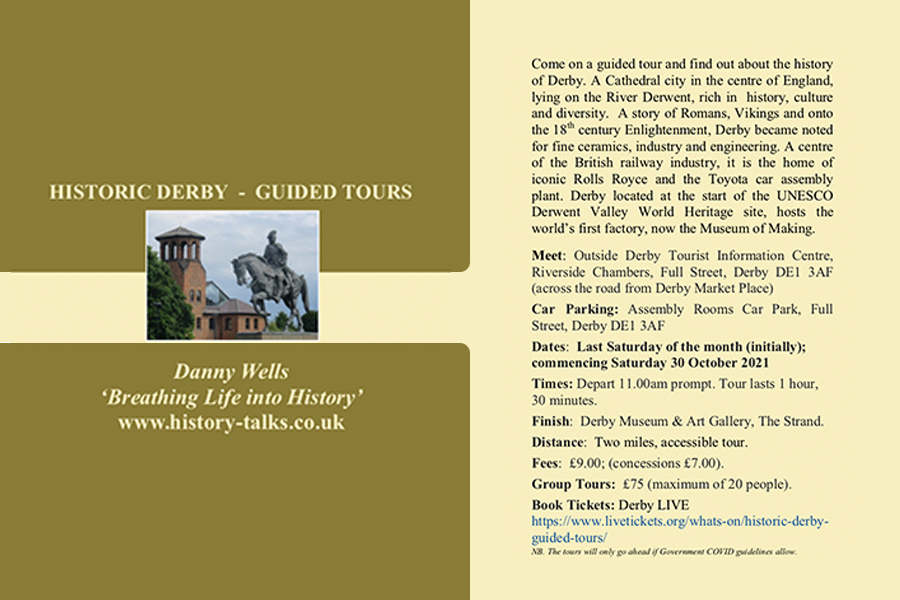 October 2021 sees the start of a new Historic Tour of Derby. The tour will take place on the last Saturday morning of the month, commencing on Saturday 30th October 2021. A two-mile accessible walk lasting 1 hour 30 minutes.
The tour will leave at 11.00am prompt from outside Derby Tourist Information Centre, Riverside Chambers, Full St, Derby DE1 3AF (across the road from Derby Market Place), and finish at Derby Museum & Art Gallery, The Strand, around 12.30 midday.
Tours will be led by Danny Wells, a historian who set up 'Breathing Life into History' in 2004. Focussing on historic talks, guided tours and courses, by 2019 Danny had presented over 9,ooo talks, many of which focus on the characters and landscapes of Derbyshire itself.
Danny says: "For work and family reasons I have spent a lot of time in Derby over the past quarter of a century and have an affection for a city that deserves to be better known. Despite the horrors of the pandemic, so much is in place now for Derby to show itself in a positive light, not only to its residents but to visitors from far and wide."
There's so much to tell about Derby…Rich in history, culture and diversity, the story includes Romans, Vikings and the 18th century Enlightenment. Derby became noted for fine ceramics, industrial innovation and engineering. A centre of the British railway industry, it is the home of iconic Rolls Royce and the Toyota car assembly plant. Located at the start of the UNESCO Derwent Valley World Heritage site, Derby was home to the world's first factory, the Silk Mill, now transformed into the Museum of Making.
Tours need to be booked and the fees are £9.00 (concessions £7.00). Group Tours are also available at other times of the week.
Bookings via Derby LIVE: https://www.livetickets.org/whats-on/historic-derby-guided-tours