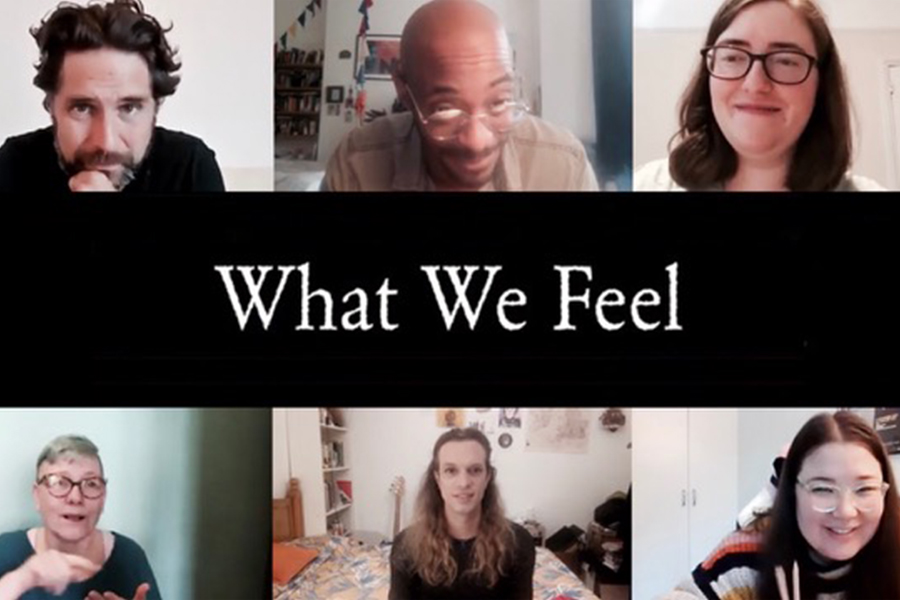 'What We Feel' is a brand-new drama miniseries based on real-life experiences of trauma and recovery.
In four short episodes, this thoughtful and moving miniseries explores how collective creativity supports the wellbeing of individuals who face prejudice in their everyday lives. Please refer to the description of each episode for trigger warnings.
Conceived and directed by Oliver Alvin-Wilson, What We Feel was devised in Lockdown 1 by the cast in workshops and co-created with people living with mental health issues.
A co-production of 1623 theatre company and D&O Productions.
Supported by Arts Council England's Covid-19 Emergency Fund.
A group of five people, all marginalised by society, meet online for a creative gathering designed to support their mental health. A sixth person joins them as sign-language interpreter. One of the group has set up a task – choose and read a bit of a play by Shakespeare.
What does it mean to your life right now? How does it make you feel? Does it unlock anything?
Some throw themselves in, but not everyone is convinced.
As creativity flows and tensions rise, will the whole group have chance to express what they feel in a space that feels safe for everyone?
Cast
Niall Costigan (Vince)
Edalia Day (Laura)
Kellan Frankland (Rachel)
Caroline Parker (Beryl)
Bea Webster (Dax)
Oliver Alvin-Wilson (Melvin)
Dramaturg
Ben Spiller
Dramatherapy practitioner
Nikki Disney
Mental health consultant
Richard Marshall-Lanes
Workshop and rehearsal BSL-English interpreters
Clare Edwards
Alison Green
Alim Jayda
Elvire Roberts
Catrin Thomas
Producer
Christopher Lydon
Director and editor
Oliver Alvin-Wilson