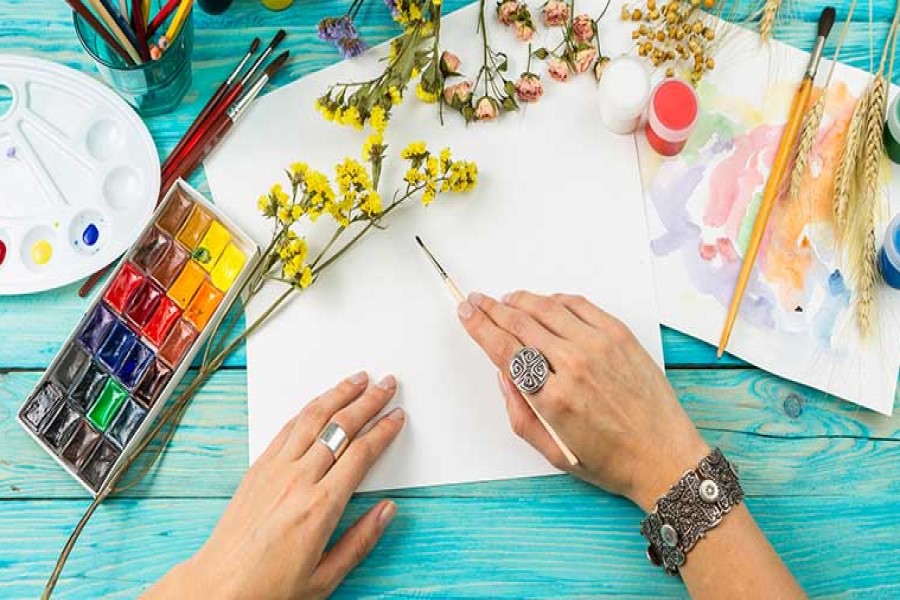 Catch up on Culture, Health and Wellbeing International Conference (CHW21)
Arts & Health South West have released priority access to all the recordings from the Culture, Health and Wellbeing International Conference including keynotes, oral presentations and some workshops (over 94 recordings) for £50.
You can find an overview of the conference program by clicking here. 
If this is of interest please follow this link to the Arts and Health South West Stripe payment.
Checkout: https://buy.stripe.com/6oE6q6bOygS2f4caEE  
Once you have made your payment, please forward your payment receipt email to Alexis at development@ahsw.org.uk who will then send you the link to the playlist. The link cannot be forwarded automatically, so we appreciate your patience as we process these requests during staff hours.
Dementia Friendly Screenings
The Winding Wheel is back with their films for people with dementia, their carers and family and friends.
They are showing 'South Pacific' on Monday 11th October at 1pm, and 'The Muppet Christmas Carol' on Monday 29th November at 1pm.
They promise a lovely environment where everyone is welcomed and looked after, a complete safe space. There is also the added bonus of tea and cake!
The event is for customers with dementia and their family and friends. Customers are entitled to bring one carer, family member or friend for free.
For more information, call Wendy Blunt on 01246 959657, or email wendy.blunt@chesterfield.gov.uk.
Mental Health Map Derbyshire
There is now an interactive map providing a live collective of mental health and wellbeing support and provision across Derbyshire and Derby City.
The map brings all aspects of mental health support together from crisis support to self-help groups, peer support, and self-care.
For a specific searches on the main page, use the search option on the red bar above, the search icon is on the right-hand side, click the icon add search option, and it will offer map, local and national options, you can filter further by including an area or a theme for example debt, depression, anxiety, OCD, bereavement and more.
For information, updates, edits and additions please email rethinkdrpss@gmail.com.
Dance with Parkinson's
Ascendance run an inclusive 'Dancing with Parkinson's' programme across Leeds, Bradford and Beyond, both in regular workshops and online via Zoom.
To date they have introduced over 250 people with Parkinson's to dance and have engaged 75 regular participants per week in our groups across the region, which has had extremely positive health & wellbeing outcomes.
They now run 7 regular classes which are suitable for members with Parkinson's face to face and on zoom. They are becoming a lovely community of dancers who attend regularly to exercise, have fun, support each other and to stay as mobile as possible to help prevent the progression of the disease. Click here to find out more about the classes.
Ascendance have also just launched a new 3-part podcast where they interview participants in their Dance With Parkinsons classes, which you can listen to here.
The Value of Freelancers
The findings from a research project led by Coventry University have been published in a report, calling attention to the range and contribution of creative freelancers in the UK, based on the economic, cultural and social value they generate.
Following a turbulent time for creative freelancers during the Covid-19 pandemic, it has become increasingly clear that their role and contribution in the economy, to society and to places remains little understood.
'Mind the Understanding Gap: The Value of Creative Freelancers' is a timely report that summarises research by Coventry University into the range and contribution of creative freelancers in the UK, based on the economic, cultural and social value they generate.
It also proposes a typology to help policy makers build a policy environment that is better designed and funded to support, raise, and sustain the contribution made to place, economies, and culture by this critical workforce.
The Social Value of Dance
Moving your body to music is often seen as the ultimate feel-good exercise, but putting on your dance shoes also has many physical and mental health benefits.
A new report published by the Sport and Recreation Alliance demonstrates the role movement and dance can play in creating a healthier and happier nation and why it should be perceived as so much more than just an art form.
You can read more and download the report here.
The Value of Local Creativity Through Lockdown
Creativity has been key to supporting and uniting communities across the country from Lancaster to Cornwall through the pandemic, a new report has shown.
Growing through the storm: Learning from the Creative Civic Change response to coronavirus documents how 15 communities across England responded to the turbulence of the past year by investing time in arts and creativity in their neighbourhoods.
The report, which is the second interim evaluation of the Creative Civic Change (CCC) programme, shows how different groups were able to respond to their community's needs, what difference that made to residents and what the groups learnt.
An evaluation of 15 local arts projects in Creative Civic Change found that the activities helped neighbours feel more connected to their area and each other, boosted mental health, and encouraged creativity among many who do not consider themselves artists.
They also sustained and developed creative careers through lockdown, with local practitioners growing their confidence to manage projects, fundraise and deliver digitally. Some projects catalysed "spin off" initiatives as local organisations created new connections and spawned ideas. Others even attracted more attendees than they would have pre-lockdown.
New Series of Online Training Workshops by Creative Lives
Creative Lives are running three new online training workshops designed specifically for people who lead or run creative groups.
13 October 2021: 'How to constitute your group and register as a charity' – An online learning event about drafting a constitution and registering as a charity.
10 November 2021: 'Getting your story out there' – An online learning event about getting your story heard, for creative groups.
8 December 2021: 'Finding and using alternative spaces' – An online learning event about finding and using different spaces, for creative groups.
These online training events are subsidised by Creative Lives, and cost just £15 per person per course.
To find out more information, click here. 
Tony Fisher Exhibition
Highly acclaimed 'only the lonely' photographer Tony Fisher has two new exhibitions out this month, the first of which takes place at No28 in Belper, between the 11th September to the 11th November. Tony's second exhibition will be at Belper Library, and begins on the 18th September.
For more information contact Tony at 01773 688425 / 07855 640042 or email photony@anthonyfisherphotography.co.uk.
Filmmaker needed for project in schools.
Derbyshire Fly is an exciting new arts project to support young people in seven schools across Derbyshire to access support around sexual health and sensitive issues. Stigma around asking for help has a big impact on the well-being of children and young people.
This project aims to create a space where young people can explore some of the barriers that they/their peers may experience to accessing sexual health services or support around related sensitive issues (e.g. puberty), explore how these barriers can be addressed and communicate that to an audience through art.
We are seeking a film maker to make a short film to showcase the work and the journey that the schools and artists have undertaken. This will be used to celebrate the project and inspire other schools to take on similar projects
The project will take place between October 2021 and April 2022, in partnership with the Education Improvement Service and Sexual Health Promotion Service.
The fee will be £1400.
For an application pack email: jane.o'byrne@derbyshire.gov.uk
Deadline: 30 September 2021
Workplace Health Champion Training
Are you interested in promoting Health and Wellbeing in your workplace?
Do you want to support your colleagues to improve their health and wellbeing and create a happier, healthier workplace?
If so, why don't you register for our online interactive course?
Limited spaces are left, so why not join the rest and book on now.
Course One

Thur 7th Oct 9:30am-11am & Thur 14th Oct 9:30am-12pm
(Booking closes 23rd Sept)
Additional courses will be made available in the coming months
For more information, click here. 
All sessions to be held on Teams until further notice
To reserve your place, please complete the MS form: Booking Form
For large team bookings please email: healthy.workplaces@derbyshire.gov.uk
Please seek managers approval before booking.
Derbyshire Police and Crime Commissioner – Antisocial Behaviour Prevention Grant
When Angelique Foster was elected as Derbyshire's Police and Crime Commissioner, she promised to tackle the problems that matter most to our communities. She writes:
'Through my Antisocial Behaviour Prevention Grant, I will invest £100k into projects that take positive action against antisocial behaviour. These could include sports and creative arts diversionary programmes, radio/film-making activities, drop-ins for young people, community clean-ups, intergenerational schemes, mentoring projects, education initiatives and parental support programmes.'
Grants of up to £5,000 will be allocated to successful applicants who can show evidence of how they will make a difference to Derby and Derbyshire's communities.
The Commissioner will be looking for projects:
• That help individuals to live safely and without fear of crime in their homes;
• Which empower the local community to tackle problems in their neighbourhood areas;
• Are organised by (and involving) community/neighbourhood groups;
• Can demonstrate that they can make a difference to local communities;
• That take a new and sustainable approach to tackling long term problems;
• That foster good relations between partner agencies and communities and do not work in isolation.
• That relate to and support the Commissioner's priorities.
To find out more about the grant, click here.
Closing date: Friday 24 September 2021.
Scale up health inequality prevention and intervention strategies
The AHRC, MRC and NERC are looking to fund research to establish how cultural, natural and other community assets can mitigate health inequalities.
Specifically, research should focus on how prevention and intervention strategies can be scaled up from small, locally based approaches benefitting small numbers of individuals, to whole communities. Projects will therefore support the national roll out of place-based approaches to public health as an established part of health policy.
You can apply for funding to carry out a pilot study for the Mobilising Cultural and Natural Assets to Combat Health Inequalities programme. The study should focus on how to scale up small, local approaches for addressing health inequalities.
Your project must:
Relate to health outcomes
Involve a range of arts and humanities disciplines
Engage with other academic disciplines
Include collaborations with partners from outside academia.
The full economic cost of your study can be up to £180,000. AHRC will fund 80% of the full economic cost.
Click here to find out more information, including how to apply.
Closing date 23rd September 2021.