Cabin Fever – Residency Launch
Artcore is hosting a residency programme Cabin Fever – a series of residences which invites artists to make new work within a cabin located on Osnabruck Square. Our first two artists in residence are Dan Webber and Nicki Dennett.
As part of a city center opening weekend from 16-18 April, the public will be invited to engage with and create artworks within the cabin, led by our artists in residence who will be on hand to discuss their projects and help the public engage with a variety of processes. Dan will be hosting a drop-in book launch event for his book The Derby Witness, which documents his poetry street art project published by Nottingham-based publishers Big White Shed in March 2021. This will be an event for contributing writers and supporters of the project to collect their books and see the work in the Cabin. Dan's poems/words may be used as inspiration for the artworks that the public creates as well as own experiences and thoughts during the lockdowns as part of Nicki's workshop over this weekend. Nicki will then collate all the work created during this weekend and over the period of the residency with the aim of creating a book/e-book.
Due to Covid-19 restrictions, these events that are open to contributors, supporters and members of the public will be staggered to cap numbers. Social distancing and mask wearing will be in place to ensure the safety of our artists and publics.
Circling the Square – Visions of an Unmade City
We will be sharing more on Katy's and Ryan's progress and there will be opportunities for audiences to engage and contribute to both projects.
Ryan will explore how 'augmented reality' (AR) can be used to comment on and layer over public space. He plans to work with young people in a series of workshops during the residency exploring local histories, public artworks and collective memory.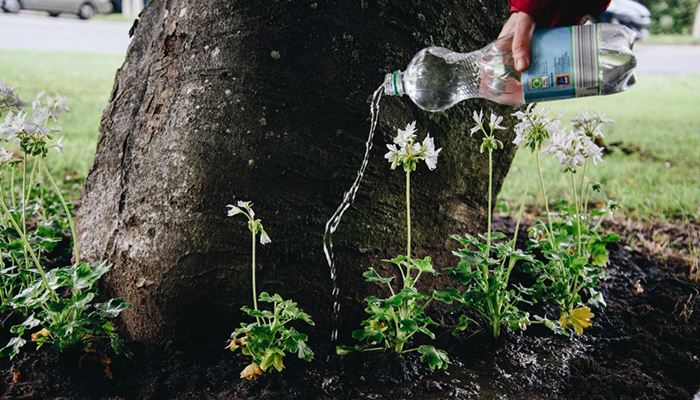 During the Circling the Square residency at Artcore, Katy will take leave from the situation and spatial realities of Osnabruck square, and its upcoming redevelopment – to include a potential renaming to 'Friendship Square'. They are interested to explore the notion of what it would look like to design for and in friendship: with the planners, architects adoption a position of 'friend' to the publics they design for.
This month, we welcome artists Katy Hawkins and Ryan Heath as our artists in residence for 'Circling the Square: Visions of an Unmade City' at Artcore Gallery.
Follow their blog for residency updates and research here.
In March, we started a whole new block of Future Endeavours workshops focusing on Creative Growth. Artist Fiona Adamson has been running these for young people on Zoom encouraging and teaching them how to work with polymer clay to create art pieces using different techniques such as the jelly roll cane, the bullseye cane, leaf bowls and flowers.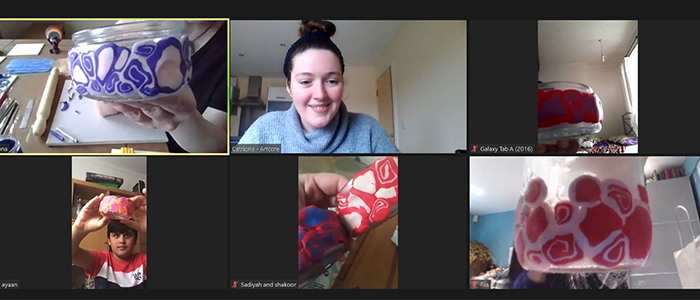 Each week, we are so amazed by the work that our participants make in such a short space of time using their Artcore material packs. At the end of the six classes, we will be able to invite them in to fire their clay pieces to finish them off which is really exciting! We look forward to sharing images of their final work.
For more information on the project, visit this link.
Express Yourself is a brand new project at Artcore which is started in March for young people aged 8-15 and we have already had four very fun and colourful sessions.
Artist Magdalena Aron has been working with our participants encouraging them to think about personal expression and ideas behind making artworks.

So far, we have created cartoons, fantasy windows and landscapes using painting and pastels which will all be added into our scrapbooks at the end of the block.
For more information this project, visit this link.
In March, artist Fiona Adamson started working on the Shape your Future project with Horizon's Sixth Form college learners who have been working with Artcore for quite a few months now. The group have been exploring relationships and emotions through papier-mache sculptures and sharing positive and negative experiences which link to certain emotions.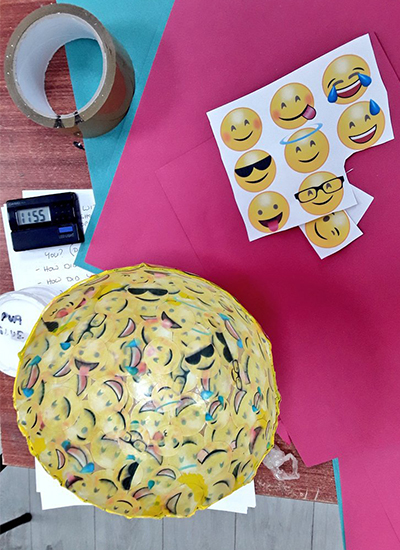 It's been fantastic seeing the papier-mache shapes come together as they start to form hot air balloons and we will keep you updated on the finished piece soon!
During March we had excellent taster sessions for our Un-Aware project which included upcycling, chair yoga, mindfulness and sketching. The main project starts this month and is funded by Derbyshire Police and Crime Commissioner's Vulnerability Fund. Check out the fabulous cheese plant sketches that were created during our taster with artist Sarah Perkins!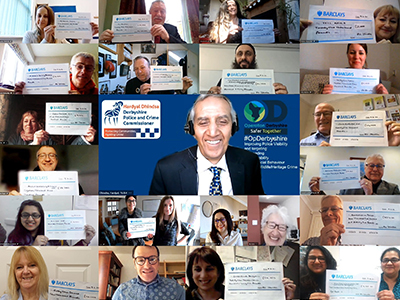 Starting on the 7th April, we will be using creative activities with professional artist, Dawn Campion and a special guest speaker to work together to say no to discrimination and feel proud of the things that make us who we are! We will be using painting and upcycled textiles to do this and create a piece which shows off our identities. There are limited spaces for this project so please make sure you sign up to secure your place and a free materials pack.
Thank you to our great participants and artists who took part in the tasters – we look forward to working with you more in this project!
See if you can spot our Executive Director Ruchita at the virtual cheque ceremony with Derbyshire Police and Crime Commissioner, Hardyal Dhindsa.
This month, we have new community sessions for adults to join us in staying connected and getting creative together. As part of Creative in Common, we will be providing four sessions on Monday mornings to do simple art activities mixing in some mindfulness which will take place partially online and partially through socially-distanced outdoor workshops.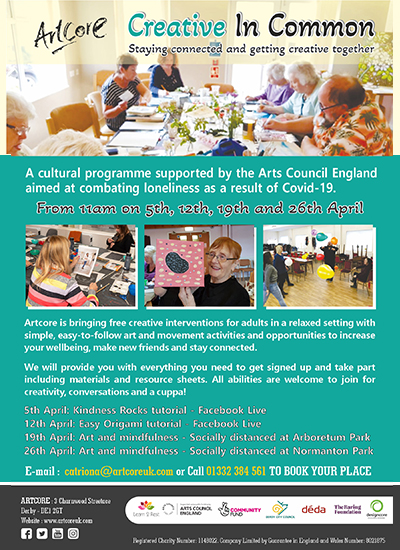 Supported by the Arts Council England, all materials and resources will be provided so you can take part with ease. Adults of all abilities are welcome to join us for creativity, conversation and a cuppa however material packs are limited so please sign up.
5th April at 11am – Painting Kindness Rocks (Facebook Live)
12th April at 11am – Easy Origami Animals (Facebook Live)
19th April from 11am-1pm – Sketching and Mindfulness at Arboretum Park
26th April from 11am-1pm – Sketching and Mindfulness at Normanton Park
For more information on this project, please click here.
We had our third and final Hatchery session this month which was focusing on 'The Art of Sound and the Sound of Art'. This workshop was presented by Chris Wright, Mik Hobson and Helen Lees who gave fascinating talks on exploring the way sound can make you feel and affect your emotions both as the creator of the sound and as the listener in a way that is comparable to looking at visual art.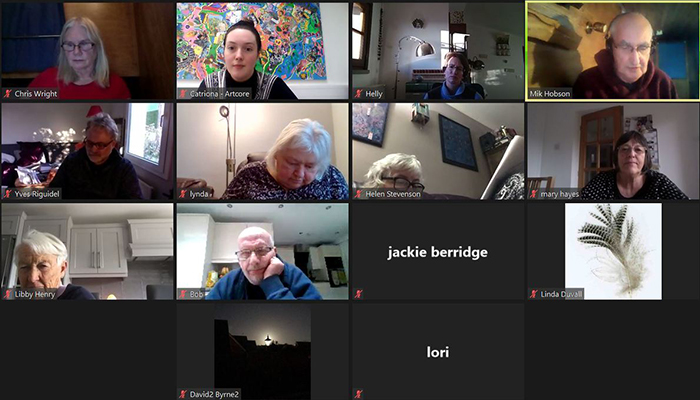 Although the Hatchery workshops are now finished at Artcore, we will be hosting the upcoming exhibition 'Normal Service will be Resumed', curated by Chris Wright and Jackie Berridge, at Artcore Gallery in May 2021. This will be the first time the work of the Hatchery artists will be displayed together in a physical exhibition.
Watch this space!
Beginning to Becoming – Craft Fair
Over the last six months, our Beginning to Becoming participants have been working with Artcore staff and professional artists to gain valuable employability skills through learning crafts, branding, marketing and selling the items they make. To celebrate the end of the course, we had a virtual party on the 5th March where participants could meet with us and one another to show off their certificates and share their experiences.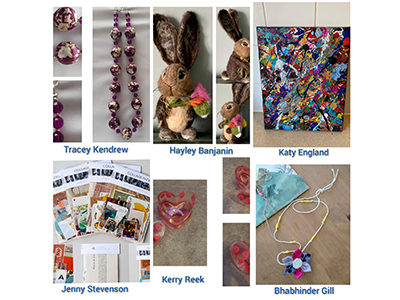 In completing their course, they have handcrafted beautiful and unique pieces which were sold in the Artcore Spring Craft Fair on 19th and 20th March. However, there were so many wonderful items that were created for the Craft Fair, we have decided to keep it ongoing on a dedicated Facebook page, so that you can connect directly with the maker to find out more about their work or purchase something for yourself.
#stayconnected Mindful Moments with Pam Sidhu
You can catch up on all the session on our YouTube channel using the following links: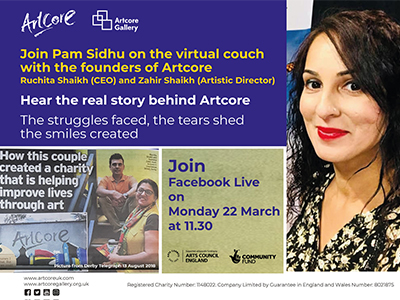 During March, Radio Dj Pam Sidhu continued her interviews on Facebook Live with some very special guests such as laughter yoga teacher Ishi Khan, the women at Artcore for an International Women's Day Special, and directors Ruchita and Zahir Shaikh to hear about the story of Artcore.
The Story of Artcore with Ruchita and Zahir Shaikh.
International Women's Day Special with the women at Artcore.
Laughter Yoga Teacher Ishi Khan.
As the global pandemic had a huge impact on a lot of communities in Derby and Derbyshire, Artcore has launched a project aiming at creatively supporting our communities to cope with loss and bereavement during the Coronavirus. We worked with organisations and artists to share the biggest concerns and how to help and aid for people who were hit the hardest.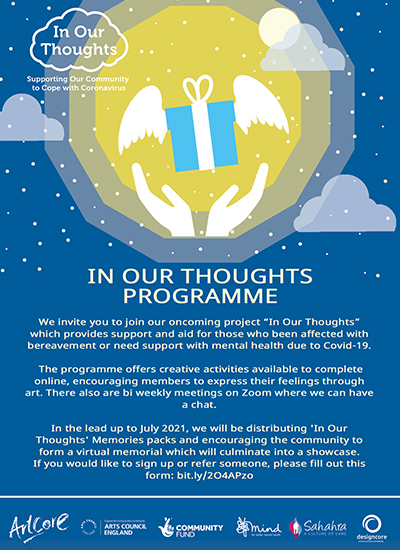 This project aims to support the community in those tough times and those who might be struggling with how their mental health has been affected, feeling lonely or isolated or with bereavement of a loved one.
So far we have had online 'Support Sessions' with organisations, volunteers and participants, we talked about how to contact help lines in a crisis and how to cope through the lockdown.
We also launched an online exhibition 'In Memoriam' as well as a silent auction which consisted of postcard sized artworks created by the Derbyshire artists with the money from the sale of work going directly back to the artists and the In Our Thoughts project. The exhibition is still available to view online.
'In Our Thoughts' Memorial packs will be distributed to people who have experienced loss as a result of the pandemic, creatively sharing their thoughts and memories of the loved ones they have lost, to form a part of a virtual memorial and culminate into a showcase in 2021.
To sign up to participate or to refer someone to participate in the collective memorial, you can follow the link here: bit.ly/2O4APzo
If you would like to become a volunteer and contribute help to communities who are affected, please fill out the form: bit.ly/3m3KKSk
Or visit our website for more information: www.artcoreuk.com
If you have been walking in Derby or Derbyshire recently, you may have noticed the yellow daffodils in lots of homes, notice boards and shops around the place? Well, Artcore is doing the same and adding a daffodil installation into the window of our Albert Street Gallery to join in with BBC Radio Derby's Daffodil Campaign.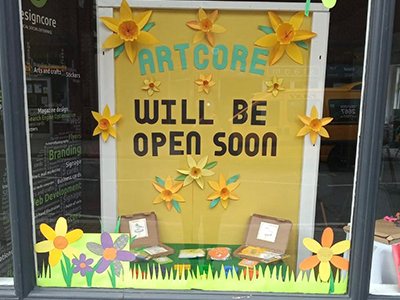 We already have a bright and bold window display but would LOVE it if we could also include some of your daffodils creations too! Send us or drop in your daffodil creations and we'll include them in our installation. We already have included the works of some of our participants.
If you're not sure where to start making, check out this video creating papercraft daffodils that can be done at home.
You can also print off your own daffodil and colour it in using this special template from BBC Radio Derby.