If you operate a charity and are looking for more ways to raise money for your organisation, this guide will help you learn more about how to set up an AmazonSmile account for your charity. 
In 2017, AmazonSmile was finally launched in the United Kingdom after previously only having been available in the USA. Through this initiative, enrolled organisations receive a 0.5% donation from all eligible net purchases made by Amazon customers without any additional out-of-pocket costs to either the Amazon customer or the charity.
Donations are paid out to charities at least once a year, and are typically made within 28 days after the end of every calendar quarter. This is provided that the amount of money raised for the charity meets the minimum £5.00 requirement. If this amount is not available, then whatever money was raised will roll over to the next calendar quarter. 
If you're interested in setting up an account for your charitable organisation, we've put together a simple yet comprehensive guide with screenshots to help you through the enrolment process.
How to Apply for an account as a Charity
Below are the 6 simple steps detailing how to set up an AmazonSmile account for your organisation, as well as step by step illustrations to show you how to edit your profile. 
1. Visit the AmazonSmile Organization Website
You can start the process by visiting the website at org.amazon.co.uk 
By clicking on the link above, you'll find yourself in the page shown in the illustration below. This is the first step to setting up an Organization Administration Account.
An Organization Administration Account is the account of an official representative of your organisation, and this person will have the authority to access and manage your charity's AmazonSmile programme, so make sure you grant access to an appropriate person and use their email address, which is the one that will be used for logging into the account going forwards.
Once in this page, click the Enrol Now button.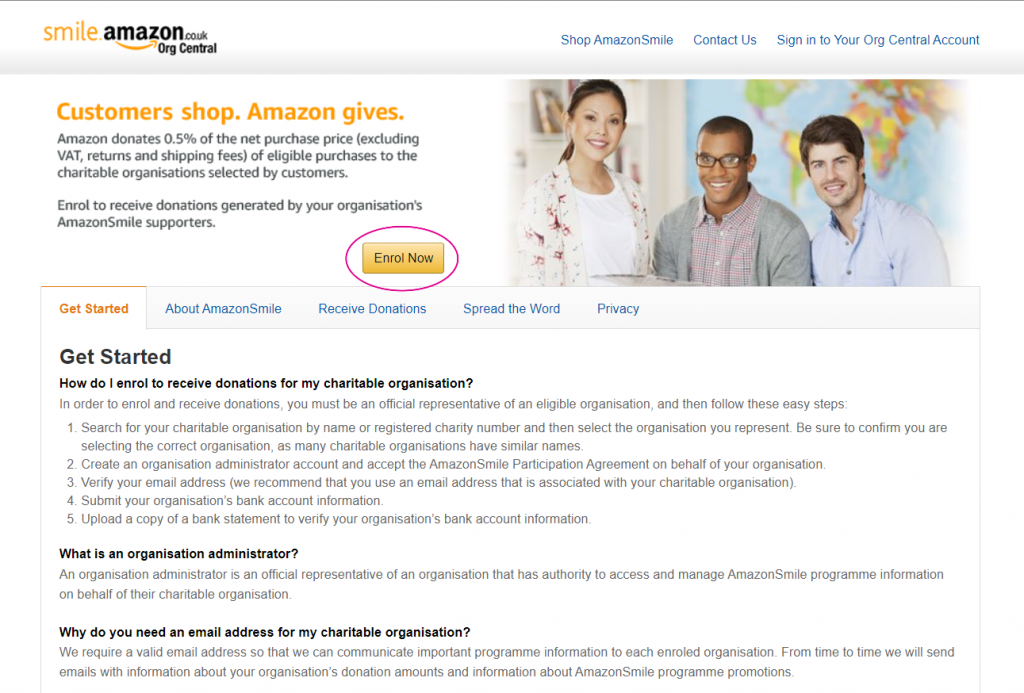 2. Begin Enrolment Process 
You should now find yourself in a page where you can find your organisation. You can search for it by typing the official charity name. Just be sure that when you select it, you're choosing the right one, as, depending on what your charity is called, there could be many others that are similarly named. You can also look for your charity by using your registered charity number, and is a number that is unique to your organisation.
Once again, click the Enrol button.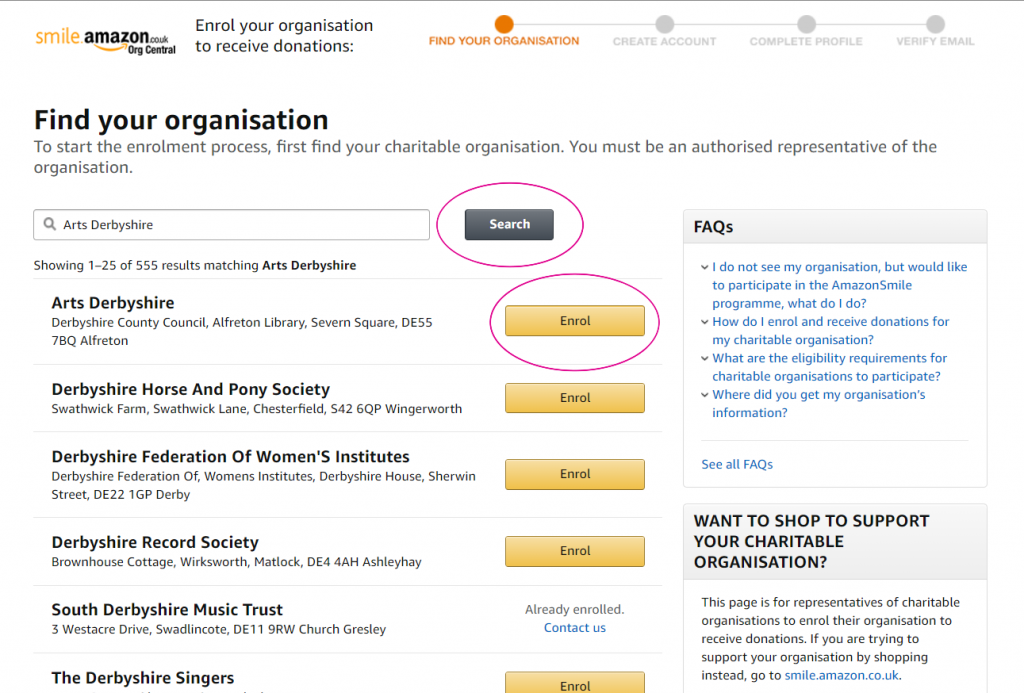 3. Set Up Your Organization Administration Account
The next page will let you set up the Organisation Administration Account. Just fill in the correct details and then click "Create Your OrgCentral Account".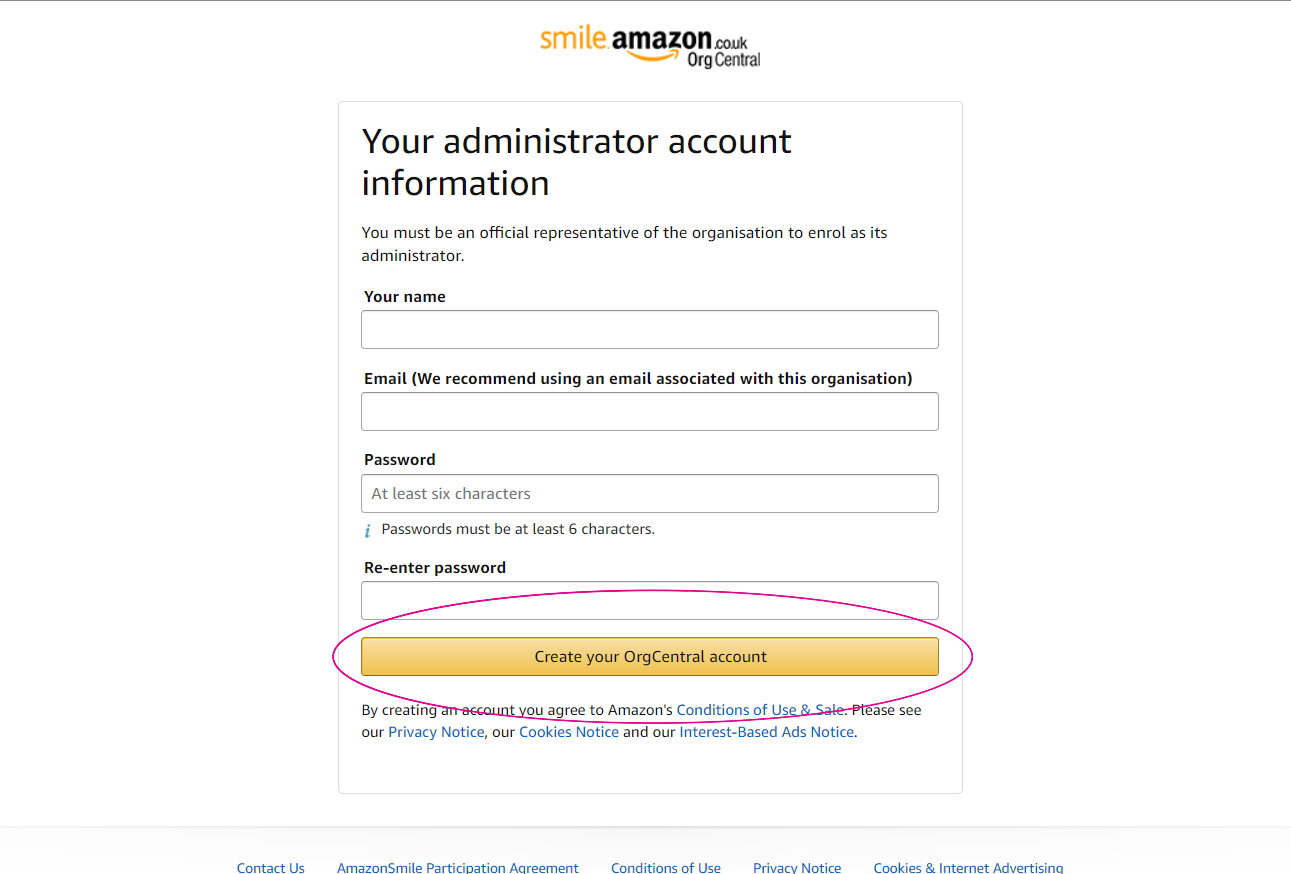 4. Enter the One Time Password
You'll receive an e-mail with a One Time Password (OTP). This should happen immediately, but if not, give it a few minutes. If you still haven't received the email and it is not in your SPAM folder, click Resend OTP at the bottom. 
Otherwise, just copy and paste the numbers in the email and click "Create Your Amazon Account".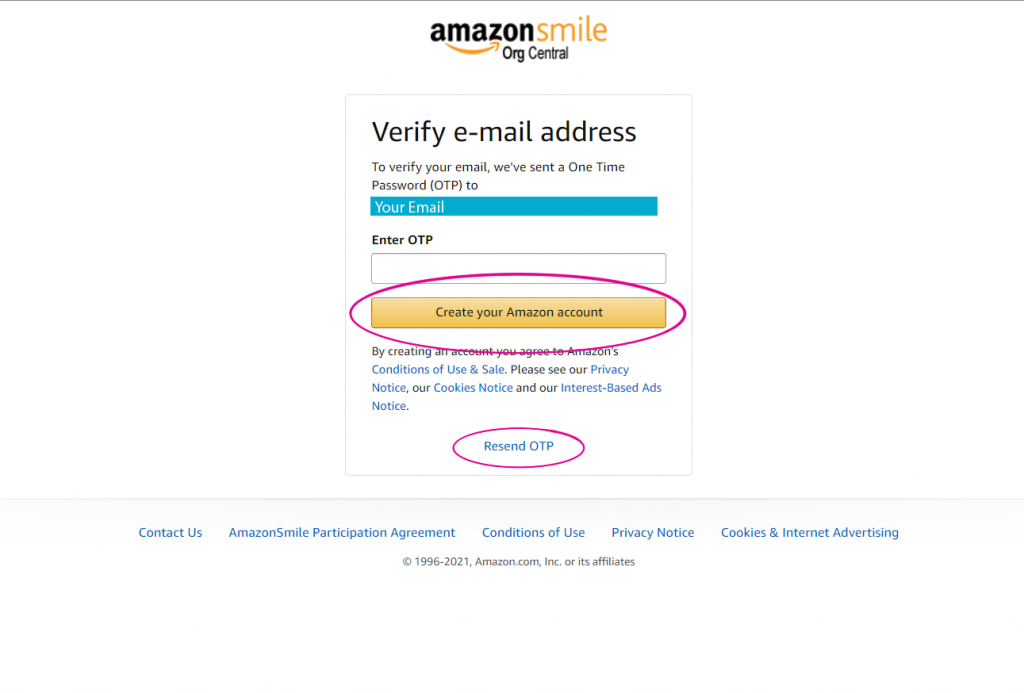 5. Complete Administration Profile
After this point, you then can go on to complete your administration profile. Fill in all the details following the on-screen prompts, check the "AmazonSmile Participation Agreement" checkbox, and then click on "Send Email Verification".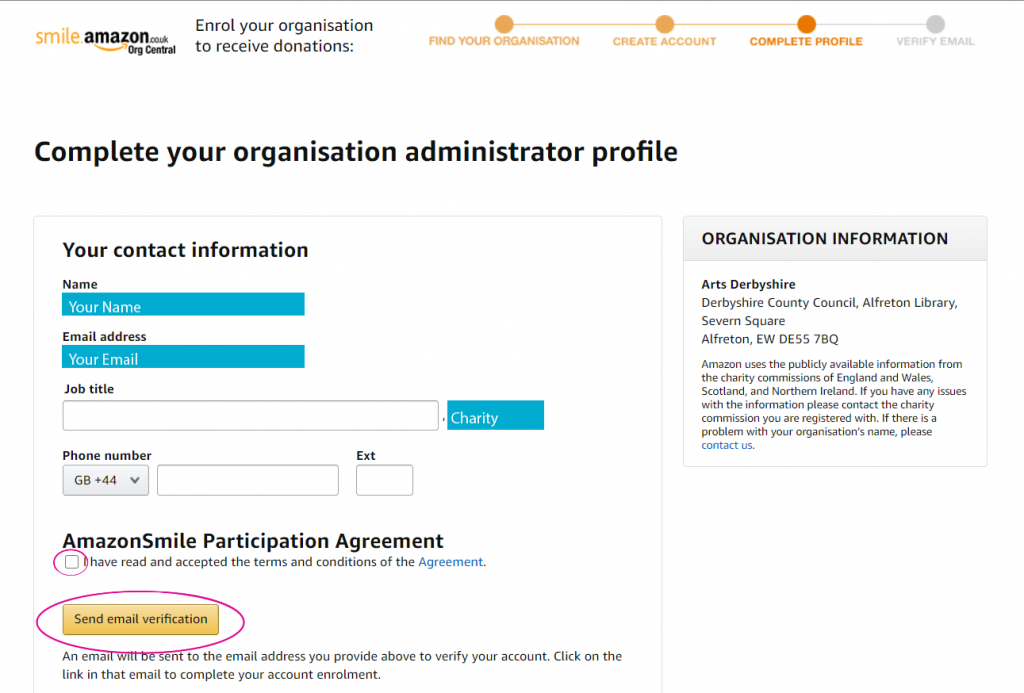 Once again, you should receive the email instantly. It will contain a link with that you must click on to complete the enrolment process.
The link in the email will take you to the organisation page. From there, you can add your organisation's bank account details which will enable you to start receiving donations.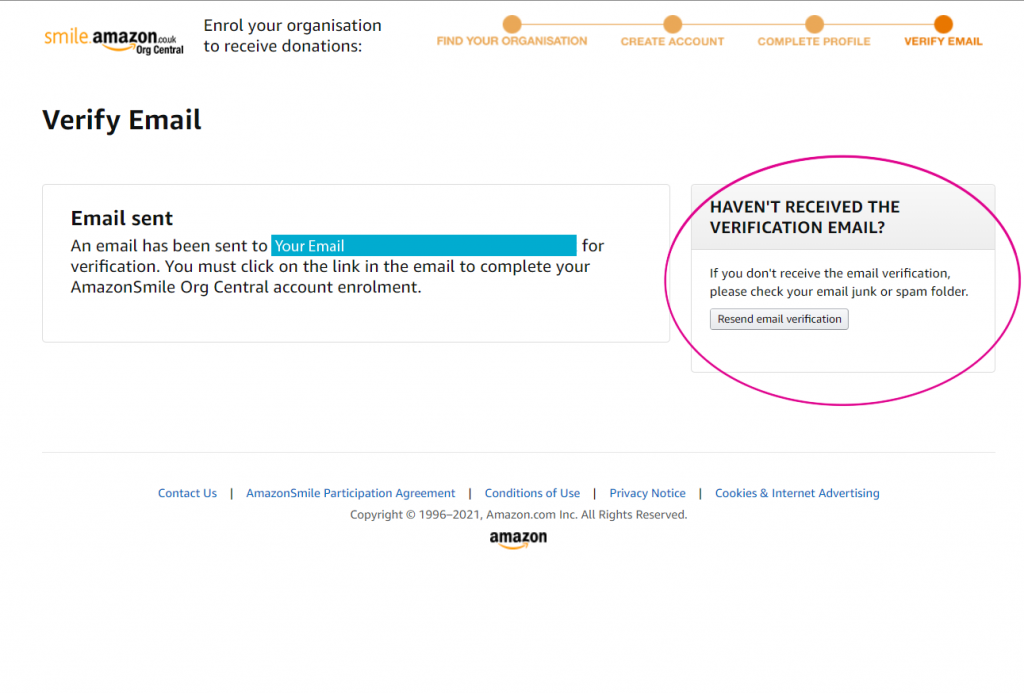 6. Adding Your Charity's Bank Account Details
After completing your administration profile in the steps outlined above, AmazonSmile will immediately direct you towards the next step in the process, which will require you to add your charity's bank account details.
This is the last step and the most necessary one to allow your charity to become available for donations through the AmazonSmile website.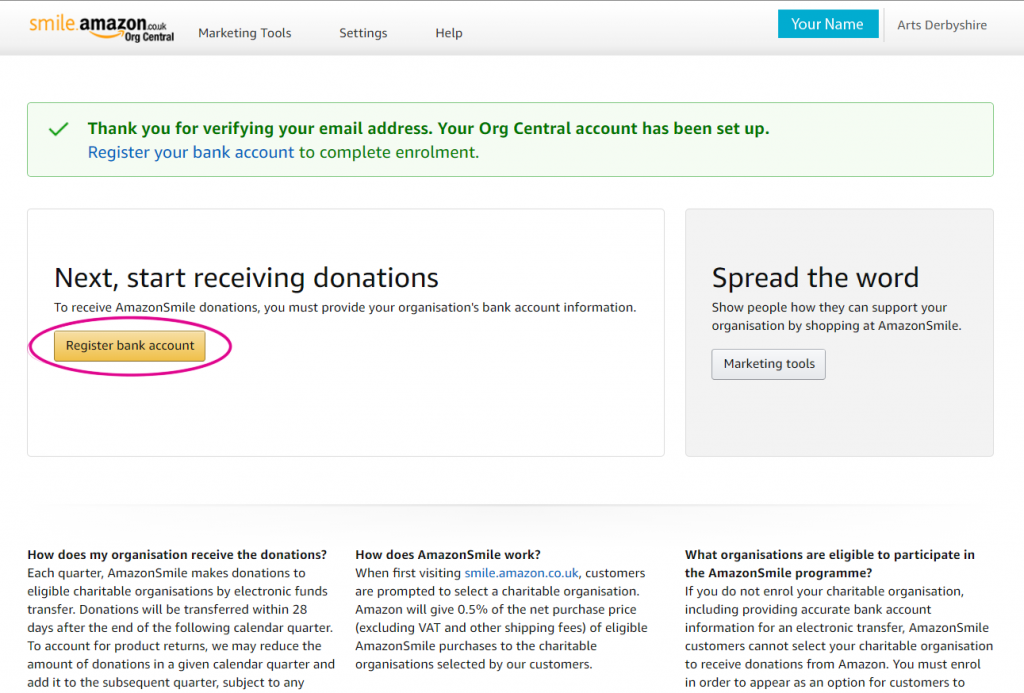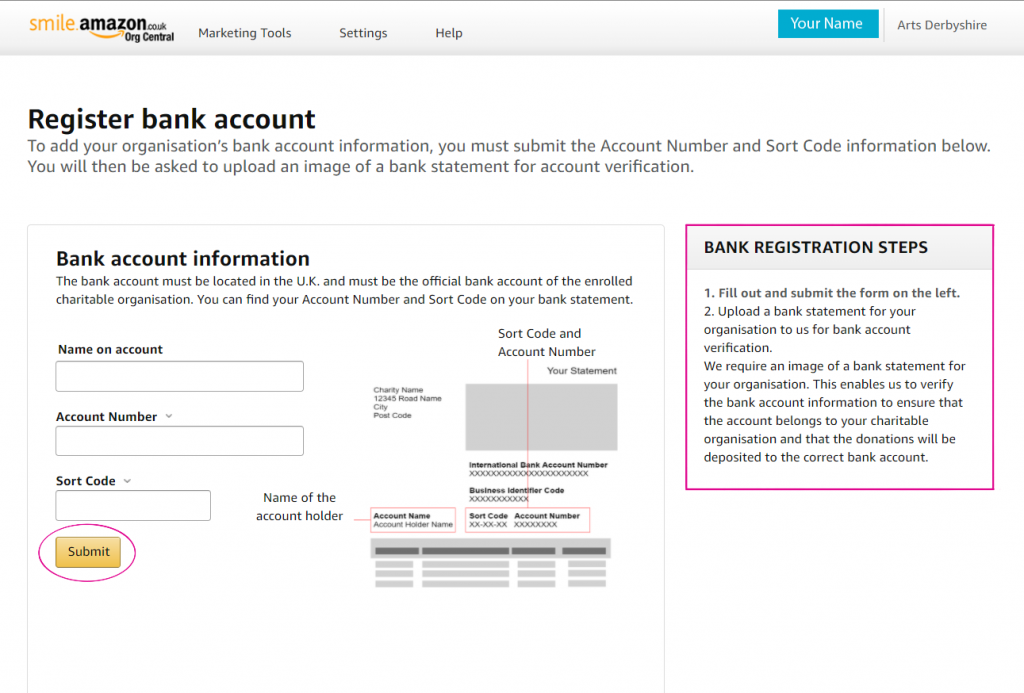 +1. Using Charity Administrator Account Settings
If necessary, you can edit the Charity Administrator Account Settings by clicking on your Profile Settings.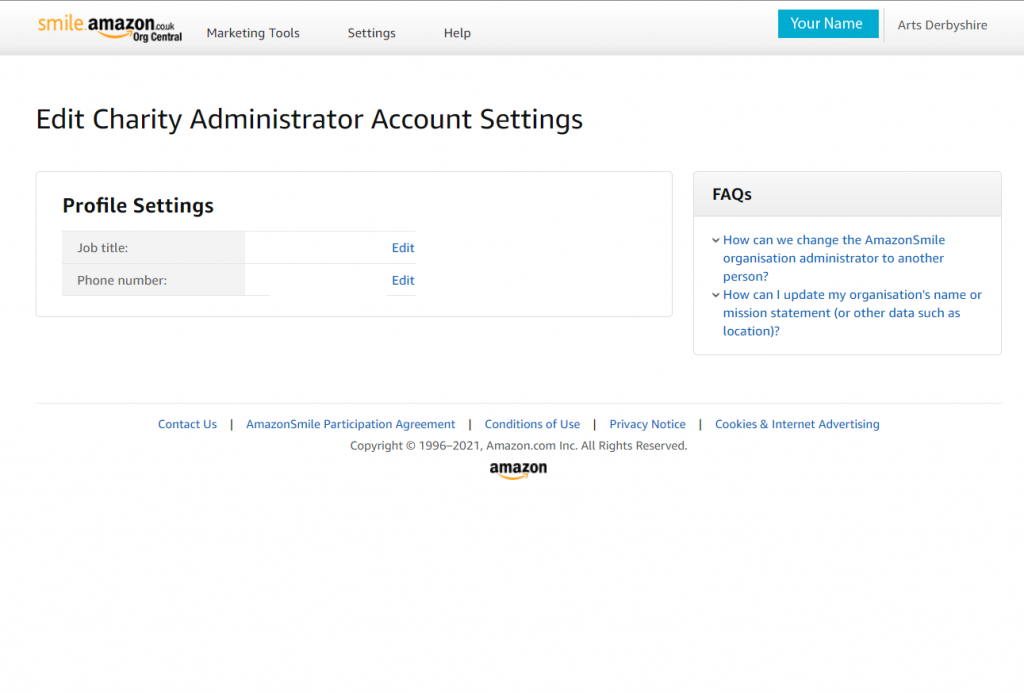 You can also, as shown in the image below, see your AmazonSmile Metrics to help you keep track of performance.
And don't forget to use Amazon's marketing tools to help let people know of this new way they can help support your organisation.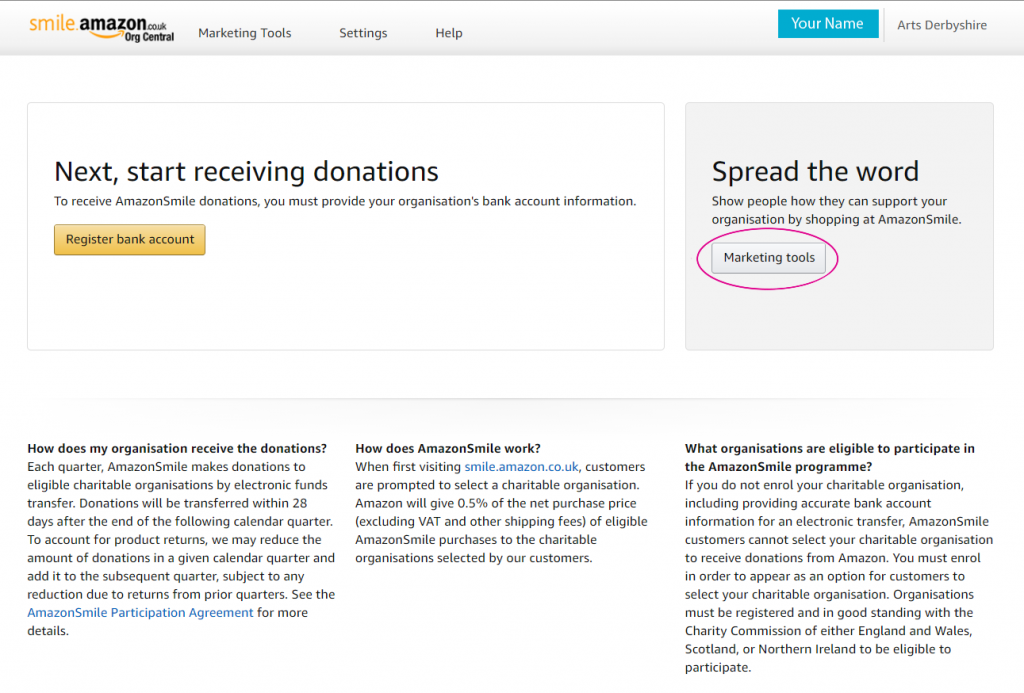 In Conclusion
AmazonSmile is a great way for people who do their online shopping through Amazon to donate to causes that are near and dear to their heart. We hope this guide has helped you set up an account for your own organisation so you can increase donations at no extra cost to either you or your supporters.
Arts Derbyshire is registered on AmazonSmile, and we'd really appreciate you switching your account to help raise cash for us.