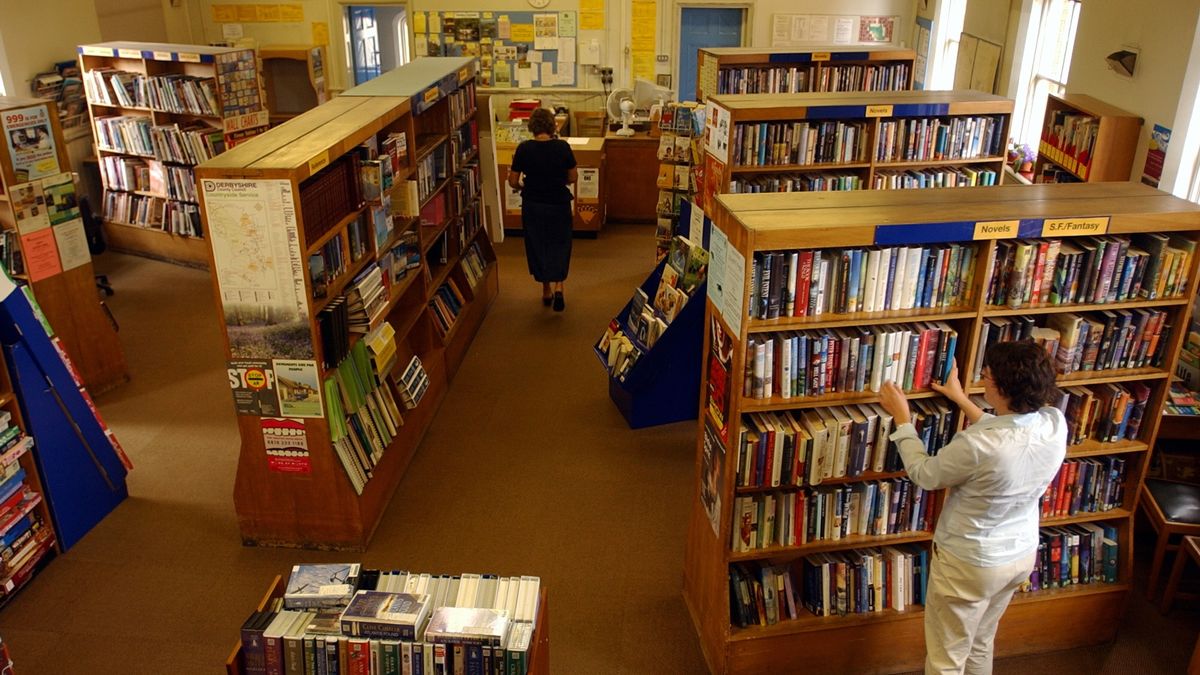 This September – the Mobile Libraries return to full service, Music & Drama service returns, you can book onto Baby Babble sessions, there's exciting content for World Alzheimer's Month and Recycling Week, and much more!
The Current Provision
Libraries are open for the following:
The Library Updates page will be updated with more details as services continue to re-open. The Library Information Service continues to be monitored from Monday to Saturday, which you can reach on 01629 533444 or ask.library@derbyshire.gov.uk  
Mobile Libraries
Derbyshire Mobile Libraries are returning to full service from Monday 20th September 2021. The mobile staff are looking forward to welcoming you all on board to browse the stock and access services.
Further information and details of routes can be found here, or contact the Library Information Service on 01629 533444 or ask.library@derbyshire.gov.uk.
Woodville Library
On Saturday 21 August 2021, Circularity Association took over the running of the library in Woodville, near Swadlincote. The library has been renamed Woodville Community Managed Library and the group have already announced they are to extend opening hours.
Group members opened the doors to the library in Hartshorne Road at 10am, and have taken over the day-to-day running of the library, opening hours, staffing, activities and events.
Derbyshire County Council will provide support to the group, including financial support, for the next 5 years as part of the agreement.
The library has kept the same phone number of 01629 531397, but its email address has changed to cml.woodville@cml.derbyshire.gov.uk.
Summer Reading Challenge 2021
The 'Wild World Heroes' Summer Reading Challenge, produced by The Reading Agency in partnership with libraries, is due to finish on Saturday 11th September, but there's still time for the children of Derbyshire to complete it! Anyone aged 4-11 (as well as those younger who want to attempt it) who can read six books from their local library before the deadline will complete the Challenge and earn themselves a medal and certificate.
ANY library books count, whether they're fiction or non-fiction, audio book or graphic novel, and we hope to see many more children excitedly receiving their medals and certificates before 11th September!
A page has been set up on the website all about it for you to visit. You can also speak to your local library for more info, or contact the Library Information Service on 01629 533444 or ask.library@derbyshire.gov.uk. Visit the official Summer Reading Challenge website here.
Music & Drama Service
The Music & Drama service is relaunching on Monday 6th September. Initially this will be available to existing groups and use stock in our own collections, but in the near future hopefully this can be extended to new groups and utilise stock available from other authorities.
Please ring 01629 533426 or chesterfield.library@derbyshire.gov.uk for more information.
National Coding Week
September 13th – 19th sees the return of National Coding Week, and we're asking the talented young children of Derbyshire to take part in showcasing their creative sides!
Firstly, we want to see the greatest LIBRARY that they can create in Minecraft. We'd love them to create the most impressive and exciting libraries they can (they can interpret that however they want!), and we'll be happy to show them off on our social media pages during the week. Send screenshots to ask.library@derbyshire.gov.uk to see you child's work featured!
Secondly, we'd love to see what those with knowledge of Scratch code can put together for us to share on our pages. Whether it's a game or a fun animation, send us the link to what they create to ask.library@derbyshire.gov.uk and we'll make sure to share them!
World Alzheimer's Month
There is an excellent collection of reminiscence resources available to carers and care organisations. Objects, book, music and games from days past are great to aid discussion, from memories of royalty to school days from years gone by. They'll be featured on Facebook and Twitter pages so check them out throughout the month to see what you can remember. For further info contact Ask Library on 01629 533444 or ask.library@derbyshire.gov.uk.
Baby Babble
Popular Baby Babble courses for 4-9 month old babies begins again next month! We've had a great uptake already, but there are still places available on our five week course beginning Tuesday 28th September – click here to book your place.
If you want to see what we have in store then please take a look our online recordings on Facebook https://crowd.in/wV3CPz. Email ask.library@derbyshire.gov.uk or ring 01629 533444 for more info.
Award Winners
There's several pieces of Award news to keep you up-to-date with this month!
Visit our Online Catalogue to browse for titles to reserve at your local library, and checkout BorrowBox to see what eBooks are available.
eAudiobooks on Libby
Have you met Libby? Libby is one of our new eAudiobook platforms full to bursting with downloadable books to listen and enjoy. No matter what you like to listen to, we guarantee Libby can help. Throughout the month we are highlighting some treasures we have found to inspire you. If you need any help accessing Libby, we can help with that too! Email the Library Information Service on ask.library@derbyshire.gov.uk and we can arrange a 1 to 1 session to talk you through the process.
Recycling Week
There is no better way to recycle than to join your local library – borrow don't buy! However we try to be creative (and our librarians are dab hands at being frugal) so join us on social media and discover Maggi's chutney recipe for all those leftover tomatoes and Dan's special Jalfrezi made from the leftovers of his Sunday roast – delicious!
Derbyshire Record Office staff ROCK
Throughout the pandemic, our archives and local studies staff have continued to answer enquiries, and from July 2020 we were able to complete copy and research orders again. In the last five months, we have answered 525 enquiries and processed nearly 200 copying and research orders.
Over the summer we invited our customers to take part in a national survey of archive enquiry services. Of those that gave us an overall rating, 100% rated us Good or Very Good. We've been thrilled with the comments: "your staff ROCK! Fantastic service, well done!" … "first rate public service" … "outstanding"… "an excellent informative service from the Archives" … "very impressive" … "nothing but praise".
From your family tree to your house or local area, if you're trying to discover local history try the research guides on our blog, search our catalogue, or get in touch.
New courses with Derbyshire Adult Community Education Service
Are you looking to learn something new? Learning can help you to keep healthy and well and enable you to socialise in person or online. The Learning for Leisure programme with Derbyshire Adult Education Service is available to book now through Eventbrite. There's a mixture of free tasters and longer paid for courses.
Free tasters include:
If you want the flexibility of online learning, try:
View our Qualifications and Skills brochure, and Learning for Leisure brochure on the 'Find an adult education course' page of our website.
Derby Book Festival Autumn Programme
Derby Book Festival returns with its Autumn Edition, which will be held from 5 – 9 November, with 11 in-person events at QUAD Derby and at Derby Theatre.  Events will include a mix of fiction and non-fiction authors and a special event with poet Pam Ayres on Tuesday 9 November in Derby Theatre. QUAD will host a further ten events.
Tickets are on sale for Pam Ayres from Friday 3 September with all other events on sale from Monday 20 September.  Book at the venue or online.  Visit the website for full details and booking links: www.derbybookfestival.co.uk  
New Adult Books Coming in August
There are some great new titles coming out for adults this month, which you can reserve on our online catalogue. Here's three that we think you're going to love:
First up, we've chosen the highly-anticipated Beautiful World, Where Are You by Sally Rooney. Alice, a novelist, meets Felix, who works in a distribution warehouse, and asks him if he'd like to travel to Rome with her. In Dublin, her best friend Eileen is getting over a break-up, and slips back into flirting with Simon, a man she has known since childhood. Alice, Felix, Eileen and Simon are still young – but life is catching up with them. Will they find a way to believe in a beautiful world?
Next up is The Man Who Died Twice by Richard Osman. The second book in the 'Thursday Murder Club' series, this takes place soon after the first novel, and sees the four septuagenarians trying find a new killer (and some stolen diamonds) before the killer finds them.
Finally, Bernard Cornwell's 21st novel in the 'Sharpe' series, Sharpe's Assassin, is out. This is the first novel in the series since 2006, so for fans of the heroic icon it's time to get involved in his adventures once more, and see where the action takes you!
Multi-Use Titles
Every month we get a new selection of titles on our BorrowBox app of both eBooks and eAudiobooks that can be taken out by multiple users at one time. These stay multi-use for 60 days, so if you have a book club and you're looking for your next title then one of these could be your next choice!
You can find these titles on the main BorrowBox page, identified as a collection with 'No Waiting!' or 'Available Now!'. Titles available from September are:
eBook and eAudiobooks
Come Again by Robert Webb
How to Cope by Claire Hayes
The Great Alone by Kristin Hannah
eBook Only
A Dedicated Man by Peter Robinson
Between the Orange Groves by Nadia Marks
Midnight Twins by Holly Race
This Month We Recommend You Read…
There are some excellent new books coming out in August for children, which you can reserve on our online library catalogue right now. Here's three to look forward to:
First off, it's the final book in Malorie Blackman's iconic 'Noughts & Crosses' series, Endgame. The breathtaking conclusion to the series, influenced by the unprecedented global events of recent years, is full of twists and turns and emotions, with its incredible characters reaching a dramatic conclusions to their stories.
Our second pick is The Bad Guys: Episode 11&12 by Aaron Blabey. The sixth book in this hilarious illustrated comedy series for children sees Mr Wolf and his buddies finally saving the world, and then having to deal with the unexpected aftermath. The perfect remedy for children who've been waiting desperately to find out what happens next!
Our non-fiction choice today is the beautiful The Secret Forest by Sandra Dieckmann. A lovely illustrated look through peaceful woodlands for you and your child to enjoy, and imagine the adventures you could go on together in the beautiful Derbyshire surroundings!
Need a further suggestion? We're always delighted to suggest a story! Contact Derbyshire Libraries on Facebook, Twitter, or ask.library@derbyshire.gov.uk and we'll do our best to find you something fantastic!
Library Love
There have been receiving so many kind comments over the past few weeks about how important and useful customers have been finding the online library offer. If you would like to contribute and share your stories and comments, please email: ask.library@derbyshire.gov.uk
Keep in touch with Derbyshire Libraries via social media. Follow on Derbyshire Libraries Facebook & Twitter pages.