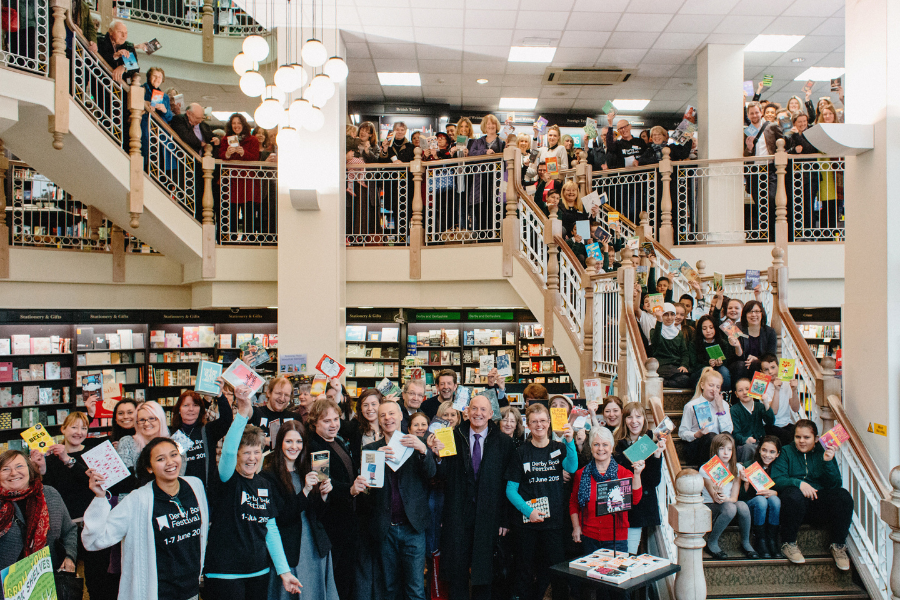 We're throwing the spotlight on Derby Book Festival, a relative newcomer in the Derbyshire festivals scene but one that has turned heads from its inception with the interesting and lively mix of events in its programme.
"Why not us?"
That was the guiding ethos that led friends Sian Hoyle and Jenny Denton to create the first Derby Book Festival.
The two were avid readers, and both had previous experience in arranging events. When Sian expressed an interest in attending a book festival, the pair didn't know of any locally and thought it was just what Derby needed!
At the time, Derby was just gaining its reputation as a city of festivals, and when they started making calls, Sian and Jenny were met with solid enthusiasm all round. Everyone was keen to get behind the idea, and everyone knew someone else who could help too. They assembled their first management board with local business woman (and trained librarian) Liz Fothergill CBE as Chair in Summer 2014, applied for Arts Council funding in November, and by Christmas they found that sufficient funding and support had been secured to enable them to go ahead with their plans.
Whilst most events organisers launching a brand new event in untested waters would aim for a weekend long event for the first event, due to the overwhelming support and enthusiasm from others, the inaugural Derby Book Festival was an 8 day festival of reading and writing.
Part of the reason it was able to make such a bold opening move is the very reason it started in the first place: there was nothing else like it nearby. At present there are no plans for the festival to get any bigger, but every year the festival includes its scope and diversity to attract new audiences.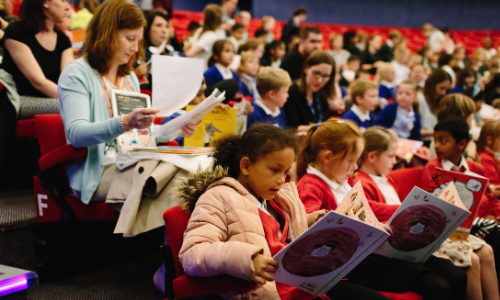 The festival tries to incorporate Derby-localised elements each year to reflect the history, nature, and achievement of the the city. However, there are other ways of reaching a wider audience and the pandemic in 2020 provided the perfect opportunity to test this out.
The concept of a hybrid festival wasn't something that was new to the festival's organisers when 2020 and the Covid19 pandemic forced them to examine alternative ways of delivering the festival during a national lockdown.  As much of the rest of the UK's events organisers found, Zoom became a saving grace for delivering events virtually, and Derby Book Festival followed suit. It proved to be a great success with people keen to take part logging in from all over the UK, all over Europe – there were even festival goers from South America!
In 2021, the festival was able to hold in-person events once again, going ahead just days after the government lifted lockdown in England. It was a great opportunity to gather people back together again after a long winter of lockdown driving festival goers' need to get out and about again, but the organisers haven't completely turned its back on Zoom.
For future festivals, the organisers will be inviting authors from all over the world to speak virtually at the festival, so hang onto those Zoom passwords a little while longer!
Sometimes, though, there's no beating the magic of a live event. Festival founder and organiser Sian Hoyle lists her top three highlights from the history of the festival:
During the centenary of the First World War, Sebastian Faulks, author of Birdsong, gave a talk in Derby Cathedral.
Given the timing, and the wonderful backdrop of the cathedral, Sian remembers the event as a very moving moment, particularly with the arrival of Paul Cummins' Poppies at the Silk Mill
The launch of the very first festival at Waterstones in Derby.
It was unreal to see months of hard work coming to life right in front of Sian's eyes.
Sian says she always feels emotional at the schools' Meet the Author events in Derby Theatre.
For many children, the experience of meeting authors is something completely new for them, and it's lovely to see them interact with their favourite writers.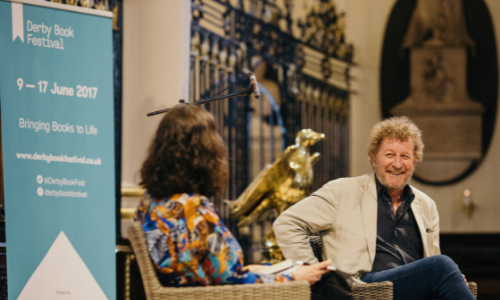 Even though the festival's core live events programme isn't geared towards families and children, it has partnerships with Derby schools, Derby College, and the University of Derby with a community outreach programme that is a key part of the festival's work to work with this demographic. The aim of the outreach work is to improve the lives and foster the love of reading in young people in the hope they'll become lifelong readers.
Inspired by The Reader, a Liverpool based group who did an event at the very first festival, Derby Book Festival has their very own Shared Reading project. Using group reading as a type of therapy, the Shared Reading project volunteers have helped the elderly, asylum seekers and refugees, and non-native speakers. They have even just launched a group with Derbyshire Carers.
The Derby Book Festival returns to the city for a second time this November with a brand new autumn edition from 5th-9th November. Be sure to keep up with updates on their website: www.derbybookfestival.co.uk
Find out more about Derby Book Festival that runs in May/June every year, but that is set to return in the late Autumn in 2021 too. Derby Book Festival is a part of Derbyshire's thriving festivals scene; you can read about other festivals in Derbyshire on our dedicated page on our website.