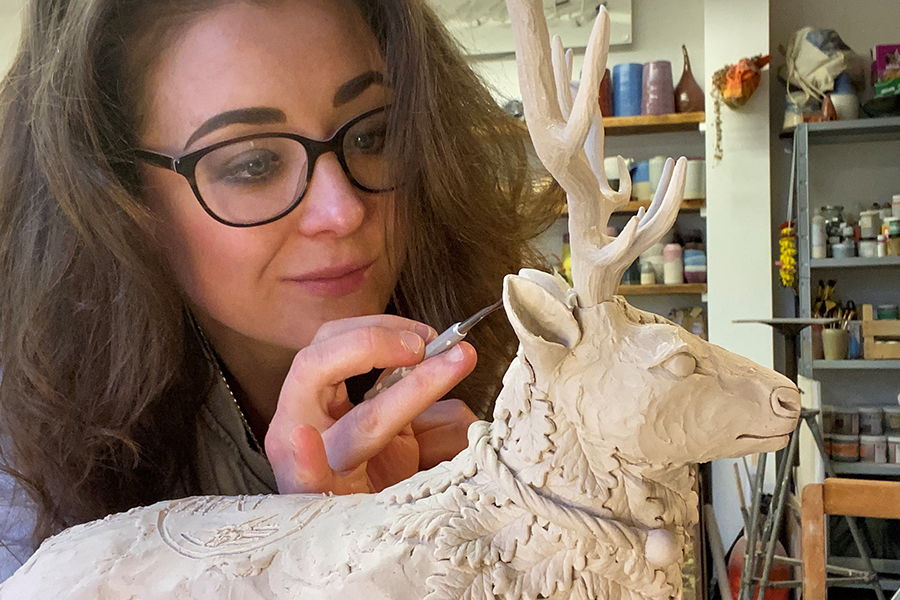 Abbie Sunter is a ceramicist based at Banks Mill Studios in Derby who developed her business after graduating from the University of Derby in 2014 with a BA (Hons) in Fine Art.
Abbie always knew she was going to pursue a career as an artist. After finishing her degree it took her a few years to identify where she wanted to channel her talent as an artist and now Abbie's sculptural ceramic pieces are inspired with themes surrounding nature, ancient cultures and religions.
Abbie comments: "Once I realised that clay was what I loved, it was a case of right time and the right amount of money to actually start my business. Ceramics is an expensive business to start up and it took me a few years to save up to get my first kiln. Once I'd done that though everything just fell into place very quickly."
Having showcased her work at her degree show, Abbie was approached by The Arthouse in Wakefield to complete an artist residency. It was during her time there that she heard about a job opportunity through a fellow artist and Banks Mill resident, for a ceramic project that was starting in Derby.
This fantastic opportunity turned out to be the Blood Swept Lands and Seas of Red poppy project by Paul Cummins, which was to later be installed at the Tower of London. Abbie says: "So that was it, I graduated and within three months I had completed an artist residency and was then employed as a project worker making poppies that would end up in one of the biggest art installations in the country."
Abbie decided to take the next step on her business journey moving into her own studio at Banks Mill in October 2018, Abbie notes: "Once I got my studio at Banks Mill I felt confident enough to put myself out there. I started making the work that I wanted to make and exhibiting around the country. Having a dedicated space where I could really focus on my art changed my entire attitude towards what I could achieve."
During her time at Banks Mill Abbie has engaged with the Big House project, a programme of business support, events and advice for creative and digital businesses in Derbyshire. Through this she was able to access their mentoring scheme which proved beneficial.

Talking about her experience Abbie comments: "Being able to sit down and talk through my work and ideas with a creative coach has been invaluable. She really helped me focus on what my next steps should be and even helps me to understand my own work with more clarity.
"Having a studio at Banks Mill is essential to my business. It has given me the chance to make ambitious pieces of work that I could never do from home and gives me a separate place in which to work physically and mentally. It also makes me look and feel more professional as an artist. The Open Studios events at Banks Mill have been essential for my business growth as I now have clients that will return every year to see and purchase new work. That income really helps me to continue making new work for the rest of the year too."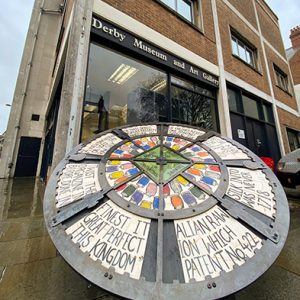 Abbie has also benefited from being part of the wider creative community at the studios where she has been able to meet new artists, exchange ideas and hear about upcoming exhibitions and opportunities that she may not have been aware of working in isolation.
Abbie has recently updated her website so that she can now sell smaller, individual pieces of work online. She has also started branching out into public art commissions, recently completing one for Derby LIVE which is situated outside the Derby Museum entrance.
You can follow Abbie's progress and work on her Facebook and Instagram and buy her products on her website.