Artist: Nick Hersey, Title: Memory – First Kiss (Lasts forever)
In March, our Artcore programme is looking at brightness and positivity as we follow on from Share The Love and continue to focus on the positive and the important things in our lives.
With Spring Into Action, we are looking to the plants around us, particularly the beautiful and bold daffodil, as a reminder of our resilience, strength and ability to grow from difficult times. Artcore's Albert Street window will be joining BBC Derby and homes across the city in displaying daffodils as a symbol of spring and new beginnings. It will certainly help brighten up Derby and Derbyshire and we invite you to join us in doing so.
At Artcore, it is still our priority to help keep our communities, friends and colleagues safe and most of us are still working from home. While we continue to work together to bring an end to the spread of Covid-19, our participation and gallery programmes will remain online for the time being.
Spring into Action – March Activity Programme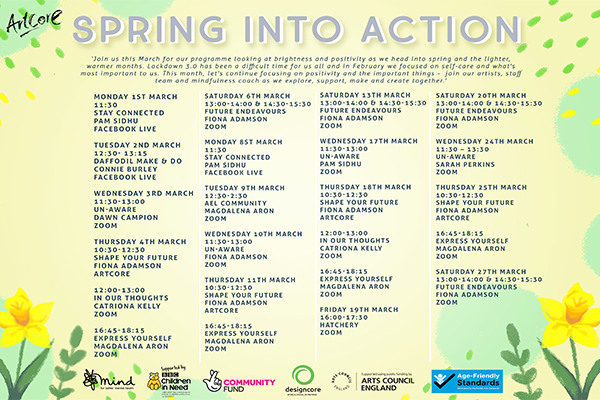 Join us this March for our programme looking at brightness and positivity as we head into spring and the lighter, warmer months. Lockdown 3.0 has been a difficult time for us all and in February we focused on self-care and what's most important to us. This month, let's continue focusing on positivity and the important things – join our artists, staff team and mindfulness coach as we explore, support, make and create together.'
To sign up, please click here.
---
In Memoriam: Online Exhibition Launch and Silent Auction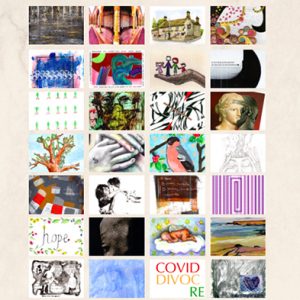 February marked the launch of our long-term project 'In Memoriam', and silent auction. We have brought together 28 artists from across Derby and Derbyshire to reflect on the impacts of the global pandemic, personally and collectively. This online exhibition presents postcard sized works that have been made using a range of forms – including photography, painting, and collage. This online exhibition acts as a circle of embrace, that we hope will bring together so many of us with a shared sense of loss and help us to come to terms with our lives moving forward.
Thank you to everyone who has supported us so far, and a special thanks to all of our participating artists: Alex Waring, Ann Orrett, Ashley Allen, Caroline Backhouse, Claire Flint, David Manley, Dawn Campion, Fi Burke, Gareth Bunting, Ismail Khokon, Ivan Smith, Kate Genever, Katy Doncaster, Kelly Pickering, Lucy Stevens, Luisa Freitas, Martin Hyde, Nick Hersey, Nicky Dennett, Nisa Khan, Rachel Chapman, Ray Gumbley, Rebecca Morledge, Richard Fothergill, Sarah R Key, Shivani Khoshia, Tim Shore and Valerie Vernon.
View the online exhibition click here.
Our silent auction ends on Friday 5 March, view the works and register to bid here.
Proceeds will be shared with the Artists, and contribute to our wider programme, In Our Thoughts, supported by Mind Charity.
---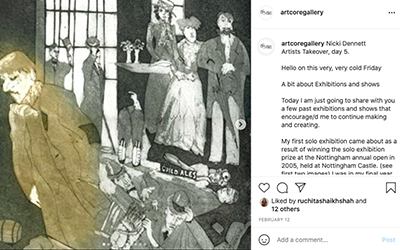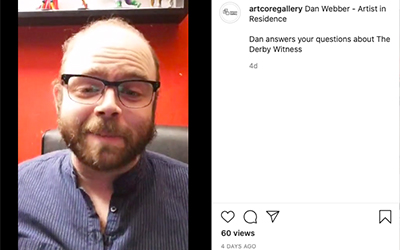 Nicki Dennett and Dan Webber – our first two artists for our Cabin Fever residency – each did a week long social media takeover on Artcore Gallery social media channels during February.
Head over to our social media channels to follow their takeover and read about their work and future plans.
We are still accepting applications from artists, makers and producers for our residency Cabin Fever. We are looking for artists who will creatively engage members of the public, run public workshops and celebrate Derby's people and communities.
---
Circling the Square – Visions of an Unmade City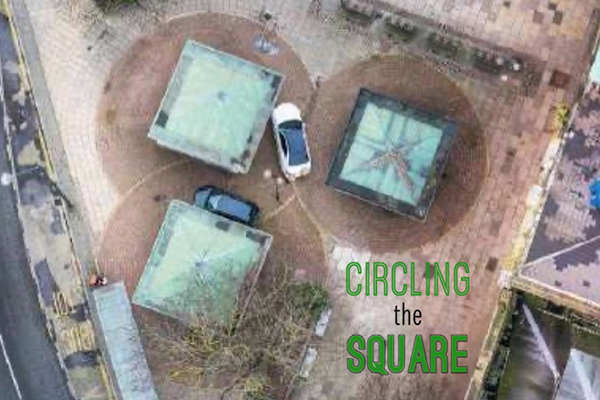 Plans for our upcoming residency Circling the Square – Visions of an Unmade City are underway, with our selected artists: Katy Hawkins and Ryan Heath.
Katy and Ryan will be creating work that proposes how the square in front of our gallery could be radically unmade and remade as a vision of what public space could mean in a post-European age of social distancing.
More details coming soon.
---
FORMAT21: Tony Kemplen '52 Cameras in 52 Weeks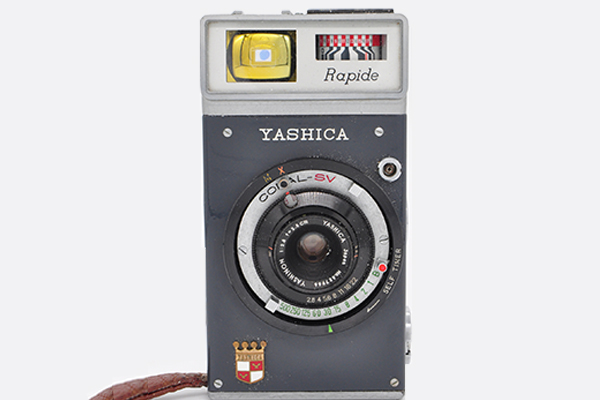 Artcore Gallery will present an online exhibition of works '52 Cameras in 52 Weeks' by Tony Kemplen, launching Wednesday 10 March.
The exhibition will comprise a selection of 52 photographs and the 52 cameras used to make them. The cameras and the photos represent a wide range of cameras, techniques & subjects, and Tony's approach to image making is every bit as important as the technical aspects of the project.
There will be a physical exhibition of '52 Cameras in 52 Weeks' at Artcore Gallery (Albert Street) once lockdown eases, so watch this space.
This project is in partnership with FORMAT Festival as part of FORMAT21: Control which is launching 12 March.
More details coming soon on https://52cameras52weeks.artcoregallery.org.uk
---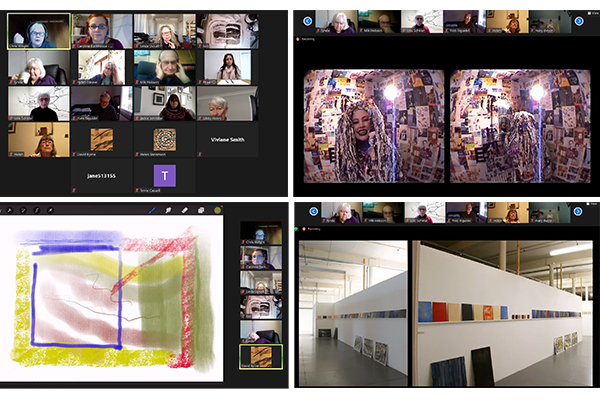 The second Hatchery session in February was focusing on technology in art.
This workshop was presented by artists Lori Amor, David Byrne and Linda Duvall. Technology is central to these artists' practices but the usage is very different. Amor has found herself between the two worlds of traditional and digital art and have made them work together. She uses YouTube, Discord, Twitch with various streaming and community building platforms.
The next session:
Friday 19th March Session | 4pm-5.30pm
Hatchery ZOOM Session Three:
The Art of Sound and the Sound of Art
'Listening happens unbidden, you can't close off your ears'
Chris Wright, Mik Hobson, Helen Lees
To sign up, please click here.
Website: www.hatcheryartists.com
---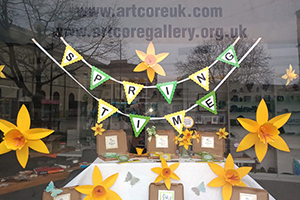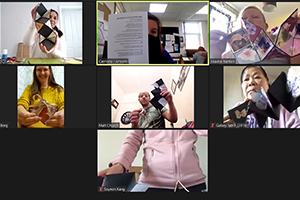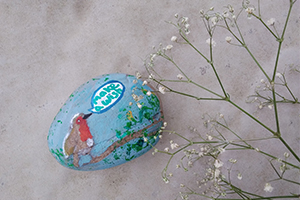 February has been a month of #sharethelove themed activities. Kathryn Borg has led the classes on ZOOM, making kindness rocks, origami albums and mobile family trees with the group.
Over March we invite you to put a daffodil in Artcore Albert Street's window as a symbol of hope, new beginnings and Spring as part of our 'Spring into Action' March theme.
Join our Artcore Maker's sessions over March:
Daffodil Collage
On Facebook Live Monday 2nd March 12.30pm – 1.15pm
Join Connie Burley to create a paper craft daffodil collage
Daffodil Stop Motion Animation
On ZOOM Tuesday 9th March 12.30pm-2.30pm
Join Magdalena Aron to create a blooming daffodil video using mixed media and film to go as part of a video for our daffodil installation at Artcore Albert street on Thursday 18th June
Videos and collages to be sent in by Monday 15th March to Artcore, 3 Charnwood Street, Derby, De1 2GT by 5pm to be used in our daffodil installation at Artcore Albert street on Thursday 18th June
This is part of the BBC Radio Derby Daffodil windows campaign.
You can also download a daffodil for your own window to colour here.
---
After School Children's Art Classes on Facebook Live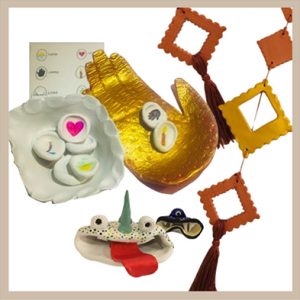 Over Jan and Feb Hannah Lord from Flying Fish Studio led Thursday Facebook live sessions. She used air drying clay to create life pebbles, a dream catcher and a little monster. You can view these on Youtube if you missed them.
---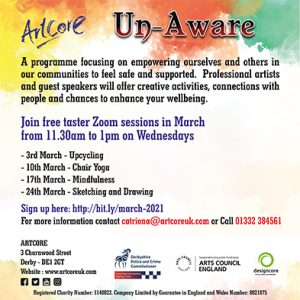 Artcore is starting a new project funded by the Derbyshire Police and Crime Commissioner which will involve working with adult groups in the community. Through a social and artistic programme, we aim to provide people with the tools to help keep them safe from crime and to provide avenues for support if they have been victim to crimes in the past.
Un-Aware is an empowering project which hopes to boost the confidence of the participants and provide them with new experiences and chances to further their social networks. Throughout the project, we hope to offer participants with opportunities to volunteer at Artcore, join coffee mornings or other social events. Increased confidence, self-esteem and positive experiences for adult participants.
This month we will have taster sessions of upcycling, chair yoga, mindfulness and sketching running each Wednesday that will give us an idea of some of the different activities coming up in the project.
Wednesdays from 11.30am-1pm on Zoom
To sign up, please click here.
---
News – Cupids on the Loose!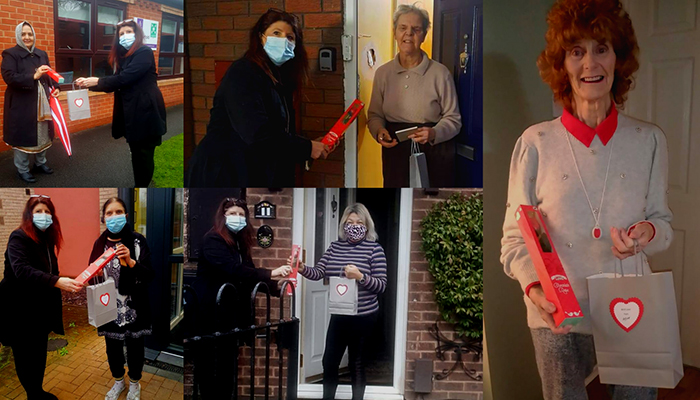 Over Feb our Artcore cupids have been let loose in Derby delivering art materials and chocolate roses to our participants to #stayconnected and to #sharethelove
---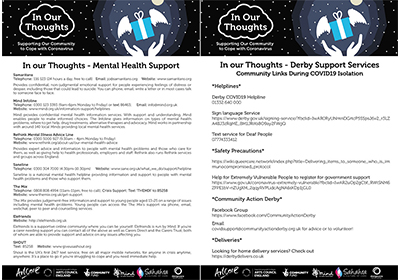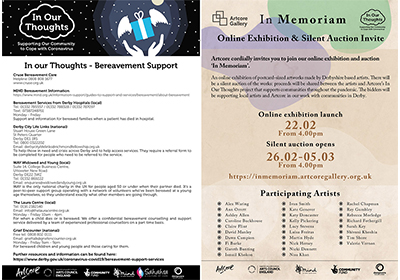 Artcore celebrates In Our Thoughts programme by launching In Memoriam, an online exhibition and silent auction of postcard sized works by Derbyshire based artists. The online exhibition of In Memoriam launches Monday 22 February at 4pm, and the silent auction opens Friday 26 February at 4pm and closes Friday 5 March.
https://www.artcoreuk.com/in-our- thoughts
https://inmemoriam.artcoregallery.org.uk
March meeting dates for In Our Thoughts is on ZOOM
Find out about the project and sign up to make a sculptural memorial.
Thursday 4th and 18th March 12pm-1pm
Email: catriona@artcoreuk.com for the ZOOM login.
---
Mindfulness for Mini Minds
Over February Pam Sidhu has led Mindfulness for Mini Minds sessions for children on Instagram and Facebook Live. Wellness is children is of great importance and these sessions give tangible ways to promote great strategies that can be built into your child's every day routines.
Check out our YouTube for the back catalogue.
---
#stayconnected Mindful Moments with Pam Sidhu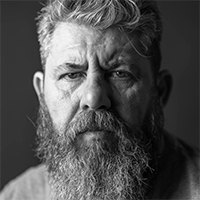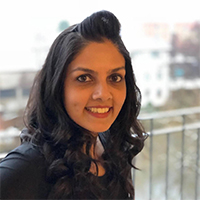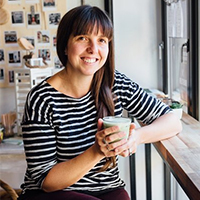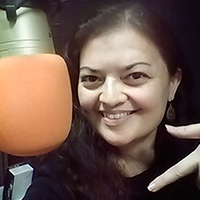 #Stayconnected Monday Mindful Moments
Over February Radio Dj Pam Sidhu has interviewed photographer Ray Gumbley, personal trainer Milan Hansjee, nutritionist Lucy Kay and lead difference maker Vanessa Boon. You can catch these inspirational interviews on our Artcore Youtube Channel.
---
Future Endeavours, is a new free project that started in January with artist Hannah Lord of Flying Fish Studios who worked with young people, encouraging them to See Things Differently. We have completed five sessions where we explored, wondered and created using ordinary items from home.
Hannah delivered her sessions on Instagram Live on Saturdays which were a fun, colourful insight into creative career pathways. It also involved lots of experiments with art and science which led to vibrant artworks.
In March, we are starting a whole new block of Future Endeavours workshops focusing on Creative Growth. Artist Fiona Adamson will be running six weeks of workshops for young people on Zoom to work with polymer clay and create art pieces they can keep, gift to friends and family or sell in our shop.
There are limited places for this one so please make sure you sign up in plenty of time to secure your spot and get your free materials pack.
See you on Zoom on Saturday 6th,13th, 20th and 27th March | 1pm (ages 10-13) and 3pm (ages 14-18).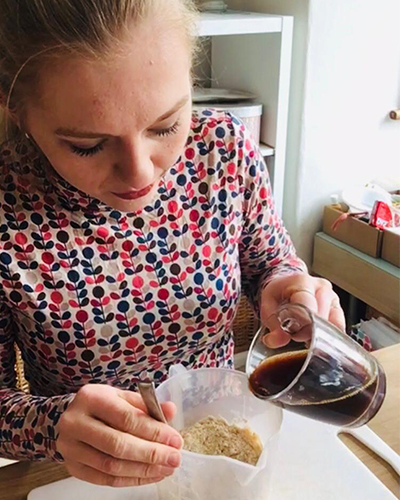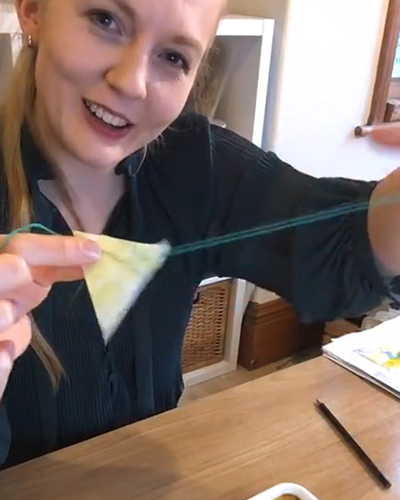 ---

In January, we started some very exciting workshops with Year Three students at Pear Tree Junior School as part of the Reimagine Project which is taking place with partners and organisations across the city of Derby and led by Derby Theatre.
The students worked with artists Dr. Chris Wright and Connie Burley looking at the themes of Home, Identity and Kindness. There have been some great activities such as creating a self-portrait and a Coat of Arms and using television and cartoons to help think about kindness. It was a new experience and very interesting delivering the sessions online but we had lots of very chatty and enthusiastic students taking part from the classroom and from home too. Both the artists, the school and students were amazing at adapting to everything being done virtually!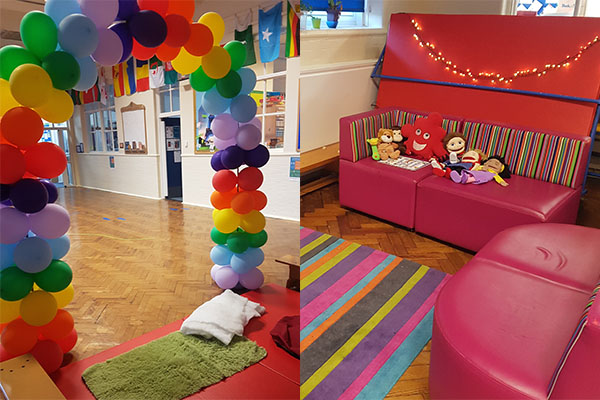 The final session with Pear Tree Junior School was a very exciting one as the students reflected on their previous workshops and created a final interactive experience – a maze in the school hall! The students used their maze to think about overcoming challenges and explored special areas to reimagine the spaces they were in – check out the pods below that looked at home, imagination and pathways.
---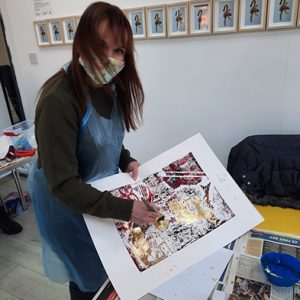 Fiona Adamson will be running the next few months of Shape your Future with Horizon's college learners. She will be working with group to explore relationships and emotions through papermache sculptures and polymer clay.
Over February artist Nicki Dennett finished her print making sessions with the group. They explored collagraph and gelli printing.
---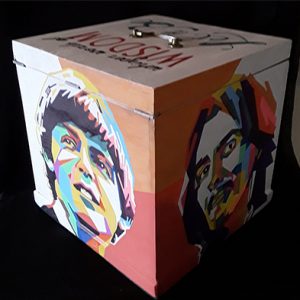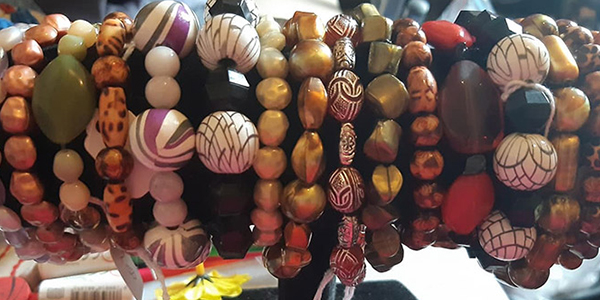 As our Beginning to Becoming course comes to a close we are holding an Artcore Spring Craft Fair online on Friday 19th March and Saturday 20th March so you can purchase the wonderful crafts created by participants over the last 6 months. From jewellery, mosaic, textiles, papercraft, bound books, painting and pyrography, there's a diverse range for you to choose from!
Over the last month we had an inspirational talk from textile artist and printmaker Lydia Mary. Lydia spoke about her creative journey into children's illustration, and the highs and lows in her personal creative path.
We also had Derbyshire silversmith, Jane Orton, teaching the wire work sessions at the beginning of the course. Participants learnt how to use different techniques with different pliers, how to work with tigertail, and how to create organic coils.
Our celebration of the course finish is on Friday 5th March at 12.30pm-1.30pm on ZOOM.
---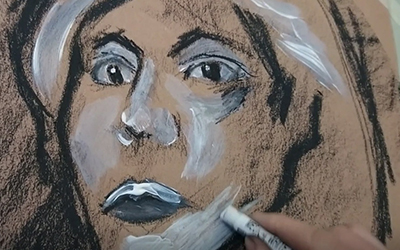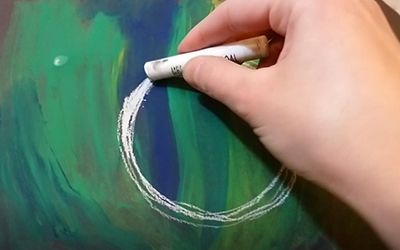 Express Yourself is a brand new project at Artcore which is starting this month for young people aged 8-15. We are very excited to get started with this one!
For six weekly afterschool workshops, young people will work with artist Magdalena Aron on Zoom making artworks and thinking about personal and spatial expression. All the activities are free and will include a materials pack to create with Magdalena in real time.
There are limited places for this one so please make sure you sign up in plenty of time to secure your spot and get your free materials pack.
See you on Zoom on Thursday 4th, 11th, 18th and 25th March at 4.45pm – 6.15pm.
To sign up, please click here.
---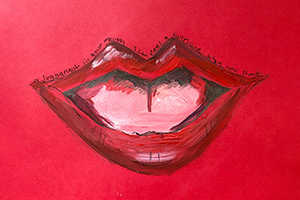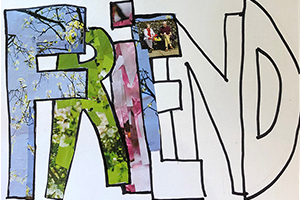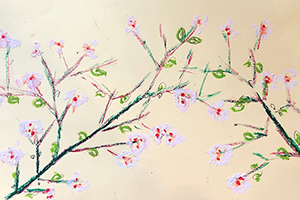 Over February we have been working with artist Jane Dearden to create video resources and how-to sheets, along with art materials packs, for homeless clients in Derby City Mission services.
We themed the project around music lyrics on the theme of 'Where Your Treasure Is'. This project is funded by Derby City Council and will support homeless people to engage and express themselves through the creative arts.
We handed over the packs on Monday the 1st March and we are excited to see the creative work that comes out of this resource.
---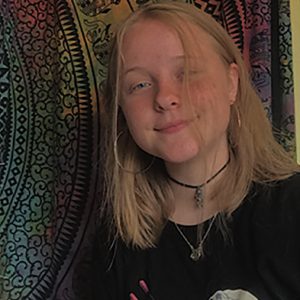 In Our Thoughts volunteer and artist at Artcore, Amy Higginbottom, is travelling to Nakuru Kenya in August of this year; where she can help build and decorate new facilities as well as interact and teach the children at the selected Academy's (Jubilee Academy and Cherish).
This trip is organized through the African Adventures Company, who host similar events and trips, aiming to leave a positive impact within African countries. It is her intention to raise all the money required to embark on this trip and, as such, she is organising various fundraising initiatives.
Any support with funding this incredible experience is extremely welcome, and she believes that she can offer a great opportunity for your organisation or company to play a vital part in a trip that promises to make a real difference.
Amy has been given an African Adventures t-shirt which she shall be wearing during all my fundraising activities and on the trip itself, and she can offer you space for your logo on this t-shirt in return for sponsorship. Fundraising and trip pictures will be circulated for use on social media and in local press, meaning that your company will receive exposure for your kind sponsorship support.
Great results have been achieved through this initiative, with schools around the country working with sponsors to support the work at projects in Africa, prices vary on the size and place of your logo on the shirt.
Additionally Amy is publishing a book with a friend (who is also going to Kenya) in which she has illustrated. This book includes100 poems written about various topics, experiences and historical poets. This illustrated book is available to purchase for £10 or as an ebook for £6.
If you are interested in sponsoring Amy and would like your business involved in this experience, or if you are interested in buying a copy of her book please get in contact with her via email – amyxx2468@gmail.com.
---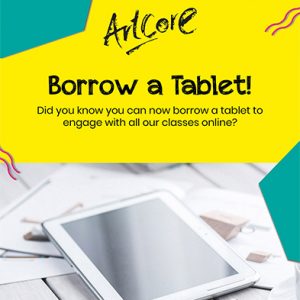 Did you know you can now borrow a tablet to engage with all our classes online?
Missed our facebook lives?
You can catch up everything on our YouTube channel to view at your leisure!